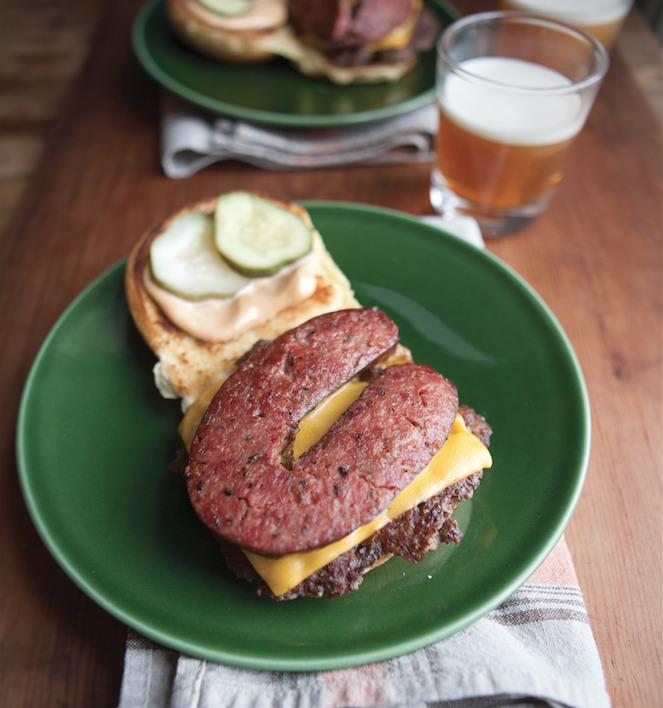 This Labor Day, grill up a feast you can't just get anywhere. Peruse this list of burgers and dogs, curated specifically for the big day, and create a fiery, smoky masterpiece to ring in the fall. Feel free to swap out hot dogs for sausages and beef patties for lamb, turkey, veggie — whatever strikes your fancy. Just make sure you have plenty of raw material, because your guests are going to be coming back for seconds (and thirds).
This burger was created for the opening of our first Austin Shack to celebrate everything that's great about Texas barbecue, especially the smoked jalapeño cheese sausage made by Kreuz Market in Lockhart, Texas, an hour south. You can order the very same sausage at kreuzmarket.com or use your favorite smoked sausage links.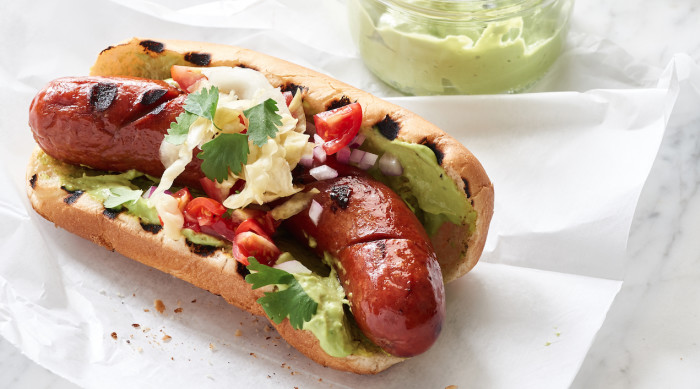 At the southern end of South America, hot dog fanatics in Patagonia, Argentina, revel in a colorful variation that involves sauerkraut, chopped tomatoes, and a creamy avocado mayo. Although it's a combination we probably never would have imagined on our own, it has made it into this collection for a good reason: it tastes great!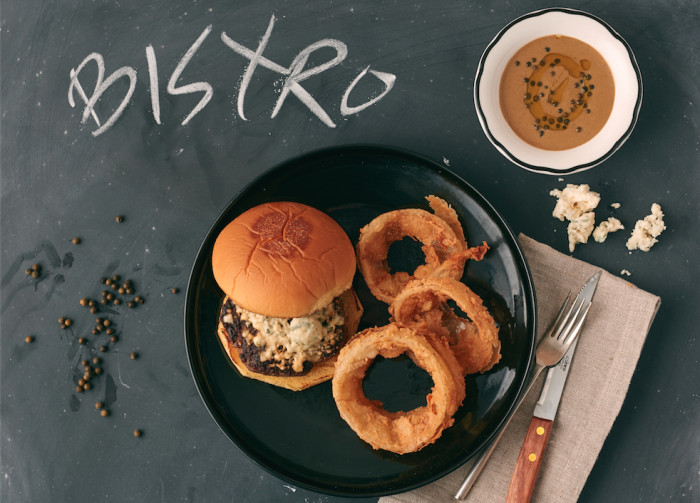 The year we opened, Zagat called this one of the best new burgers in New York. It's an unctuous play on the steakhouse classic and the traditional flavors of French cuisine that I admire as a chef. The green peppercorn sauce is made with a touch of cream and brandy to highlight the beef; you'll have about ½ cup left over, so save the sauce to try with your next steak dinner, too. The Steak au Poivre Burger is great with fries, just like its original bistro inspiration.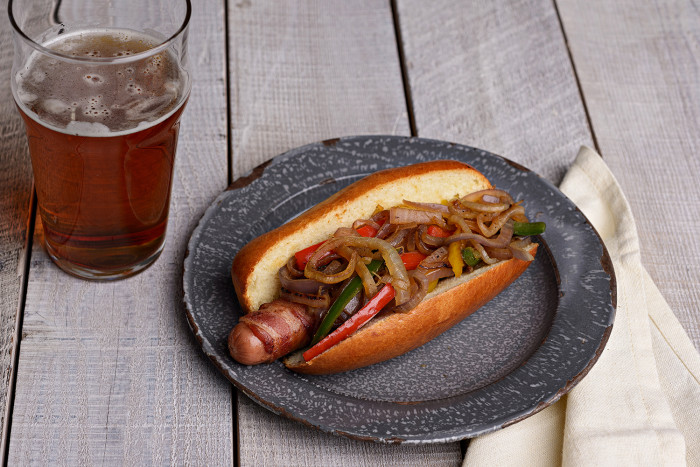 People are sometimes surprised that I miss food things from LA besides In-N-Out and amazing Mexican food (though I of course miss those things). I miss getting sushi in Little Tokyo. I miss sandwiches from Bay Cities in Santa Monica. And I miss getting a greasy delicious Victory Dog outside the Coliseum after watching my team demolish some losers in powder blue.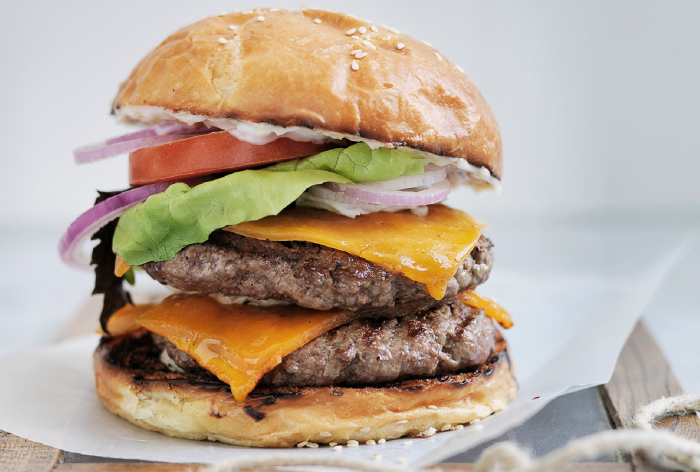 For many Korean-Americans and Southern Californians alike, Roy Choi is a hero. His empire of taco trucks, called Kogi, were innovators in their use of social media. Who would have thought Twitter could bring 150 hungry people to a supermarket parking lot? Choi invented that. Ever eaten a Korean short rib taco, an appealing mashup of Asian and Mexican culinary common sense? Choi invented that. Here's a double cheeseburger recipe from the LA chef that features a bit of Asian flair.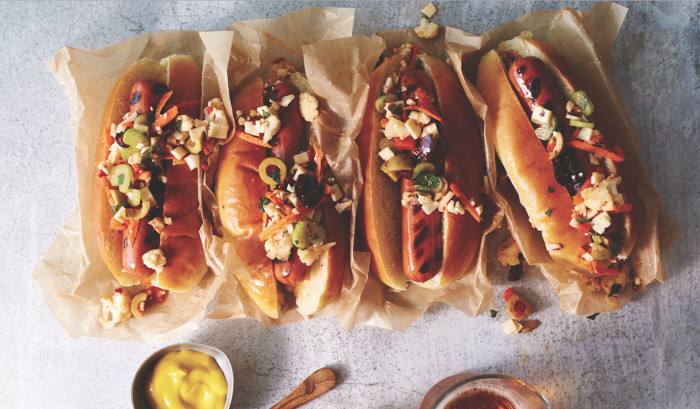 Looking to bring a taste of New Orleans to your next cookout? This is just the ticket. Our latest muffuletta riff (we've also made muffuletta deviled eggs, sliders, and cocktail kabobs) lightens up the classic filling and turns it inside out for a chargrilled hot dog topping. It's light, fresh and, quite frankly, delicious.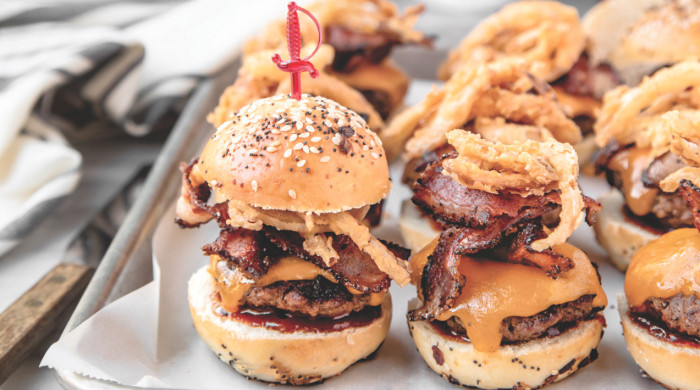 I'm not above a simple cheeseburger topped with crispy onion rings and barbecue sauce every now and then. Sure, it's not white linen tablecloth fancy, but sometimes you just need to roll up your sleeves and get a little dirty…with barbecue sauce. Let's take off our top hats and tiaras, loosen our ties, and unbutton our top buttons because these sliders are taking us back to the basics. If you don't want to go through the steps of making the onion rings from scratch, use store-bought frozen onion rings instead. Just cook in the oven according to the package directions.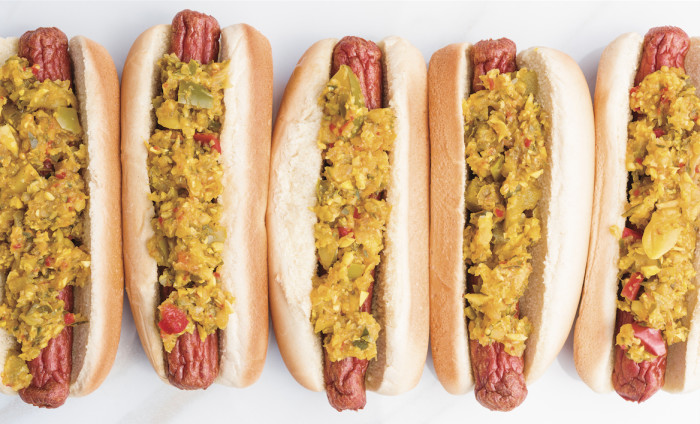 Everyone has their preferred way of cooking a hot dog. Some like the boiled or steamed ballpark variety; others like them to a varying degree of doneness on the grill. Here in Jersey, we deep-fry them. A quality frankfurter — beef or pork — will have a tough casing that withstands the hot oil, to a point; the dogs are done when they rip open, hence the nickname "rippers." Served on a bun, with a heaping of Jersey-style relish, these dogs require only a side of onion rings or fries.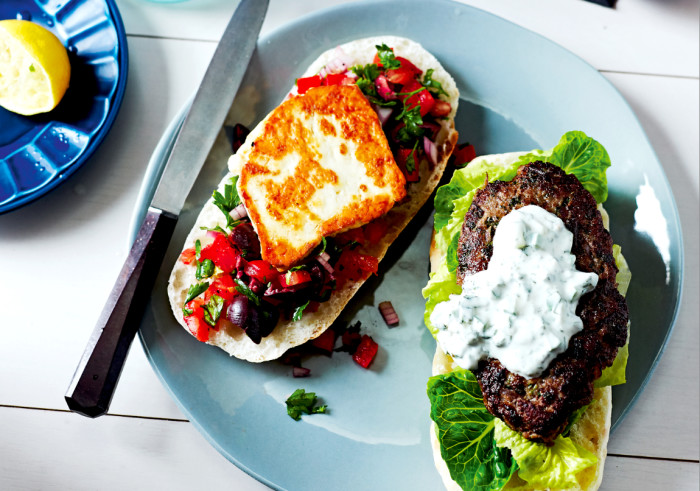 One of the great things about drinking at a real pub — gastro or otherwise — is that the food will be perfect for whatever's in your pint glass. That's why we're loving cookbook author Rachael Lane's Great Pub Food, a tome packed with all things beefy, cheesy, fried, salty and otherwise perfect for the bar-frequenter. These Greek lamb and haloumi burgers put a plain old cheeseburger to absolute shame.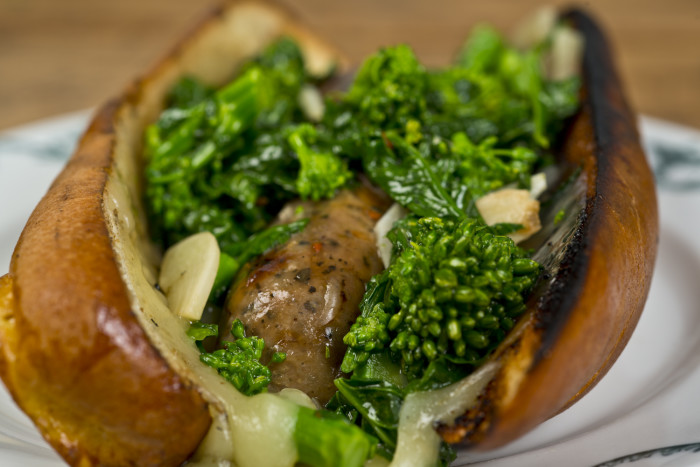 One of our big goals in last month's grill-centric Test Kitchen was inventing easy new ways to trick out hot dogs. We discovered our ability to pair a sausage with the toppings that best suit it. First up: the Italian dog. One of our favorite side dishes with any Italian classic, like gooey homemade eggplant parmesan or the labor of love that is lasagna, is bitter, toothsome broccoli rabe sauteed very simply with garlic, olive oil and just a pinch of red chili flakes. It happens to make an excellent topping for an Italian sausage in a crisp, toasted bun with melted provolone.