Here's The Best Way To Make Grilled Oysters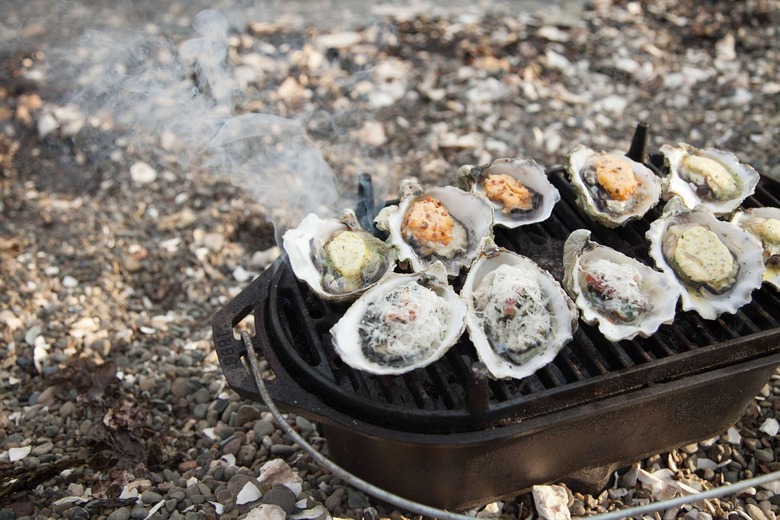 It's known all around the world — well, at least the shellfish world — that Taylor Shellfish Farms raises some of the best bivalves in the biz. Over 120 years old, the company is known for innovation and excellence — but the crew is also known for throwing down some top-of-the-line mollusk recipes. Taylor's Marco Pinchot has spent years at the company, and he's picked up some pretty handy culinary skills along the way. Take his simple method to make grilled oysters, for example.
When it comes to crushing kumamotos and Kusshis with friends, Marco doesn't always go for the straight-up shuck. One of his favorite ways to cook these shells? Topping them with whatever garnish piques his fancy, then grilling them gently. Here, Marco shows you the best way for cooking grilled oysters, whether at home or at the beach, for minimum stress and maximum flavor. The key is shucking first and grilling later — this method lets you prep beforehand and spend your party time with the people you're cooking for. Bonus: You can watch the oysters while they cook, so you won't accidentally turn them to rubber.
Begin by shucking the oysters and keeping them on a bed of ice. Then prep them with any toppings that sound good. Compound butters with a touch of acid make a freakin' great garnish, but feel free to follow your own fancy. When it's go time, take the oysters out and toss 'em on the grill until they're cooked to perfection. You'll know the perfect grilled oysters when you see them — their body pulls away from the hinge, which takes from one to four minutes, depending on your heat source. Once those puppies are done, pop the bubbles, pour a beer and serve these tasty morsels directly into the mouths of your happy and hungry loved ones. Check out the video below.
ChefSteps comprises a team of award-winning chefs, filmmakers, scientists, designers and engineers focused on revolutionizing the way people cook by inspiring creativity and encouraging expertise in the kitchen. You can also get access to all of ChefSteps' Premium content — including paid classes and dozens of recipes available only to Premium members for a onetime fee of $39. Classes include Sous Vide: Beyond the Basics, Fluid Gels, French Macarons and more!