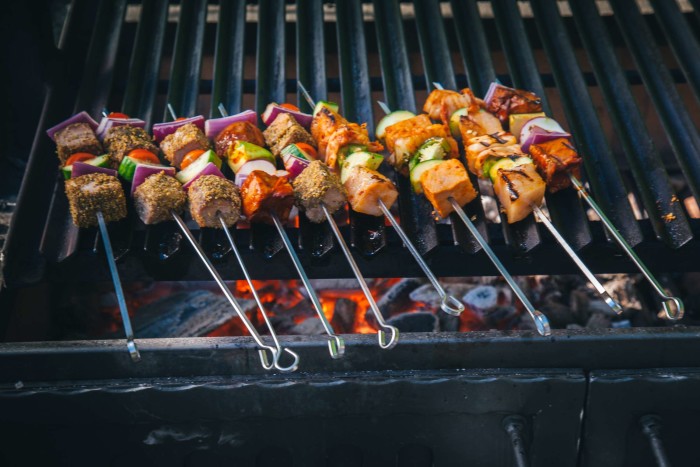 It's pretty simple. Meat + stick = happiness. Once you've got the formula down, go wild! Our friends at ChefSteps really like how simple kebabs are — they make cooking outside a snap because everything gets prepped, cooked and ready to rumble at home, making the last step quick and easy. (Plus, you've got your meat and veg all in one tidy package.) Kebabs can be seared to order over a hot grill, making them the perfect meal for your next picnic or campout.
We've got three ideas for kebabs: one pork, one beef and one lamb. All three use tougher cuts of meat that really shine when they're cooked sous vide for 24 hours, as the connective tissue breaks down and converts to gelatin, lending your meat that beloved braised texture. Here's the basic outline: Once you've cooked your hunk of meat, let it cool completely, then cut it into one-inch cubes. Add a rub or marinade, gather up your supporting cast (cherry tomatoes, kimchi, radishes or whatever you like), and get skewering those kebabs. Then you're off to the races! (Or, you know, the park.) When the time comes, just heat up a grill and get a good char on those bad boys, and you're done. Slide those goodies onto plates and top with sauce, or fill up some tortillas or lettuce wraps for an easy handheld meal. Enjoy!
Equipment
Grill
Metal skewers
Sous-vide setup
Campfire (optional)
Time: 1 hour active; 1 day total
Servings: 10 (can easily be amended)
FAQ's

What kind of skewers should I use?
We're partial to the flat metal ones — they tend to keep meat from spinning, and they're reusable too. But the wood ones are also great — just soak them in water for 30 minutes or so to prevent burning, and double up (with the two skewers about a quarter-inch apart) to prevent your skewered bits from spinning.
How hot should my grill be?
Reeeeal hot. Pile up the charcoal on one side of the grill to create a hot zone, or if you're using a gas grill, crank it up to high. You can even roast your kebabs right over a live fire, just like weenies or marshmallows! Fun times.
How will I know when my kebabs are done?
You don't really need to worry about this here. Your meat will be totally cooked, so it's just a matter of getting things warmed through and crisped up. The timing all depends on your grill setup, so just keep an eye on your kebabs and use your best judgment. (You could also bring along a thermometer if you really want to get serious—or just snag a little test bite off a kebab to see if it's toasty.)
[Editor's note: ChefSteps cooks sous vide with the Joule, a tool created by its in-house team of chefs, designers, and engineers. Joule is a Wi-Fi-connected device that you control with your smartphone. For more, check out Food Republic's independent review of the device.]
Easy Kebabs At Home
1. Tough cuts sing here. They taste better the longer they cook, and they stand up well to being reheated. Consult the Joule app for times and temps, then cook up your meat in a big hunk and chill it all the way down.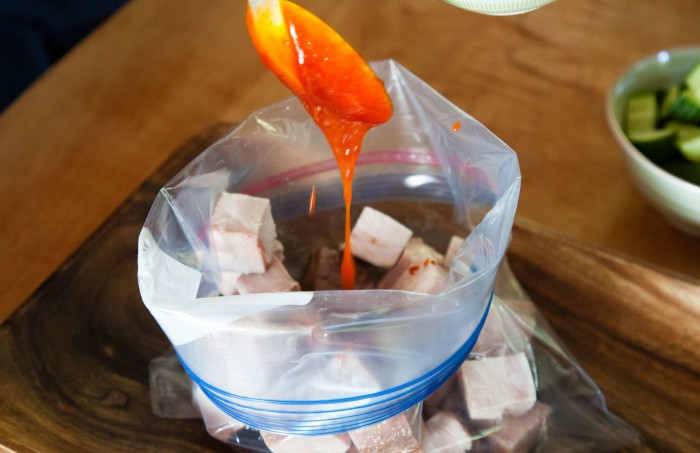 2. Cut the cooked, chilled meat into one-inch cubes and give it a flavor boost with a rub or marinade.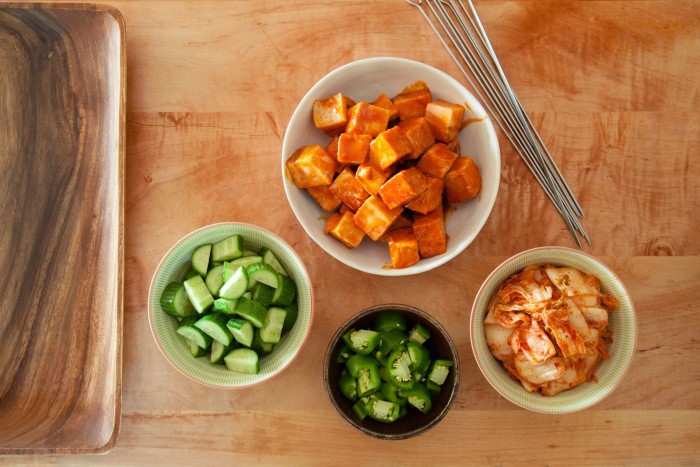 3. Prep your accompaniments. Adding veggies to your skewers? Cut into bite-sized pieces and get 'em ready to go.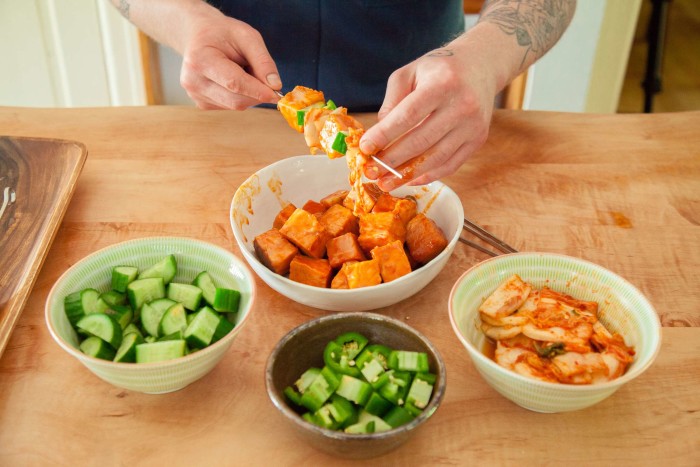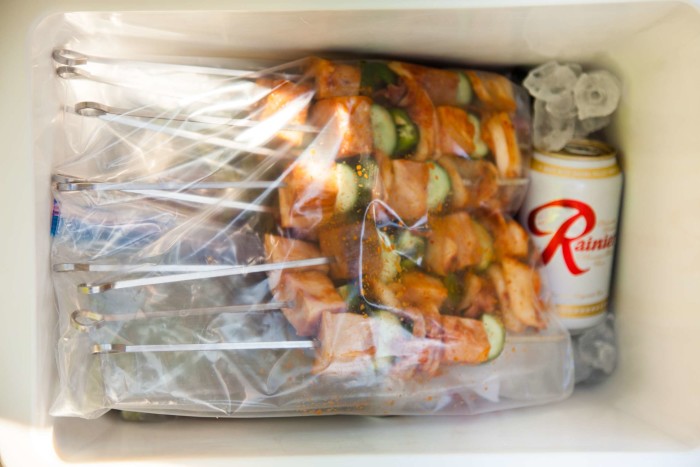 4. Make a little assembly line with your seasoned meat and chopped vegetables, and get to skewering. Follow a pattern, or go freestyle. Once you're done, pack them all up in a cooler to head to the party.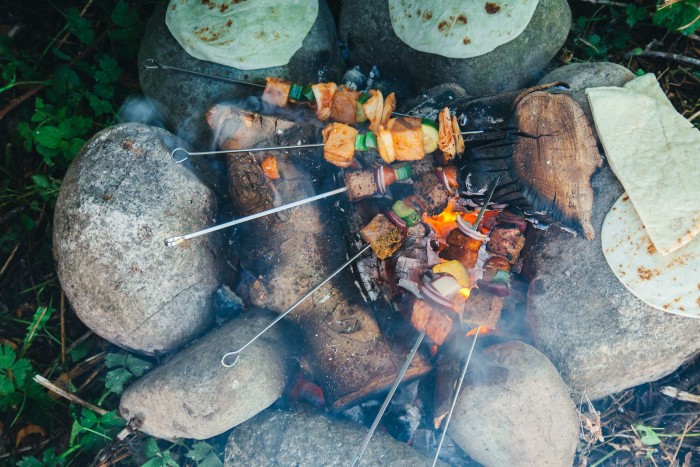 5. Get a grill (or a campfire!) roaring, and when you're ready to eat, just pop your skewers on the heat for a few minutes, rotating to make sure you get an even sear. This is easiest to do on a grill with a grate, but you can also try roasting them over a fire like you would a marshmallow. (Just be careful not to burn yourself or your kebabs!) When the kebabs are warmed through and have a nice sear on the outside, pop your creations off the skewers, top with sauces and chow down.
ChefSteps comprises a team of award-winning chefs, filmmakers, scientists, designers and engineers focused on revolutionizing the way people cook by inspiring creativity and encouraging expertise in the kitchen. You can also get access to all of ChefSteps' Premium content — including paid classes and dozens of recipes available only to Premium members for a onetime fee of $39. Classes include Sous Vide: Beyond the Basics, Fluid Gels, French Macarons and more!