Akhtar Nawab Creates Corn Magic (And More) At Alta Calidad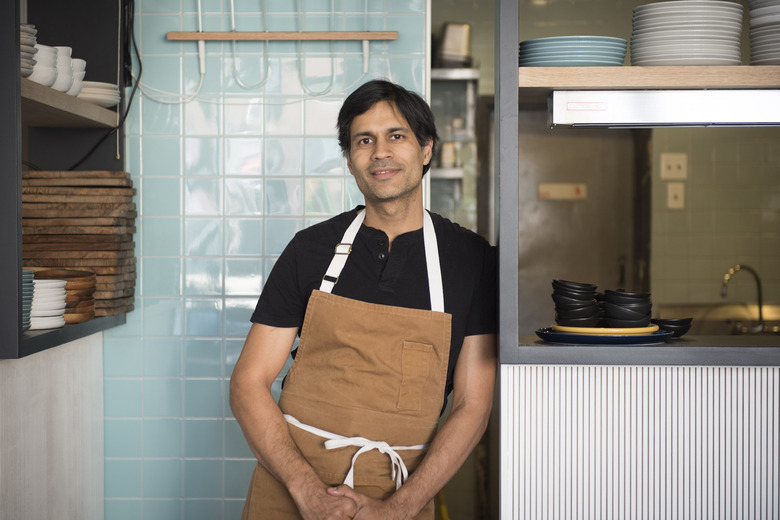 Chef Akhtar Nawab at his latest Mexican eatery, Alta Calidad, in Brookyn's Prospect Heigh
Chef Akhtar Nawab helms the kitchen at Alta Calidad, in Brooklyn's Prospect Heights neighborhood. Previously the head chef at NYC Mexican hot spot La Esquina, Nawab also recently opened Fero at Birmingham, Alabama's Pizitz Food Hall. We sat down to chat about what it means to be a traveling Indian-American Mexican chef, and played a few rounds of "Is This Cultural Appropriation Or Not?"
I've encountered a surprising amount of people who have never tried Indian food, even in New York. I always say if you generally like Mexican food, you'll like Indian. A lot of people don't see the connection between the two cuisines, but I know you do.
I actually once wrote an essay about the connection between Indian and Mexican food. It's a very interesting story about the Arab influence in Mexico and how there is actually a deep connection. I don't think I would have noticed it myself if I hadn't taken the job at La Esquina, but it was always so busy that I quickly got very comfortable with Mexican ingredients. As I started learning more, I found that there is an inherent connection between Mexican and Indian food. There are obviously different flavor profiles, but there are some very similar things in some of the long-cooked items, like moles, that are so similar to a nihari [Indian meat curry] that my mother would've made in Lucknow growing up.
So you endorse this method of getting people to try Indian food?
I think so. It's very very similar, and for people that are interested or nervous about trying it, I think that it's a fair comparison. I don't want to lead anybody astray, I just wanna make people love more foods.
Since it's a hot topic between the culinary world and its fans and patrons I'd like to play a game of "Is This Cultural Appropriation Or Not?" I'll name an instance, and you tell me if you see any issues with it. First, a white American dude puts dosa batter in a waffle iron and likes it so much he starts up a food truck.
Excellent.
Cool. Two Indian girls come back from a vacation to Mexico obsessed with paletas, and write a cookbook that ends up being very popular.
Excellent. I probably would want to buy it. I'm very curious about someone else's interpretation. People have to accept it as different and there's nothing wrong with that — it's just excellent. Right now we have one purely Mexican item on the menu now: a steak taco. It's the only thing I wanted to have that's truly authentic in the way it's treated and produced. Everything else, there's not any real connection you know? It's through my own vision, and I'm not Mexican.
Next instance: a chef in Sweden uses Scandinavian fish preparation techniques to make the best gefilte fish in the world, prompting a food trend in Stockholm and Copenhagen.
I grew up with a lot of Jewish families, so I actually love gefilte fish and would totally try it.
A Lebanese immigrant starts up a raclette food stall, scraping freshly melted cheese onto a mix of chicken tenders and French fries.
Chicken tenders and French fries? Well I prefer my raclette vegetarian, so I would try the French fries before the meat, but I would still try it.
And the last one is an Indian-American chef born and raised in Kentucky who uses masa harina to make gnocchi and serves it with a mezcal-spiked salsa.
Sounds familiar!
...which leads me to my next question (by the way I've been stalking you on Instagram). Can you tell me about the gnocchi you made with maseca?
The mezcal salsa's actually made with rhubarb instead of tomatillos, so it's more like salsa borracha. We use dried chipotle chili, rhubarb, onions and a tiny bit of Mexican sugar. We make this purée that's almost like a chutney, and then we fold in a little bit of mezcal, which adds a whole differently dimension to it. The gnocchi are made with almond milk. I wanted them to be light, and regular dairy sometimes makes things heavy. So I mix that with maseca and a semi-hydrated corn flour in a pot, add butter and almond milk, cook it all together until it forms a ball, then transfer it to a mixer and whisk in one egg at a time until it's an actual choux dough. Then we let it cool, form it, poach it in simmering water, remove it and then we roast again in butter with sunchokes and some bay leaf and top it with the salsa.
That sounds so good!
To finish, we take a little huitlacoche, dehydrate it overnight with some serrano peppers and turn that into a powder. We serve the gnocchi with a little of that dust to give it that earthy element that isn't a direct spice like you would with chili.
I was hoping you were going to say "oh, you just substitute the flour for masa and you have masa gnocchi."
Most things have a couple less steps here just cause it's very soulful, and I want one guy to be able to pick it up so it doesn't hit a lot of stations, but that's one of our "a little more complex" dishes.
How do you handle food waste in your kitchen and do you have any tips for home cooks?
A lot of the things go in the dehydrator. We produce a huge amount of corn scraps, I'll bring some of this stuff up for you to taste. I dry those corn scraps overnight and dehydrate them, then put it in the blender the next day and turn it into a powder. It's a corn flour, but it's pure corn. We'll add that to our esquites so we have a super-intense corn flavor that you can't walk around. It sort of hammers you with all these dimensions of corn, but when you get it, it just looks like a bowl of corn.
That's a win-win right there. The only thing people want from corn is more corn.
We make homemade cultured butter for the esquites, which results in a lot of buttermilk that we use.
America hasn't really caught on to the magic of cultured butter, has it?
No, unfortunately.
Damn shame.
But I've been fortunate enough to go to Europe many times in my life, and the one thing you cannot beat are the eggs and butter — dairy in general — so we culture our own butter here which adds a ton more flavor to it. And in the process we produce buttermilk, so we strain it and that becomes the garnish for our ceviche. A lot of time was spent trying to figure out how to incorporate this buttermilk into something. It's so good and it's totally fat-free and has tons of flavor.
Since we make cultured butter for our version of esquites @altacalidadbk we produce buttermilk. So now we make a hiramasa ceviche with buttermilk, basil seeds, habanero and purslane.
A post shared by Akhtar Nawab (@chefakhtar) on
Let's talk about Fero, your new restaurant in Birmingham. Is it nice to be back in the South?
It's closer to home that's for sure. For my partner and me, it was such a good change of pace to work with such eager, helpful, pleasant people that it's just been a fun process. We decided to open a Mediterranean-inspired restaurant because Birmingham doesn't have a lot of that now. There are a few less steps to some of the things down there, they're focused a little more on simplicity, but the produce is amazing. The blackberries, strawberries and cherries have all been great.
Any producers you'd like to shout out? 
There's a local farmer down there named Henry Fudge — Mr. Fudge — and I'd actually been buying his pork here in New York for years. I'd never met him, but he lives just outside Birmingham and raises this Duroc pork that's marbled like Wagyu beef. The flavor is amazing. So there's a lot of good stuff down there, we're excited to be there. I'm used to a much busier scene in general, so a quiet night down there is quiet.
What's your latest favorite local spot? 
There's a place called Alabama Biscuit down there which is, you know, isn't really on my diet, but I get down there. They do such a good job — all they do is biscuits. They've been branching out now, which I hope they don't go too much further, but they have this "Mississippi cheese toast" which is just really good cheddar cheese, sorghum and sea salt. It's like...wow. By the way, this is the dehydrated corn powder. You can taste it, but first smell it.
(I politely sniff the corn powder his sous-chef has brought upstairs for us)That is the corniest thing I've ever smelled. It's like corn perfume.
It's super-intense.
May I?
Yeah! It's super-sweet with tons of flavor, and this would be a waste, like, in of all my years of working at restaurants this would have gone to waste, you know what I mean? It's hard to figure out what to do with this stuff. It takes a lot of energy and brain power to come up with something that's useful.
I can taste the flavor of the husk and the smell of the silk, it's all in there.
The smell and flavor of corn silk is very present, because all of that gets dehydrated and ground in there. Sometimes we'll toast this until it's almost burned, then we add it to tamales to add a different dimension.
Do you have a name for it?
Right now it's just corn flour.
I'm sure we'll think of something catchier — this stuff is crazy good. Back to Birmingham: Tell me about the Pizitz Food Hall, where Fero is.
The Pizitz is great — it's the only one of its kind down there. People are very curious to see what's going on, because Downtown Birmingham is changing so rapidly. The food hall's not designed like something you'd find here in New York, it's a much more simple design, but people really like going there. They have a lot of well-supported places there like a banh mi shop, Choza Taqueria, an Ethiopian place. So we do have good variety.
Your approach to healthy food is really accessible and delicious. What is one health food trend that is spot-on really awesome and one that is total bullshit?
I think the probiotic stuff is important, I notice that makes a big difference in my day to day life. I think green juice is probably the biggest trend that I think is nonsense. Or the juice trend in general, we do sell juices but we don't necessarily recommend you have a juice cleanse, cause they're packed with sugar anyway. Everyone is so different when it comes to their health needs, is what I've really learned from Indie Fresh. The chef life, as you know, is not particularly healthful...
Or conducive to good digestion.
No, especially cause it's often liquid after certain hours, but I wanted to change my life, so I was making an effort to do this. One of my business partners is extremely fit, and I was a lot heavier when I started this — 25 pounds heavier than I am now. When you're trapped around food all day it's tricky.
What's your last favorite trip abroad you took?
I've gone to France with my daughter Ella over the summer for the past three years, just the two of us. She just turned 11. This past time I told her "We used to be able to smoke on these planes." She didn't believe me.
Seriously, there are old-looking "no smoking" sign in the bathroom. How old are these planes, exactly?
Sometimes you can still find ashtrays still lingering in the armrest or the bathroom.
What is her favorite thing that you cook right now?
She's always been into cacio e pepe, but I'll sneak other stuff in there, like broccoli. She's very into dal.
Totally, what Indian kid isn't?
You know, I really appreciate that it's one of her favorite things. It just so happens to be vegan, but it also just so happens to have all this flavor. We put a little tomato in there and different kinds of cumin, with ginger and garlic confit that I make to extract more flavor. So she's really into that. She likes when I cook Indian food. She's very, very into queso fundido with honey and pepitas.
Does she cook with you in the kitchen?
No, but she'll put the finishing touches on something, especially dessert. Otherwise it's more like "feed me, Dad!"
That's all I've got for you! Thank you for letting me taste your corn magic.
You're welcome.
Ooh, corn magic!
Maybe that's it, yeah!
I'll keep thinking...I'll let you know.
Corn magic sounds alright.