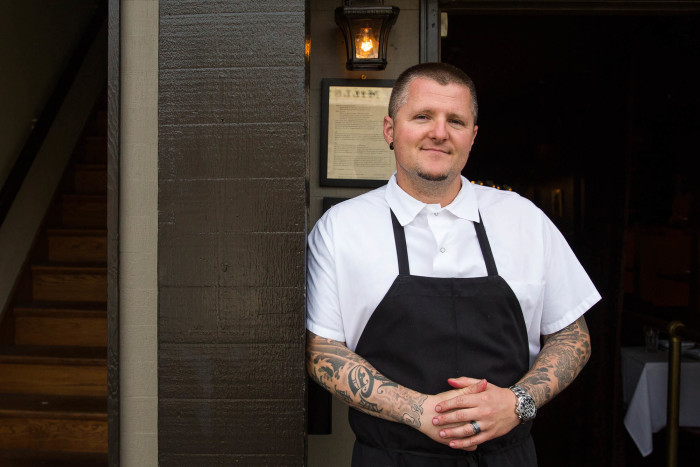 Once known for meaty charcuterie boards at Seattle's Hitchcock, chef Brendan McGill has turned over a new leaf. With three restaurants, two delis and a farm where heritage Mangalitsa pigs are raised under his belt, McGill opened Verjus*, a vegetarian and cold-pressed juice focused café with his wife in 2016.
While running these restaurants and raising two young boys, McGill realized that his energy was dwindling. His general health was also not at its best, so he decided to eliminate all that was preventing him from feeling better: carbs, sugar, alcohol. McGill also started exercising more, getting further immersed in pickling and generally cooking and eating cleaner. Soon, pounds were dropped and restless nights were a thing of the past.
We spoke to McGill about the benefits of upping his vegetables intake, how to get children to eat more than just chicken nuggets and how to keep healthy when the munchies kick in.
*Verjus has since closed with plans to expand in a larger location.
What was the moment when you realized you needed to change your eating habits?
I think the tipping point came via a small irritation on one of my eyelids. I was treating it with some cream from the doctor and it was keeping it at bay but somehow was persistently irritated. I saw a naturopath who suggested cutting all refined carbohydrates and sugars from my diet, and diagnosed candidiasis. I had been feeling fatigued, even confused and generally hungover — even when I hadn't been drinking heavily. I figured 20 years of an aggressive work pace, short nights and general lack of self-care were taking their toll. I didn't realize that the imbalance that was caused by my diet and lifestyle was what was sapping my energy. Imagine your immune system not being able to keep the natural microorganisms that live on your skin from taking over.
It's funny because a similar affliction is very common in pit bulls, and I've been feeding my Bella a whole food, limited-ingredient diet for years. My routine looked like this: a French press of coffee with milk, pancakes or waffles with the boys in the morning with extra syrup, a sandwich for lunch, a double espresso then an assortment of rich and salty bites throughout my cooking shifts, followed with a late-night staff meal that usually consisted of gnocchi, pasta, some sort of leftover starch and some roast chicken and baguette, washed down with lots and lots wine, then maybe a late-night, half-drunk attack on a jar of kimchi or kraut in my fridge. Gotta get those probiotics right? Although my blood pressure is great, cholesterol is good and have no blood sugar issues, the incredible amount of easily convertible sugars from flour, sugar, alcohol and even the raw-fermented foods just fed the yeast overgrowth.
After three months of eating very, very clean, I was 20 pounds lighter and all the issues with brain fog, fatigue and the skin irritations went away. I had stepped up my cardiovascular exercise to two to three times a week, sleeping like a rock — still not a lot of hours, but much higher-quality sleep. I have phased back in a drink or three once or twice a week and a slice of high-quality bread or occasional caving to a sandwich craving. But changing the habits day in and day out have made a huge difference on my health.
What do meals look like now?
French press in the morning, black — or a splash of milk if I'm feeling indulgent. I'll head to Verjus for a shake in the mid-morning, usually something with a protein-rich base like nut milk. I like the metabolism-boosting additions of raw cacao nibs, cayenne and an adaptogen like maca or reishi powder. By lunch if I'm around one of our delis I'll order a sandwich as a salad, like lean roast beef with giardiniera and aioli over a big bed of organic greens. If I'm out and about I'll find a place that serves vegetables and order them. I've been eating dinner at a decent hour more frequently these days, and that's when I go harder on clean, whole foods: a high-quality protein like fish, chicken, beef, tofu or nuts, with an organic whole grain or legume like rice, farro, lentil, garbanzo and vegetables or leafy greens — whatever is in season, organically grown by local farmers. Without making too big a fuss about it, I consider washoku principals with my colors, cooking methods, and flavors. This provides a healthy baseline that allows me to ball out and eat a fat tasting menu or smash a half-pound pastrami sandwich without feeling horrible afterward, since it is the exception rather than the rule.
Has the lifestyle shift changed the way you cook in your restaurants?
I have been cooking pretty clean for a long time, letting the high-quality ingredients drive the menu development, presenting them in different ways and textures. Developing the menu at Verjus with my wife, Heidi, was a steep learning curve, and although I haven't gone vegan at our other spots, I have been steering away from pork bits on the vegetables and fish for a long time, preferring to let their clean flavors come through. I am more likely to garnish a vegetable with a sauce made from its own juice or its greens than with lardons of pancetta — even though my love of pancetta knows no bounds. I personally tend not to eat large amounts of meat at a sitting, so when I serve large meat dishes I try to pile on the greens or vegetables alongside. Also, in an attempt at responsibility, I buy primals of fine beef, dry-age them myself, and present the rich and indulgent cote de boeuf as a cut that is intended to be a celebratory, premium experience rather than an every-day meal. At Hitchcock, we mostly sell the pork we raise on the island, and it is such a precious and remarkable food product. We treat each part with love and reverence. If I'm going to eat meat, it's with a great deal of intention. I have never and will never serve commodity meats to any guest nor my family.
Basing my cuisine on locally sourced organically farmed vegetables, wild fish, foraged mushrooms and greens, and responsibly pastured poultry and meats, it's hard to go wrong. I think my palate has become more attuned to the inherent flavors in these items and relies less on pounding them with animal fats and salt.
At the end of the day we're still in the pleasure business, and feeding people's desires will always be part of the deal. Even the guilty pleasures, we're starting off with fine ingredients. Although I have to admit I've been starting to side-eye the amount of granulated sugar that we pump into traditional American charcuteries like bacon and smoked ham. I suppose that falls under the guilty pleasure category. If it hasn't changed everything that I do, at least it informs it like, I'm suspending my disbelief when I indulge.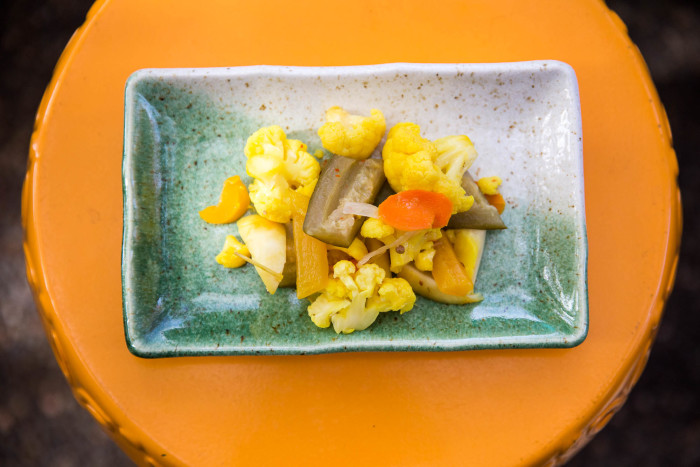 One of the great discoveries from developing a vegan restaurant was fermenting with koji spores. I've employed lactic fermentation for years on everything from dill pickles to Tabasco-style hot sauce, but koji works with entirely different temperature controls, and can consume a simple carbohydrate like rice and produce a natural saccharin, which is a wonderful natural unrefined sweetener derived only from organic rice and an enzymatic process. Conversely, with the right concentration of salt, the koji consumes the carbohydrates and produces glutamates, providing a natural MSG, pure umami. Organic tamari fermented with koji granules turns thick, sweet, and umami-rich. A few granules on top of a ripe tomato provides an umami experience that I could only relate to eating a salt-cured anchovy wrapped around cabrales cheese on a pintxo in San Sebastian. It's flavor country, but we're talking about vegan food.
To the point where we are adding more and more vegetable dishes to all of our menus, from our 10-course tasting to quick sides at the café.
What's the most surprising thing you've found about changing the way you eat?
I was surprised that it wasn't a compromise. I actually felt much better for drinking a soda water instead of a couple Rainier tallboys, then late-night snacking on cauliflower and baba ganoush instead of an entire bag of Tim's chips. Once you get set up for it, it's really a much more pleasurable way to wind down after work. High-quality indica marijuana helps, too. No big deal if you get the munchies, just go ahead and eat the rest of the cauliflower.
The other surprise I got was feeling so invigorated by cardio. Maybe it was my burst in energy, or maybe it was cathartic from being so stressed out, but it wasn't like something I did out of an obligation to myself; it simply felt great.
When my kids wake me up in the middle of the night, I feel clear-headed and more patient with them. I go to sleep earlier (when I have the opportunity) and wake up much earlier, naturally energetic at like 6 in the morning.
If you make your kids eat carob and sunflower butter instead of chocolate and peanut butter they're going to revolt on you and start eating McDonald's and Wonder Bread. Just surround them with great food and cook it properly.
What do your kids eat?
My kids eat exactly what we eat, with a couple of no-brainer cheats like Beecher's Mac n Cheese or Annie's frozen pizza. For the longest time Sullivan's, my oldest, favorite meal was wild salmon — crispy skin on — with quinoa and broccoli. He would announce it in the grocery store. I think he liked the attention but I know he enjoys the meal. He's experimenting with being pickier now. West, my youngest, eats anything you put in front of him. I'll scramble them eggs or go ahead and make the pancakes for them for breakfast. They love all the summertime fruit. West is a big fan of avocado. They'll crush a Margherita pizza and meatballs from Bruciato at least once a week, as long as I leave off the basil. Sullivan has started with the "no green stuff" business. A typical snack could be black rice noodles with toasted sesame oil and a dash of ponzu or toasted seaweed. Our whole family will get down on a stir-fry or hot pot. I used to make kimchi buta nabe, traditionally with pork, but now I make miso dashi with kimchi and tofu. Everyone eats it! They have great palates for spice.
What are some key elements or best practices for raising kids with a broader palate?
Just keep introducing them. Give them options but don't make a big deal about it. Connect them with the food. Sullivan loves it when I braise kale in cider vinegar, especially when we harvest it fresh from the garden. He calls it "Daddy Kale." Talk with your kids about flavors, how food is made and they'll connect it. One time I took Sullivan to the farm where the hogs are and Farmer Kevin had just slopped them with spent grain from the local brewery. Sullivan inhales and says, "Yum, it smells like bread!" We talked about yeast and grain, and how beer and bread are just two ways of using yeast to preserve and process grain. He totally gets it. So the smell of the beer, that's not disgusting to him, it's just all food. He always wants to drink my coffee or wine — of course I don't let him yet, he's 5.
Also, cut yourself some slack. Even my kids go through phases where all they want is chicken nuggets or something. So I buy them high-quality chicken nuggets, big deal! If you make your kids eat carob and sunflower butter instead of chocolate and peanut butter they're going to revolt on you and start eating McDonald's and Wonder Bread. Just surround them with great food and cook it properly. People get scared from their parents steaming Brussels sprouts until they are grey then making them eat a whole plate. Shallow fry them in a little olive oil and serve them with a little aioli dip. And watch them disappear.