Our Favorite Grilled Skewer Recipes For Your Barbecue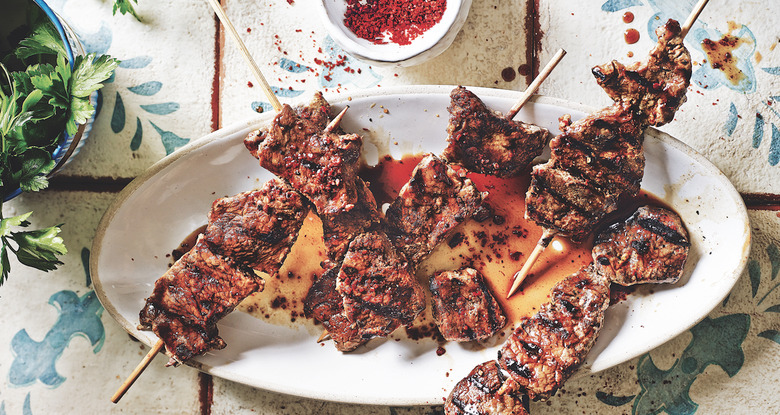 You've been grilling all summer, and that's awesome. But have you been firing up enough skewers and kebabs? We're here to make sure you barbecue in balance, with 10 of our favorite grilled skewer recipes from the hearty vegetable and smoke-tastic fish to every kind of meat you want to eat. They cook up quickly and slide off easily for a fast, convenient meal any night of the week.
Recipe: Turkish Pomegranate Beef Skewers
The inspiration for these beef skewers came from a Turkish kebab called çöp şiş, an odds-and-ends sort of kebab, where leftover bits of meat are chopped up and marinated in yogurt and spices and then grilled. I first ate these at a smoky street stall on a warm evening in the town of Adana and quickly fell in love. The marinade tenderizes the meat beautifully, and the Turkish pepper flakes give it a little kick. For my kebab, I have been a bit more fancy, and used a good piece of steak, marinated in the traditional way, and finished off with pomegranate molasses and honey: two flavors that work beautifully with the cooked beef.
Recipe: Quick Chicken And Snap Pea Skewers
I love making these skewers as soon as my snap peas are at their peak. They're quick to assemble and pretty enough to serve when company comes. Marinating the chicken in the mint and parsley pesto ensures it is as juicy as it is flavorful. I love to prep them the night before so they marinate overnight in the refrigerator which makes the meal even easier when it's time to cook. Once broiled, the snap peas are tender and the onion is caramelized and sweetened to perfection.
Recipe: Ginger Glazed Salmon On A Stick
Ray Mears is always the calm and collected voice of outdoor chefs. And he knows the wild. Watching him grill salmon in primitive ways is always an inspiration and gets me thinking about backyard applications. In this recipe, I like to cut the salmon filets 1 inch wide with the skin on and skewer them lengthwise. For the backyard grill, use either metal or wooden skewers, and for a campfire, use a longer stick — the same kind you'd use to toast marshmallows.
Recipe: Grilled New Potato And Onion Skewers
Bacon-sherry cream is one of Greg's favorite sauces to make, and everything we've ever served it with has been so damned delicious — summer corn, Brussels sprouts, roasted scallops, lentils. It's incredible on new potatoes, which take on crispy skins when grilled.
Recipe: Scallop Skewers With Chorizo
Southern French cuisine is known for its inimitable blend of rustic ingredients and elegant presentations, tried-and-true technique, effortless inventiveness and above all, deliciousness. British chef, author and caterer Nina Parker has a rock-solid foundation in all things French cooking, and her new recipe collection, The South of France Cookbook, is a testament and love letter to the regional cuisine you can indeed re-create in your kitchen at home.
Recipe: Spicy Duck Skewers With Salsa Amarillo
If you find yourself with skinless duck breasts, try a South American twist: Sixteenth-century Spanish conquistadors delighted in Peru's delicious anticuchos — spicy skewers of grilled beef heart. I've discovered that these are even more delicious made of wild duck. The popularity of anticuchos has spread from the Andean states, where they're found on street-food carts and in street-food stalls, and into Texas and the Southwest, where we've fallen in love with the dish's sunny, aromatic dipping sauce, spiked with cumin and turmeric.
Recipe: Grilled Chicken And Onion Skewers
This simple recipe is good with salt (shio yakitori) or with sauce (tare yakitori). You can prepare half the recipe with the salt and half the recipe with the sauce to have the best of both worlds.
Recipe: Herbed Fish Skewers With Smashed Potatoes And Skordalia
When it comes to the basics, look no further than a cookbook by renowned Test Kitchen master Pamela Clark. Her simple, triple-tested recipes are delicious and genuinely foolproof, two things you'll want to consider when tackling grilled fish. Pair the skewers with Greek skordalia, a thick, rustic purée of garlic, olive oil and bread, and serve with smashed potatoes for an authentic Mediterranean dinner.
Recipe: Skirt Steak Skewers With Blue Cheese Dip
This dish is a great example of the food we make at Sips & Bites. It is simple, classic, delicious and has a tiny twist to make it interesting. Pickled onions are a snap to make and will elevate anything you put them in — especially sandwiches, salads, dips and dressings. We use them in a hundred different ways.
Recipe: Filipino Beef Jerky Skewers
If you want to be super-extra authentic, you can track down some Filipino-style fish sauce, known as patis, for this recipe. It's on Amazon! Otherwise, use what you can get your hands on (nam pla, colatura, etc). Some types of fish sauce are saltier and more concentrated; some are sweeter and some are stinkier. Use what you can find. The idea is just to add an extra layer of umami-laden flavor.