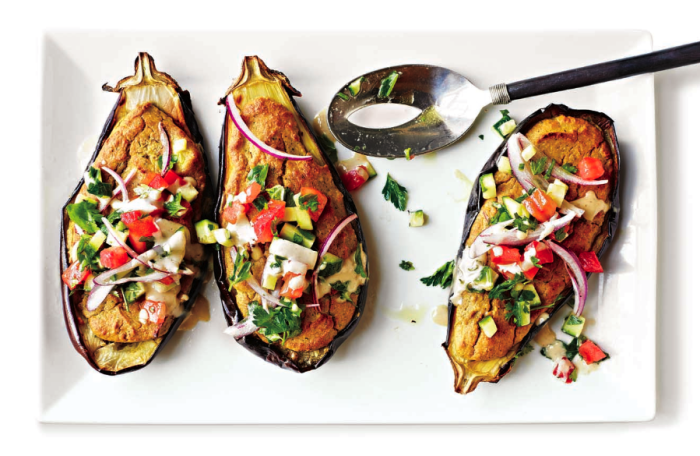 Here's a specially curated list of 30 things to cook in August! We're nearing the very peak of summer vegetable season — tomatoes, eggplant, cucumbers, peaches and the like — so go at this fresh spread like the true produce lover you are! Harvest a bounty of greenery, and while you're at the farmers market, pick up a few flats of berries and make something to freeze for the colder months ahead. That's where it's at.
With all the amazing meat fresh off the grill during Food Republic's Grilling Month, you may need a veggie or two in there to balance it all out. Cooking Light magazine's new cookbook, Pick Fresh, is a collection of simple preparations of seasonal vegetables. Enjoy seasonal eggplant stuffed with hearty falafel for a steak of a veggie dish you'll make over and over again.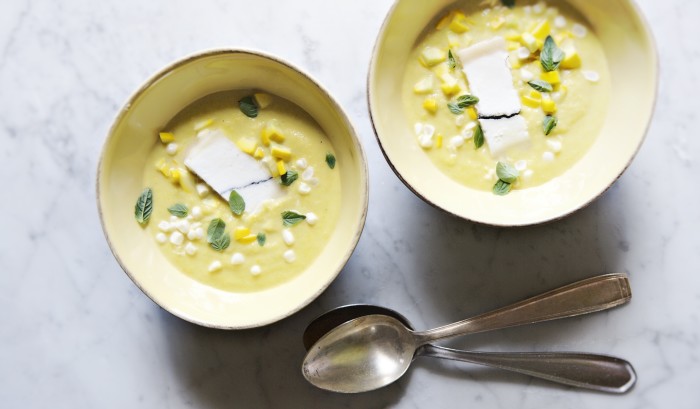 This is our good friend Peg Janosch's go-to recipe for drop-in guests. Peg has been our go-to person concerning finance and business development from the beginning. This bright, velvety soup forms a mellow backdrop to elegant, luscious Humboldt Fog. We love this method of placing a single slice of cheese on top of a warm bowl of soup just before serving. Make the soup ahead if you like but don't add the cheese to the hot soup until you've ladled the soup into bowls and are ready to eat.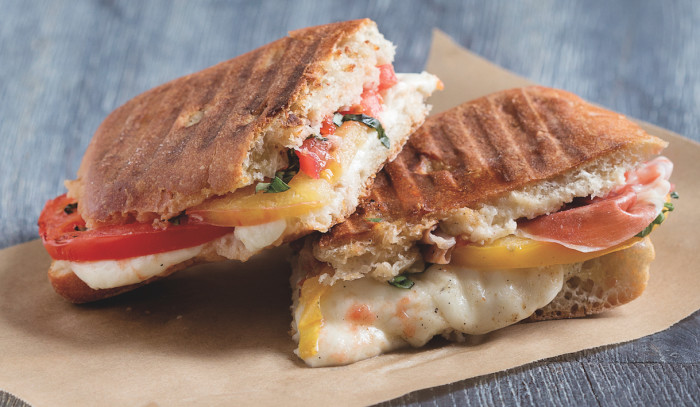 You kind of can't go wrong with any combination of tomatoes, mozzarella, prosciutto, and basil — especially when it's in panini form. Feel free to use a large cast-iron skillet or nonstick griddle.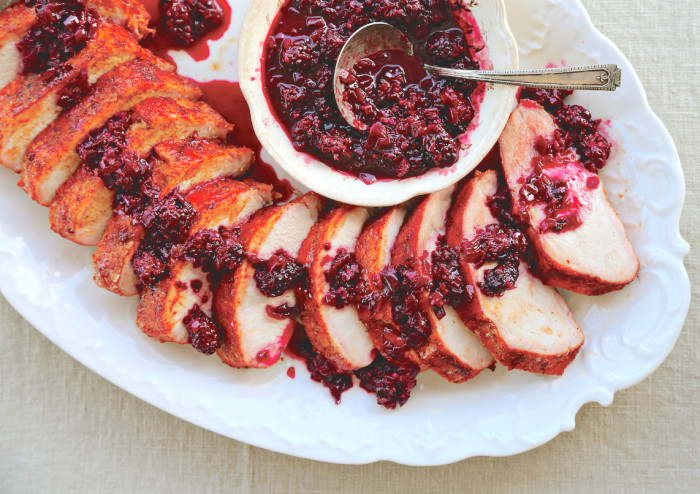 I spent many a summer day crawling through weeds and fighting off chiggers and snakes just to pick a bucket of luscious blackberries. Blackberries are the flavor of my youth, and I still try to sneak out in June, when the berries are at their plumpest and juiciest, and pick a few to make into cobblers and jellies. This chutney uses blackberries to bring a rich sweetness and beautiful contrast to the pork.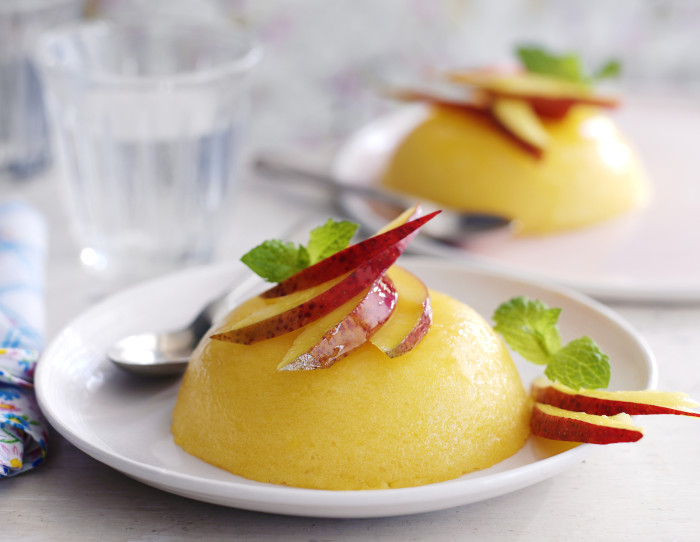 Mango pudding is probably the most popular Chinese dessert. This is delicious served cold and perfect to prepare in advance for a party.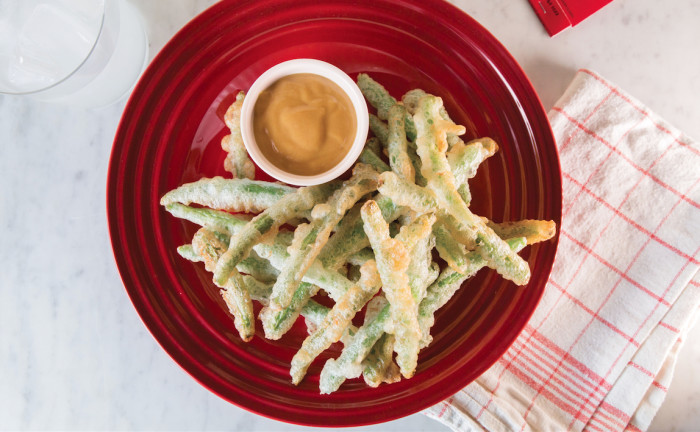 My first jobs in food media were as an event planning intern and a publicist, and the clubhouse of the people I worked for was the Red Cat, Jimmy Bradley's restaurant in Chelsea, where this dish has been a stalwart of the bar menu for more than a decade and a half. It has all the visceral appeal of something I would have ordered at T.G.I. Friday's (which was my favorite sit-down restaurant as a teen) and the sophistication—or at least a price tag—that made it acceptable in Manhattan. I include it here because it was one of the first restaurant vegetable dishes I thought was awesome, even if now I can see more clearly that it was just playing to my inner fat boy/deer that likes a salt lick. But that's okay — not all vegetables need to be the sort of thing you'd split with your yogini.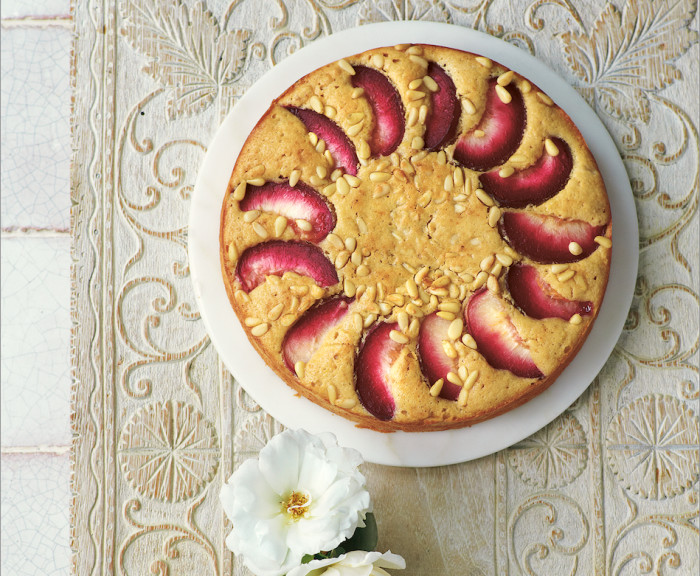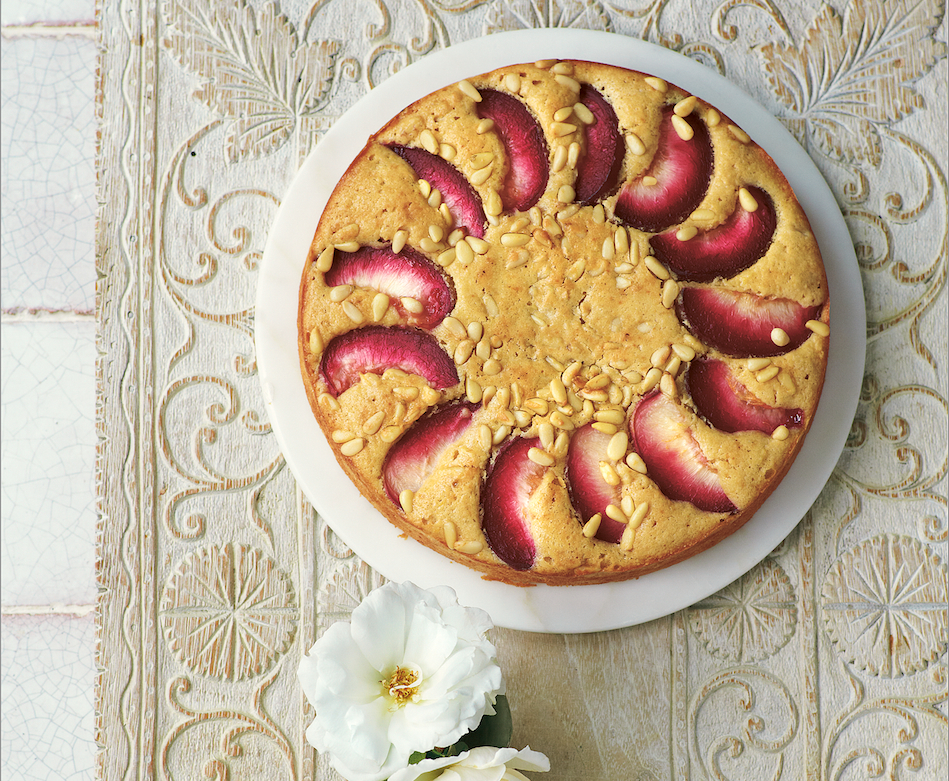 When I was young, we grew many varieties of peaches at home, and I would climb up the trees and steal them just before they were ripe, which got me into such trouble (quite right, too)—much to my dismay. A great peach has the ability to stop me in my tracks as I get lost in the juicy, sweet flesh. It is definitely one of my favorite fruits, especially when it has been freshly picked, warm and sweet from the sun.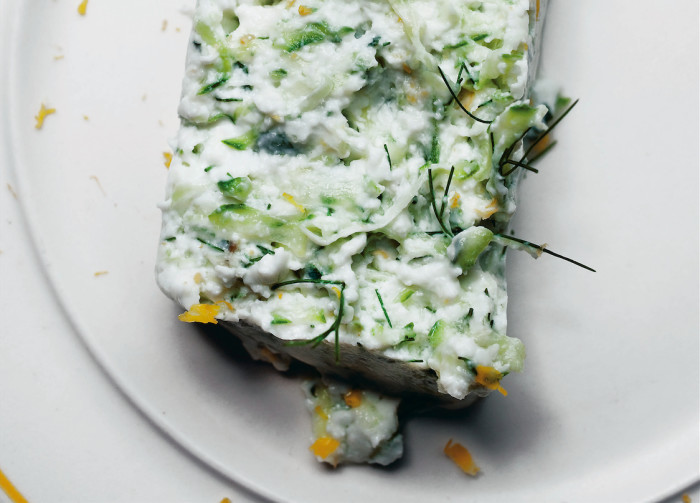 This is tzatziki transformed into a simple, refreshing mousse. It is very light and innocent of garlic: serve a slice with very good smoked salmon as a starter, or present it garnished with dill as part of a medley of mezze.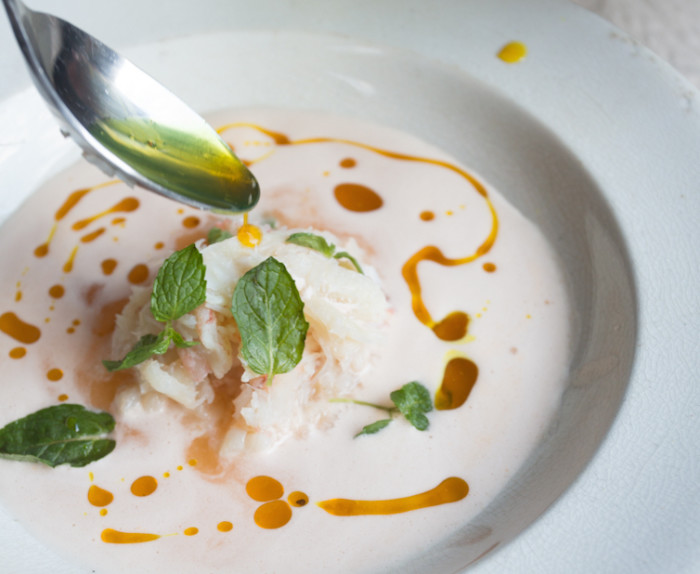 James Beard Award-winning chef and all-around food hero Hugh Acheson's new cookbook, The Broad Fork, is inspired by the questions asked at farmers' markets. Acheson demystifies varietals and underused veggies with in-depth analyses, seasonal recipes and other forms of fruit and vegetable-forward culinary encouragement. So why cantaloupe soup? Well, can you think of a better vehicle for succulent crabmeat?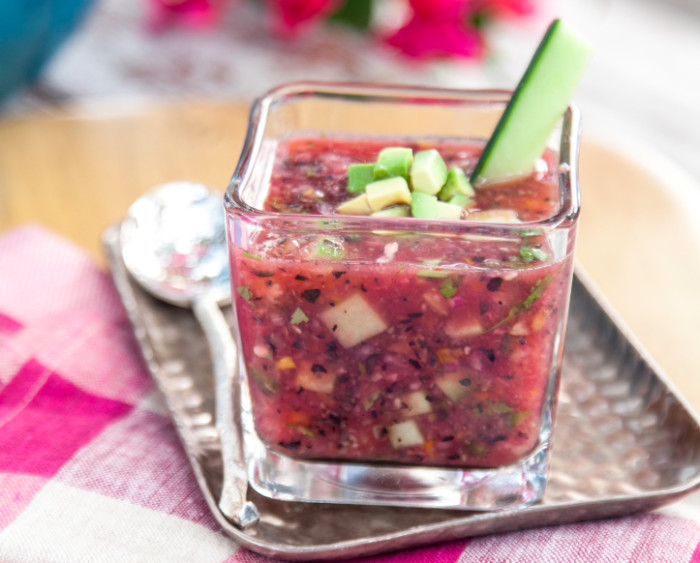 If you're going to eat light, make sure it packs tons of flavor so you don't get to the end of your meal wearing a sad face. Miami-based chef and TV personality Ingrid Hoffman's Latin D'Lite is full of recipes with bold vibrant flavors that won't weigh you down. Her gazpacho packs a hefty serving of cool fruit with just enough acid to make it a truly refreshing appetizer or dessert.
This is a very popular vegetarian take on lasagne. Using really fresh ingredients makes a huge difference to the quality of this dish. Do use scamorza if you can — it's a little more expensive than fior di latte, but it's well worth it for the delicious smoky flavor.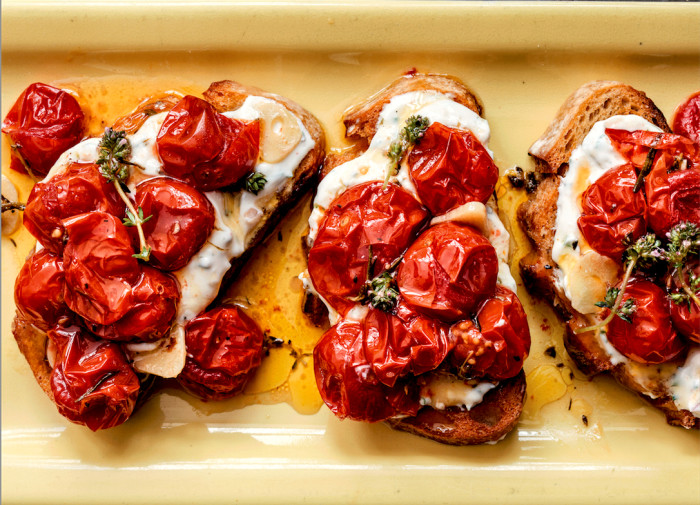 For this recipe, I roast the tomatoes ahead of time — up to 8 hours in advance — so they have time to marinate in their own savory juices, which get released and caramelize slightly, making a nice bit of sauce to drizzle over the top.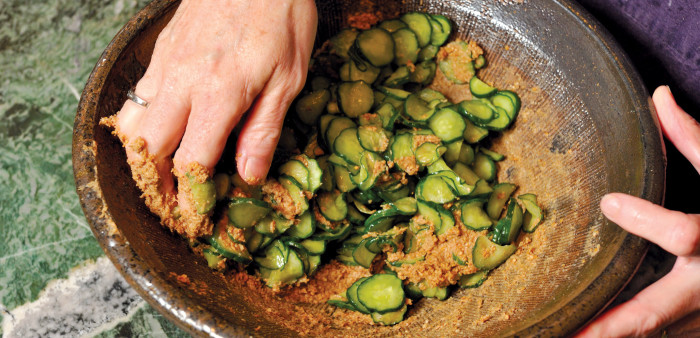 Before my mother-in-law lived under the same roof, I would stop her at our door when she tried to drop off big bags of each. Somehow I thought of the field as my own private vegetable shop. I could saunter over and pluck a bit of this or that for any meal. I didn't know that you have to pick the whole row every two days, otherwise the plants stop producing. We wait all year long to eat cucumbers and eggplant and revel in them when we have them in abundance, eating them at every meal.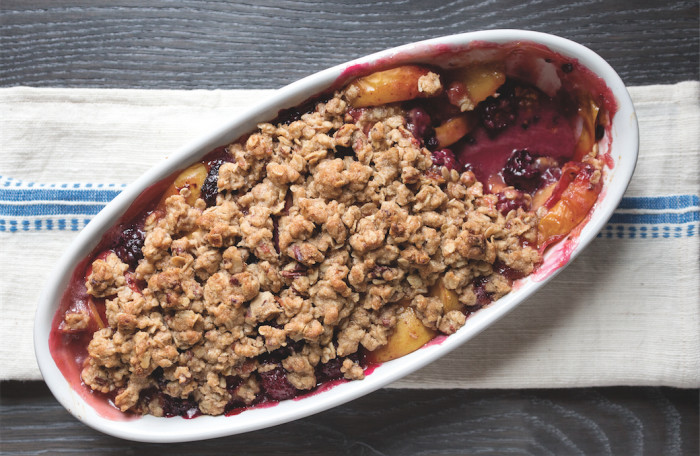 My friend Kelyn helped me develop this summery crumble, and her suggestions — like adding in lemon zest and vanilla extract — took it from good to extraordinary. Serve this with good-quality vanilla ice cream. It's also delicious eaten cold for breakfast, with Greek yogurt.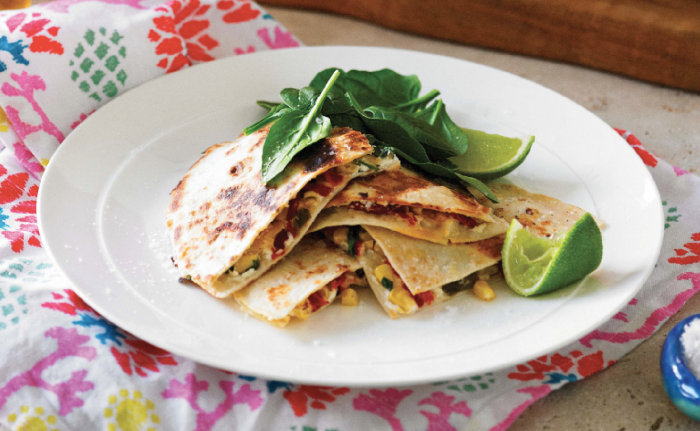 A quesadilla (from queso, the spanish word for cheese) is a tortilla "sandwich" containing cheese and any of a wide number of spicy filling ingredients, which is grilled, fried or toasted and usually served with salsa. We cooked these quesadillas in a frying pan but you can cook quesadillas, one at a time, in a heated sandwich press, if you have one.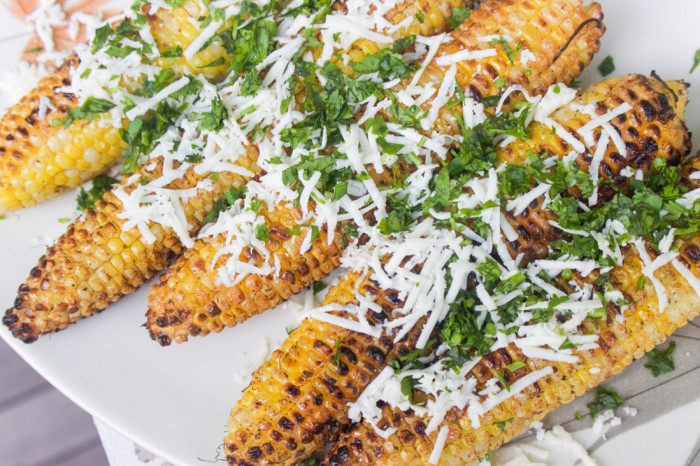 We love the flavors of grilled street corn but think there's plenty more directions to go in other than the ubiquitous and delicious Mexican elote. A potent base of garam masala-infused ghee is generously slathered on the corn as it grills and a finish of grated paneer rounds it all out to make this summer side dish sing. This recipe serves four but can easily be doubled to feed a larger crowd.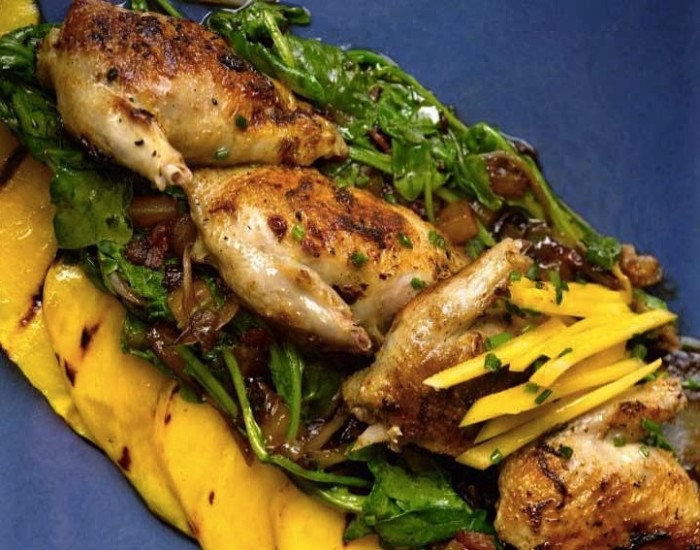 This is a really easy and refreshing little grilled dish. Prep the ingredients the night before and it will take you no time to prepare this for dinner. The combination of the grilled quail and the sweet-tart mango, citrus, ginger and curry combination gives this dish complex flavor with simple preparation.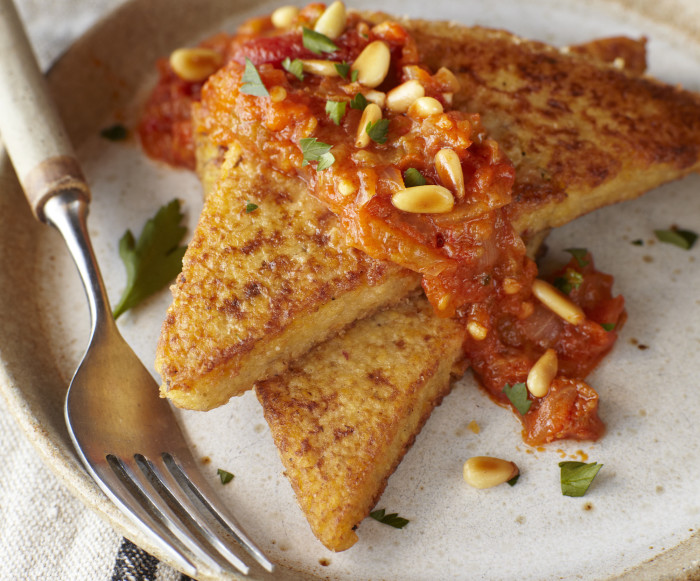 The polenta cooks quickly, but it needs an hour or two to cool in the fridge, so we recommend making it ahead of time or letting it cool while you cook the tomato sauce. Topped with toasted pine nuts and fresh parsley, my mom's sauce pairs perfectly with my seared polenta cakes — making this recipe an example of our creative mother-daughter collaboration.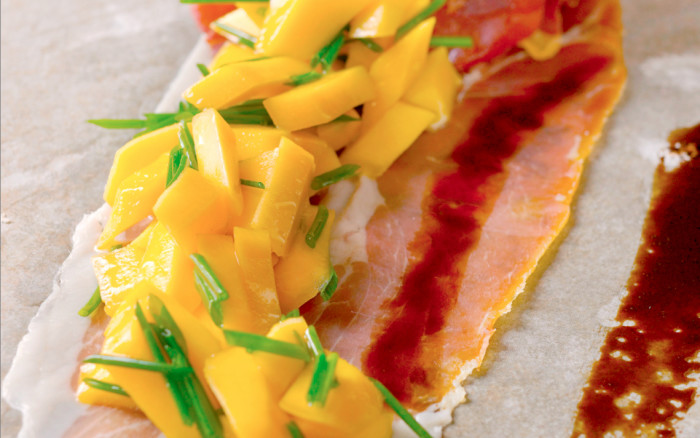 Of course the classic combination is melon and prosciutto, but peaches are my favorite fruit. In the middle of peach season, this fresh approach to an old standard will blow you away. If your peaches are not perfectly ripe, or it is not peach season, try it with mangos for something different.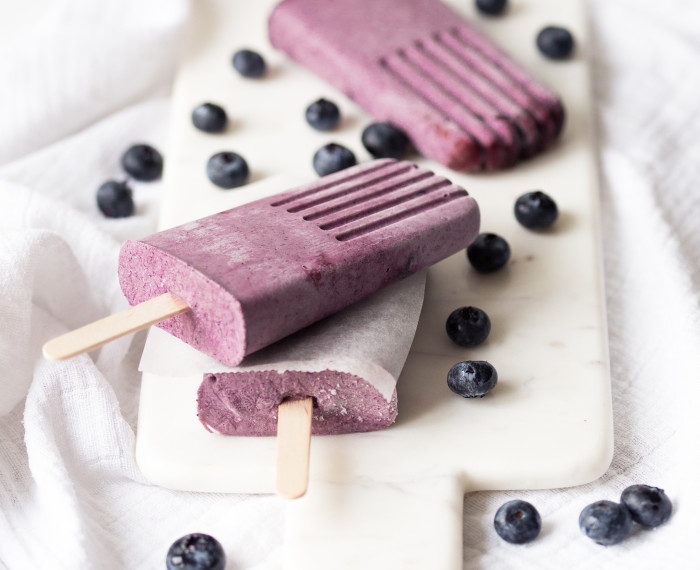 When you're craving some blueberry pie but are not in the mood to bake, make ice cream!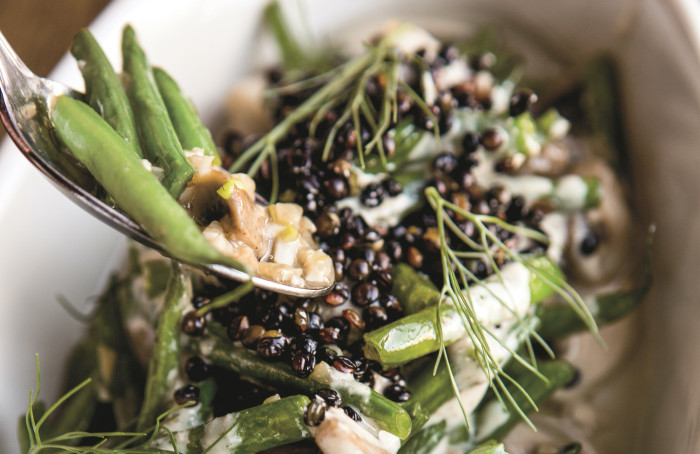 I created this dish for a Chanukah meal at Zahav in 2013, the year that the first day of Chanukah coincided with Thanksgiving. Since this hadn't happened in over 100 years (and won't happen again for another 77,000), we decided to have fun and merge some of our Israeli flavors with traditional American Thanksgiving casseroles. This is our riff on the classic green bean casserole, with tehina standing in for the cream of mushroom soup.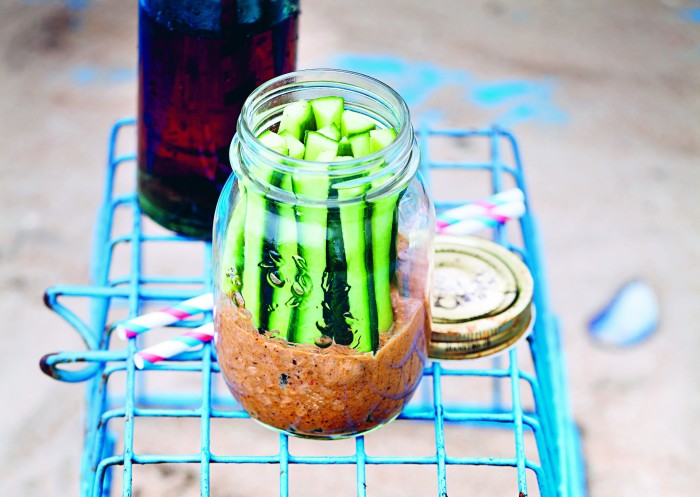 Satay dip is not only good on grilled chicken skewers, but it tastes darn good with cool cucumber spears when the summer sun is at its highest.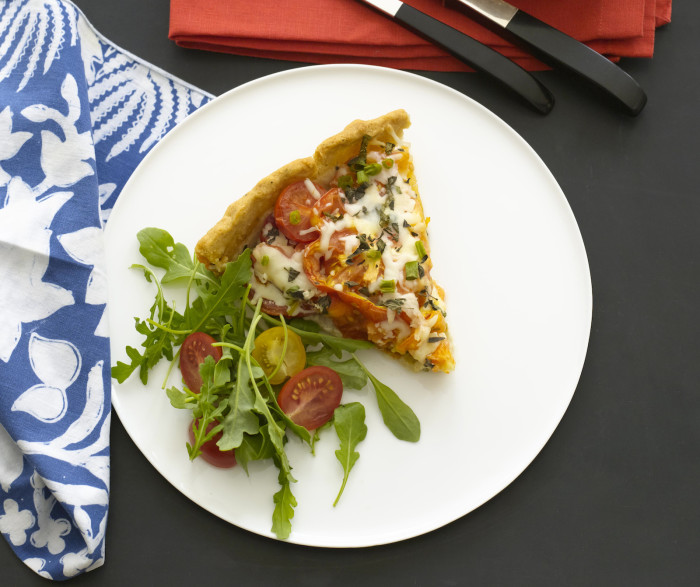 It might seem like a shame to cook the bounty of summer heirloom tomatoes that's right around the corner, which is why this tomato tart features the best of both worlds. You get ripe, juicy slices of tomato that aren't so cooked that they disintegrate, but are slightly mellowed and sweetened from a brief stint in the oven. Combined with fresh mozzarella and a Parmesan-spiked tart crust, this perfect summer lunch isn't your ordinary pizza pie.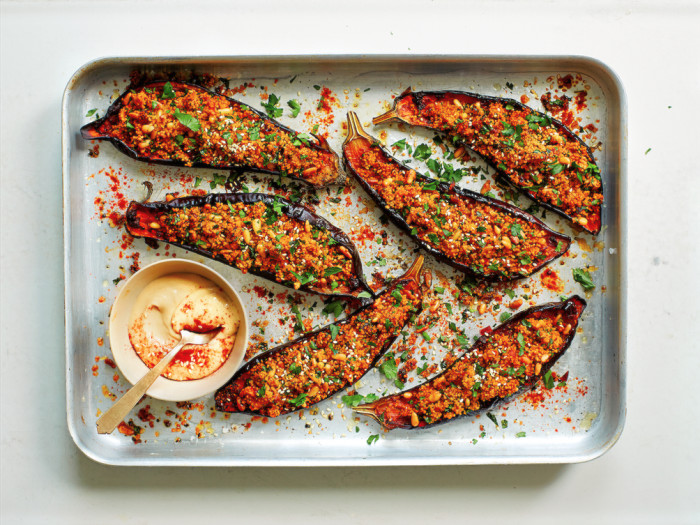 I love couscous an inordinate amount. Often mistaken for a grain, it's actually more akin to pasta as it is made from tiny granules of durum wheat. While you could use a protein-packed option like quinoa (and feel free to do so), there's something so tempting about a mouthful of lemon-infused couscous.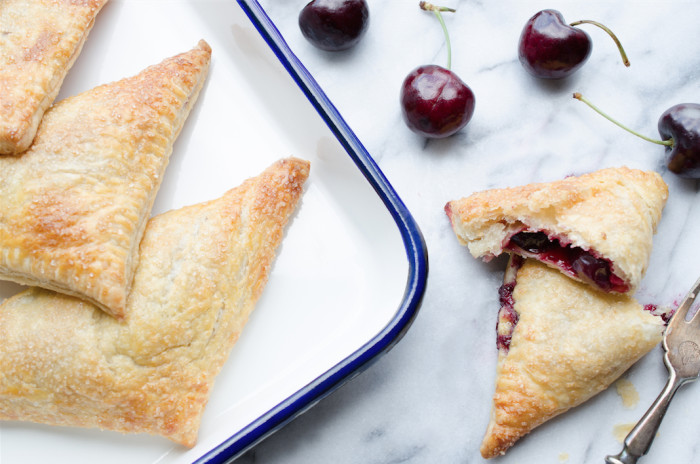 Washington State-based Stemilt Growers have the cherry game locked down tight. All the fruit they produce  is phenomenal, but their world-famous cherries are a rare treat, grown and harvested in Wenatchee as they have been for generations. They loaned us a simple, easy-to-make and thoroughly crowd-pleasing recipe for cherry turnovers that's in peak season right now, so grab some cherries and get baking!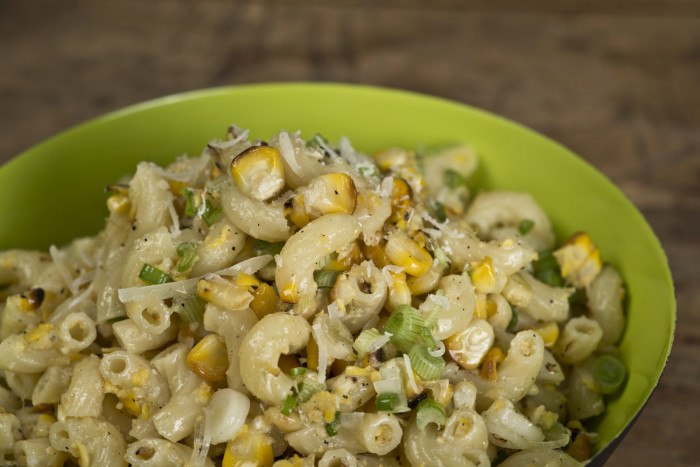 I love making different kinds of pesto — I mean it doesn't mean "basil," it means "paste." That's a pretty solid blank canvas right there. I make it with different herbs and emulsifiers for a new twist every time. I've also found that most kinds of pesto make great macaroni salad with a little mayo as a binder, which is convenient because although this marks the end of Macaroni Salad Week, macaroni salad season is only just beginning. I'm gearing up for a long, prosperous summer of corn with this grilled corn pesto recipe. Tossed with pasta, it's the perfect side for your picnic or barbecue.
Don't reserve walnut miso butter strictly for beans. Try it slathered on carrots, tossed with broccoli or even mixed with a mélange of steamed veggies.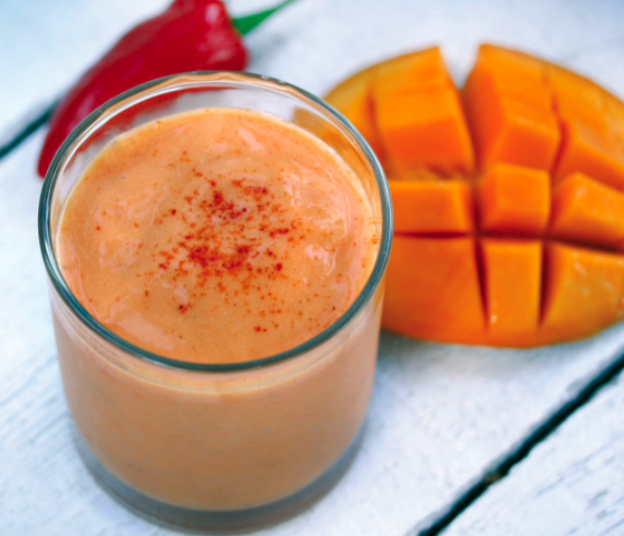 Sweet and tropical with a hint of spice, the key to making this smoothie is using a chili powder made exclusively from red chiles — not one that's a blend of other spices (like oregano and garlic), which offer too much of a savory flavor for smoothie purposes. If you can't find a pure chili powder, use a fresh, de-seeded, red jalapeño pepper instead.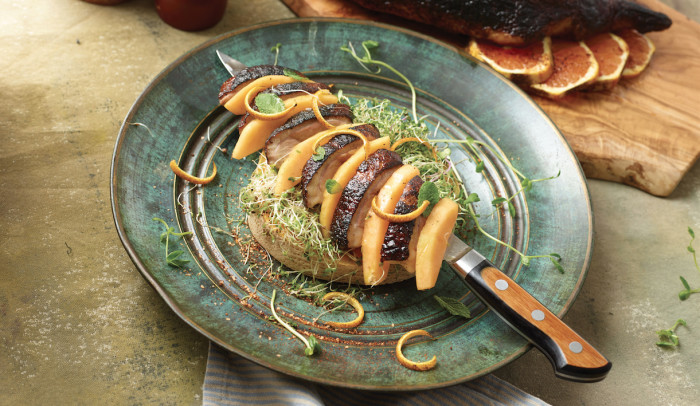 Half the reason I love to grill duck is that I get to trim it beforehand and gather a nice collection of duck fat that will make a grand appearance at some unsuspecting future meal and just blow it up. The other reason is because, well, it's duck, and duck is tasty as hell. If you have a lengthy bacon résumé, those skills will translate rather nicely to duck. Both are very fatty and have a nice skin that can get super crunchy. For a spectacular effect, pair your crispy-skinned grilled duck with something cool and luscious, like cantaloupe.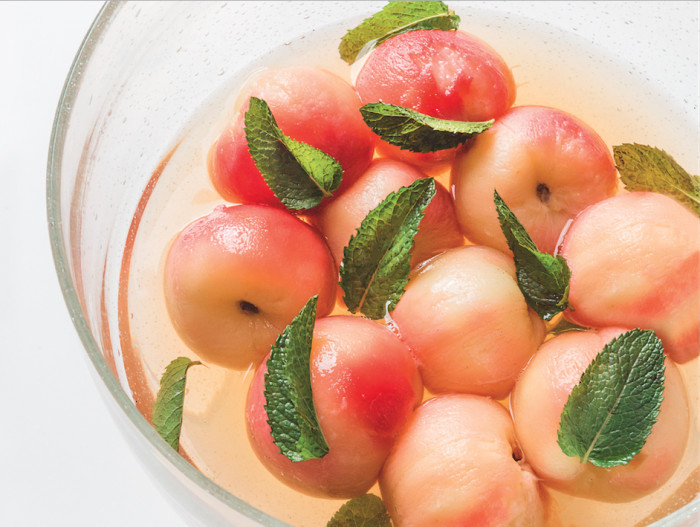 From three-Michelin-starred chef Gérald Passedat comes Flavors From the French Mediterranean, an ode to the bounty of the lush region he calls home. Enjoy 80 of Passedat's finest recipes, all easy enough for home cooks to pull off in their own kitchen. From the traditional French to the multi-ethnic, shellfish to root vegetables and bright, flavor-packed desserts, there's something in this tome for every lover of French cuisine.