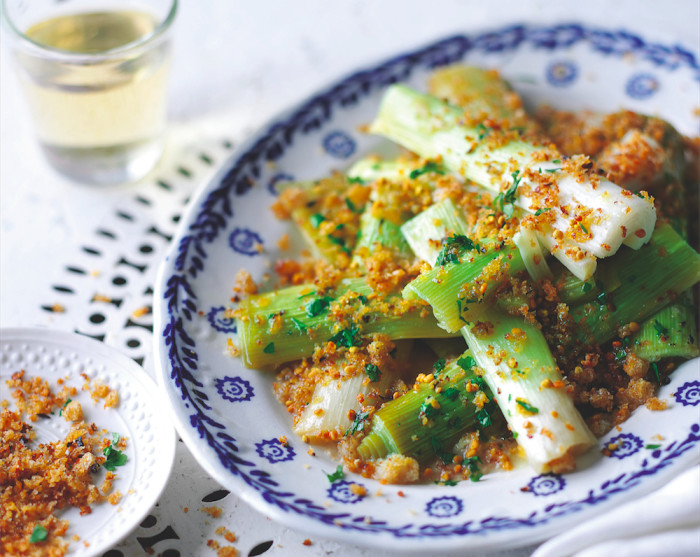 Breadcrumbs: they're not just for deep-frying anymore. Whip up a fresh batch tonight — it's just pulverizing dry or toasted white bread in a food processor — and check out these new ways to use breadcrumbs. They're a crunchy, buttery accent to any vegetable or egg dish, and add texture to anything that needs a little pick-me-up.
Leeks absorb the sweetness of honey and the sweet tartness of cider to make a side dish that is good enough to take center stage. The leeks cook slowly in their own juices, the flavors enhanced by just a small amount of honey. Then the dish gets another layer of bee-magic with a scattering of crisp spicy breadcrumbs enriched with pollen. You don't need to make the breadcrumbs; the leeks are good without them, but they look and taste great. With some soft goat cheese or feta scattered over the top, these leeks make a good vegetarian supper. Otherwise, I love them alongside lamb, pork or fish.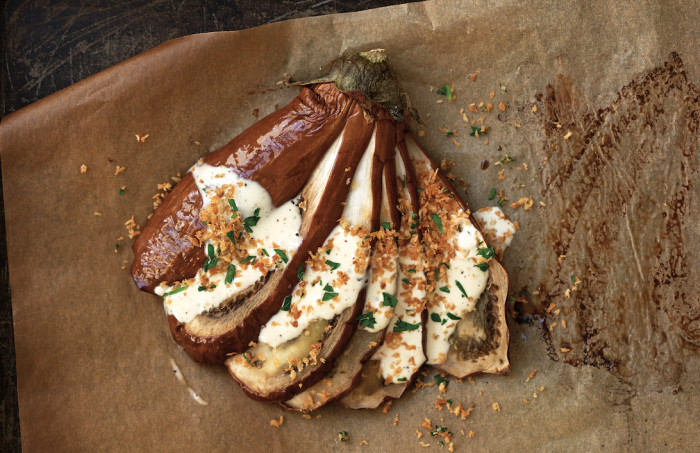 When I was young I was obsessed with paper fans. They were so elegant and exotic, and I often pictured myself grown-up, in a long dress, fanning myself on some grand terrace. Obviously, I had recently watched Gone With the Wind or something along that line. Well, my vision never exactly came true, but I still do love fans — eggplant fans, that is. A couple of cuts with your knife, and you have the most elegant light meal or side dish. The eggplant becomes tender and slightly crispy, and with the creamy dressing and breadcrumbs, it is indulgent and comforting. These eggplant fans are much better than any paper fan and obviously much tastier.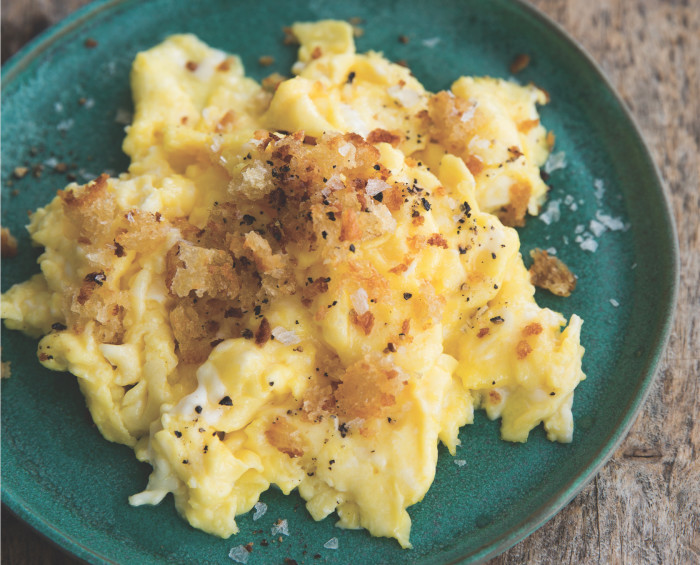 This is a simple sort of inversion that surprises: spooning toasted bread crumbs over your scrambled eggs instead of putting your eggs on top of toast. It's the same bread — though it can easily be about half the amount you might eat at breakfast — and, while I didn't have this in mind when I first starting preparing eggs this way, the buttery, crisp crumbs do fill the desire for something crunchy. One slice of bread will suffice for two servings, but you might also make two slices into crumbs if the pieces are small. Use whatever bread you like — a sturdy whole wheat, a white sandwich bread, a gluten-free bread, ciabatta, and so forth. I especially like Ezekiel sprouted whole-grain bread for these crumbs. I also like a thin sliver of goat's milk Gouda set over the eggs, but that's entirely optional.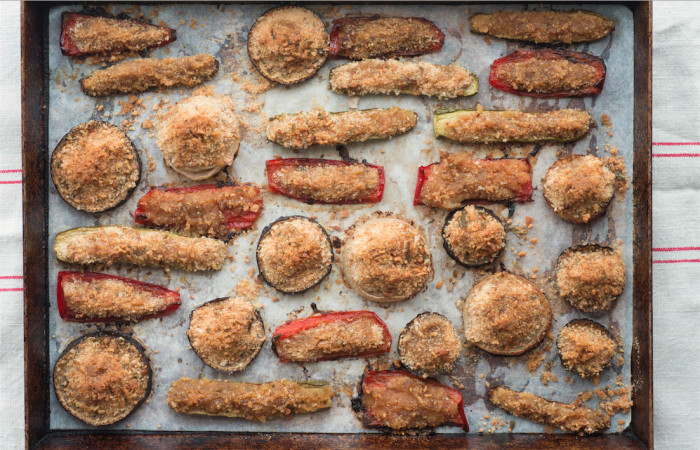 Check out this fantastic new Italian cookbook, brought to you by longtime Food Republic contributor Katie Parla and photographer Kristina Gill. Shaped by 2,000 years of history, the cuisine of Rome is both distinctly Italian and its own creature entirely. Explore dishes that are rustic yet refined, hearty yet produce-heavy and simple in the best possible way. All at once a history book, photo journal and recipe collection, Tasting Rome is a must-read for every Italian-food enthusiast. Remember: Breadcrumbs don't always mean deep-frying.
https://www.youtube.com/watch?v=_z63_ShP3o4
Missy Robbins has an instant hit on her hands with her new restaurant in Williamsburg, Brooklyn. Located in a former auto body shop that's been given a minimalist design makeover, Lilia features a menu of irresistible pastas, grilled meats and seafood. One of the standout dishes is grilled clams with Calabrian chili and bread crumbs, a spicy spin on a beloved Italian-American shellfish dish infused with smoke from the crackling fire. The flavor-packed clams are among the reasons why Lilia has attracted a stylish and vibrant crowd since the doors opened — even before the raves, including a three-star review from Pete Wells in The New York Times, came pouring in. Watch Robbins prepare the dish in the latest installment of Food Republic's Plate Deconstruction video series.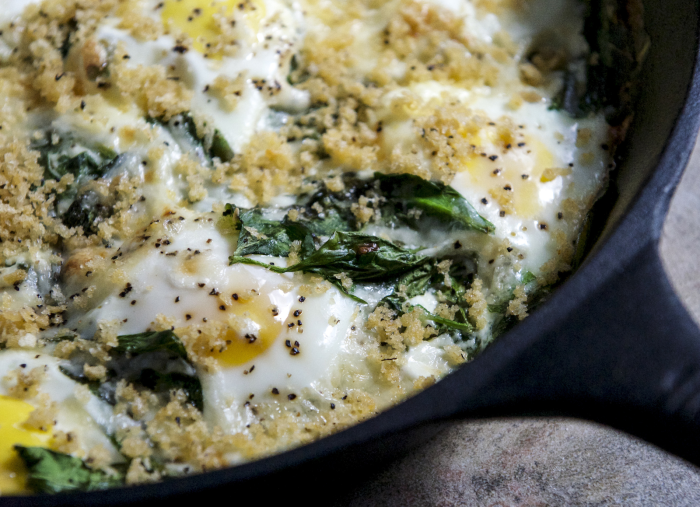 First off, baked eggs are another fantabulous way to incorporate some veggies into your life. And forgive me if I'm wrong, but don't they say that if you consume some veg at your first meal of the day, it sets you on the right track and you're more likely to consume more veg throughout the day? I think they say that. I wish "they" would say something beneficial about having cheesecake for the first meal of the day. But whatever.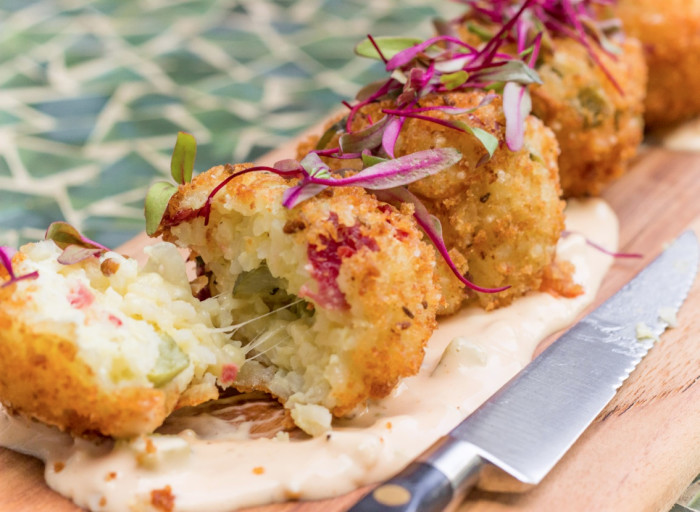 The Reuben sandwich is one of life's great culinary treasures, and for good reason. Piled sky-high with more corned beef than one should consume, it's impossible not to consumed by all the Swiss, pickles and sauerkraut in the most pleasurable of ways. For a fun new spin, we take all those delicious components, including breadcrumbs made from rye bread, and fry them into Italian rice balls called arancini, complete with Russian dressing for dipping on the side. Serve 'em for your next party, or keep them all to yourself, we won't tell.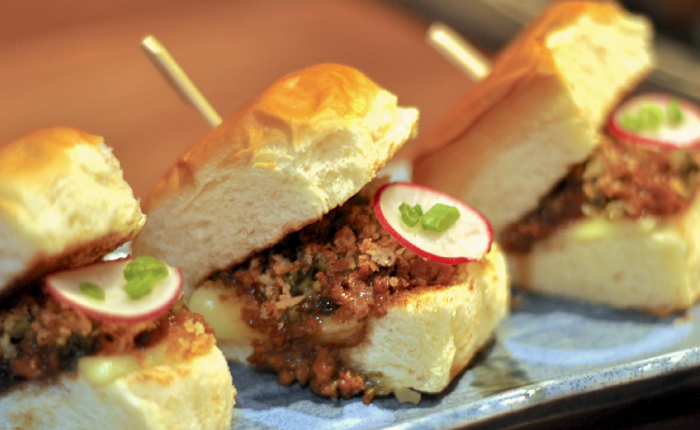 All the best after-work spots have great eats, not just happy hour drink specials. Mira Sushi and Izakaya in NYC's Flatiron District, happens to have both. We borrowed this recipe for Asian-style sloppy joes with crunchy shallot-spiked panko breadcrumbs that are, very simply, slider heaven, from chef Brian Tsao. There's no shortage of creative small plates, skewers and delicious fried things on his menu. You'll want a beer for these.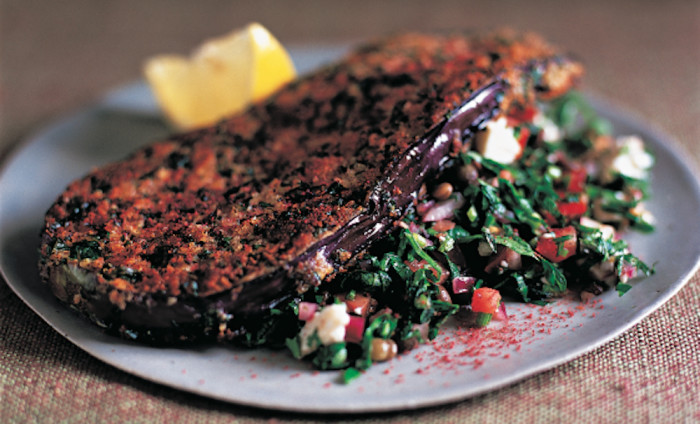 Eggplants lend themselves to all manner of flavors and textures, and just to prove it, here they are "schnitzeled" — coated and fried in a delicate mix of breadcrumbs, cheese and herbs. Sumac is available at Middle Eastern food stores. It's a bright red spice ground from dried berries and it has a tangy lemon flavor. If you can't get hold of it, just double the lemon zest instead.
https://www.youtube.com/watch?v=K354xke_97U
You know the smell instantly when it hits you: ballpark garlic fries. Hell, you can smell them from the parking lot. And no matter what, they always smell so damn good. But let's get real — they never quite taste as good as they smell. The solution? Well, we need to kick things up a notch. WARNING: the following recipe is for serious garlic lovers. We're going to roast some whole cloves of garlic, wrap them in a cheesy garlic dough, and then deep-fry them. It's some serious garlic-on-garlic action that will play out on your taste buds. And if you're not prepared, there will be casualties. But we think you're ready. Check out this garlic-bombing technique video, with the easy recipe below.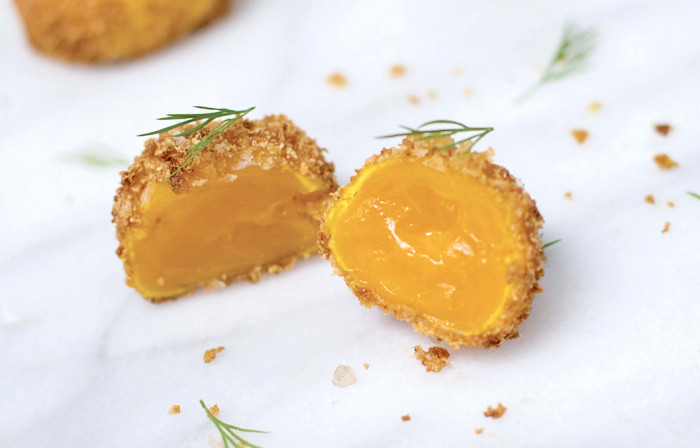 If your heart is full of adventure but is otherwise very healthy, I recommend these crunchy, gooey treats. The secret behind this culinary marvel lies in cooking the egg at precisely 64°C. This results in yolks that are malleable when cold but still "ooze" when hot. Breading the yolks while they're cold and still firm and then quickly deep-frying them to reheat produces an incredibly indulgent combo: a crunchy shell contrasted with a warm, molten inside. Bite sized but hugely satisfying, they make great appetizers but are also a jaw-dropping garnish for a simple green salad — a sort of glorious hybrid of a poached egg and a crouton.
Shirley Conran once famously said that "life's too short to stuff a mushroom." Well it isn't too short to stuff a tomato with this light savory filling. When you eat the result, you'll consider it time well spent.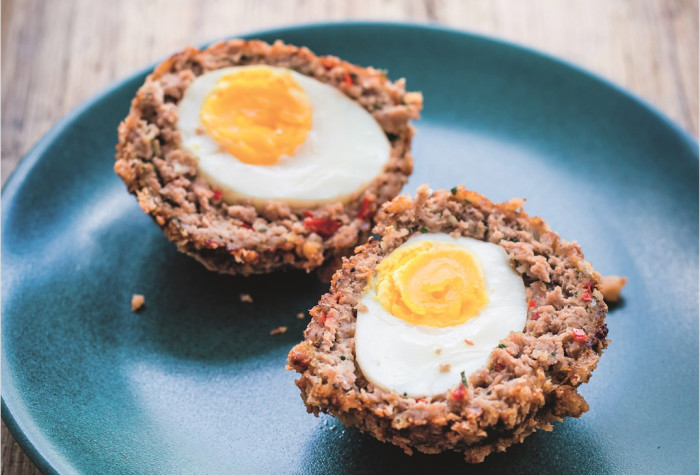 These are not as time-consuming to make as you might imagine and are infinitely more enjoyable for being homemade. Scotch eggs are the perfect picnic snack or packed lunch.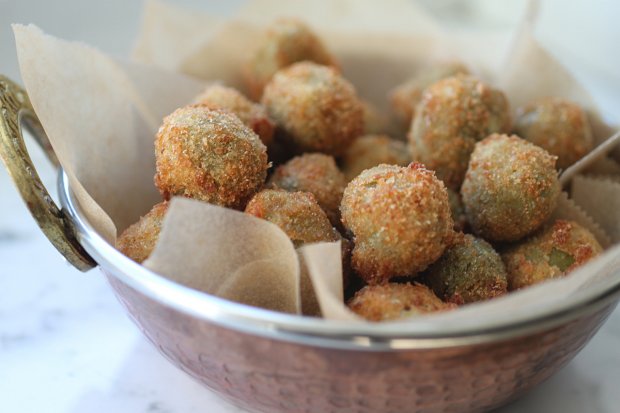 I felt a slightly North African take on this tradition would be delicious. I stuffed them with a spicy, harissa cream cheese before rolling them in breadcrumbs laced with freshly grated Parmigiano-Reggiano. A bit of tang from the cream cheese, some fiery heat from harissa, a touch of sweetness from honey — the briny olives become even more complex and with a deeply satisfying, deep-fried crunch. If you have never tried fried olives, now is your chance. They are incredibly easy to make and work for everything from a movie night to an elegant hors d'oeuvres for a dinner party. Enjoy!