Long gone are the days when "going for sushi" in New York City meant sitting down for a meal consisting solely of California and spicy tuna rolls. Nowadays, those types of delicacies can be found at your local pharmacy! [Editor's Note: Stay away. Far, far away.]
The Big Apple has come a long way in the vast, complex world of sushi. Walk just a few blocks and you're more than likely to come across a neighborhood joint dishing out set plates of nigiri, sashimi and rolls. Follow restaurant news and there will almost always be a piece covering the opening of a new venue that touts some sort of novel concept. It's been a couple of years since the term omakase went mainstream and the city hasn't looked back. Diners are willing to place their complete trust in sushi chefs, allowing him or her to fully dictate the contents of the meal, often at the cost of hundreds of dollars. Imitation crab seems like a distant memory.
With top-quality sushi places thriving and business showing no signs of slowing down, we jotted down some observations from recent meals. Here's what we've noticed between bites of shima aji and o-toro.

Affordable omakase
As mentioned, there has been an unprecedented amount of omakase-only spots opening around the city. It's worth noting, however, that newer establishments have lowered the entry-level price tags attached to first-wave spots that opened a couple of years ago. Full meals at NYC's outpost of Los Angeles mini-chain Sugarfish, chef David Bouhadana's Sushi by Bou in Gansevoort Market, and Brooklyn original Sushi Katsuei go for $40, $50 and $57, respectively. While it's nice that the popularity of omakase is on the rise, it's most comforting to see that multiple restaurants are offering this luxury at attainable prices.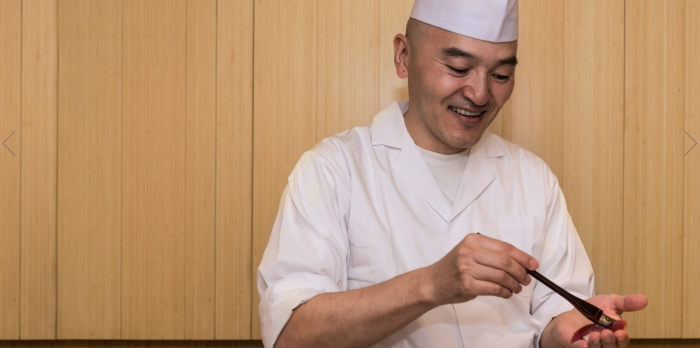 Chef interaction
What is one main benefit of omakase restaurants featuring only sushi-bar seating? A front-row seat and prime conversation opportunity with the head chef. Forgive us for speaking generally here, but Japanese sushi chefs are enthused to share tokens from their breadth of knowledge with diners, while answering any and all questions and eagerly keeping open a dialogue throughout the meal. Diners have progressed from merely wanting to try uni (sea urchin) to wanting to know from where it was sourced and being able to distinguish the taste and texture differences between multiple variations.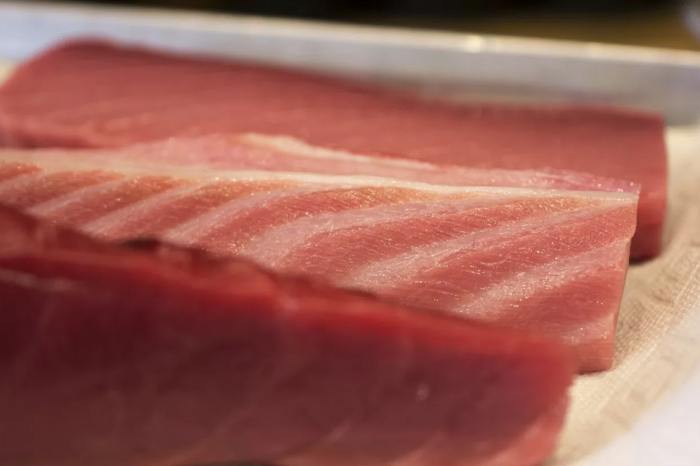 Global ingredient sourcing
Speaking of the differences between various types of uni, let's take a minute to chat about just how many types we've come across during our recent Japanese dining adventures. Over the course of a mere month, we've enjoyed generous globs of urchin from Hokkaido (Japan), Santa Barbara, Maine and Chile. We're tempted to rank our preference in that exact order, but encourage you to seek them out for yourself. In the tuna realm, we've sampled fish from Japan, the northeastern U.S., Italy, Turkey, Mexico and Spain. This last location is especially popular these days, with more and more acclaimed chefs choosing to order Spanish tuna. Our guess (from both a taste and a practical perspective) is that the differences with its Japanese counterpart are minimal, while it's easier and less costly to import.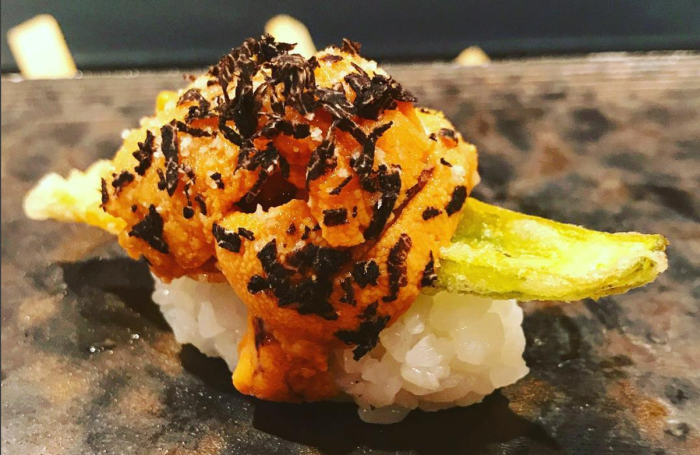 Toppings galore!
An omakase meal derives much of its charm from its simplicity: Pieces are most commonly served one-by-one, with a gentle brush of soy sauce and dab of wasabi acting as their only accompaniments. While New York favorites Sushi of Gari and Sushi Seki have become known for the chefs' experimenting with colorful, flavorful toppings, recent omakase openings have found inventive ways to toe the line between traditional and modern preparations. While you may not encounter toppings that mask the fish's flavor, be on the lookout for small, nuanced touches, such as sea salt, shiso, a squeeze of lemon, a light sear from a blowtorch or a couple drops of a citrusy, yuzu-based sauce. These additions allow the quality of the fish to shine through while imparting subtle flavor pairings.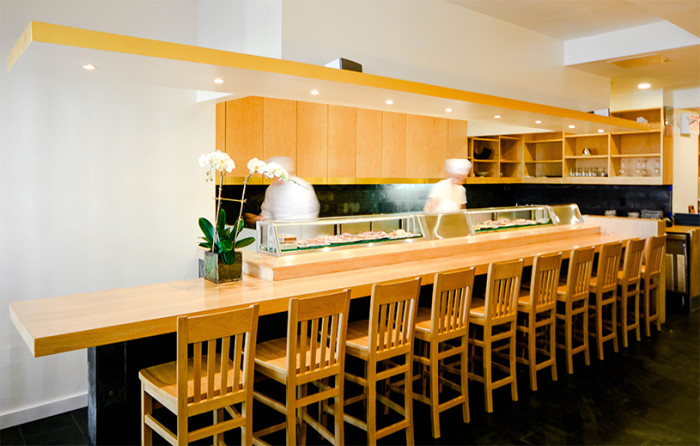 No-frills environments
For many Americans, the word omakase conjures up images from the 2011 hit documentary Jiro Dreams of Sushi. It was this portrayal of a bare-bones restaurant located in a Tokyo train station that many first came to associate with such a meal type. A plethora of NYC's top omakase spots follow suit in keeping things as understated as possible: From a décor perspective, you can expect a wooden L-shaped sushi bar, perhaps some exposed brick and little else. This ambiance plays to the diner's ideal of a tranquil experience, while allowing the restaurant to spend markedly less on such expenses as prime rent locations, interior design and even labor costs (it's not uncommon for smaller venues to employ no more than 4-5 people total during dining hours). That's what we call a win-win!