At Brooklyn's Summerhill, Shooting Holes Through The Delicate Gentrification Issue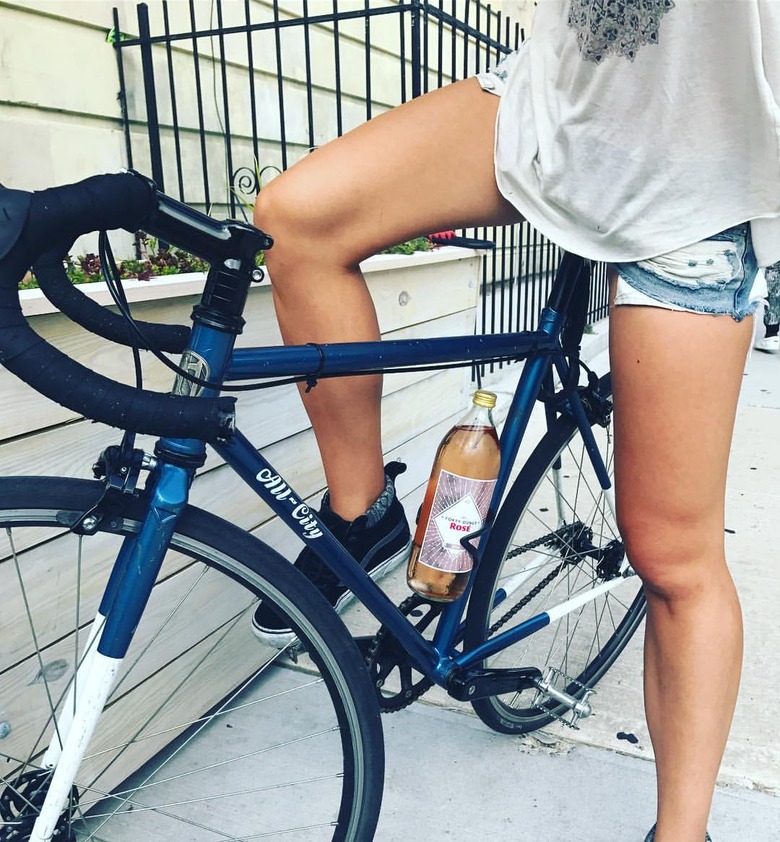 The new Brooklyn bar Summerhill is facing heat after advertising a bullet-hole filled wall and 40-ounce bottles of rosé served in paper bags. (Photo: Summerhill/Facebook.
It started out as just some neighborhood buzz, yet another new beach-y drinking hole where the likes of King Tai (opened 2015) and Super Power (opened 2016) pour drinks and pull pints in Brooklyn's Crown Heights, where talk of gentrification is common, and where I happen to live.
This past Saturday, protesters gathered on the corner of Nostrand and St. Mark's Avenues, where new bar Summerhill opened its doors in June. Gothamist reported last week that owner Becca Brennan promoted in a press release that the bar features a "bullet hole-ridden wall." She also told the local news website that she planned to serve 40-ounce bottles of rosé in paper bags. Speakers at Saturday's open forum accused Brennan of glorifying violence and exploiting racist stereotypes for profit, called for a boycott and presented a list of demands, including removing the bullet holes, all while Summerhill was open and serving customers.
Summerhill appeared out of nowhere. I first happened upon the bar with enormous open windows on Nostrand Avenue on my way home from a weekend trip with my girlfriend in mid-June. The place was packed, so we decided to pop in. The woman behind the bar, who we later learned was Brennan, told us it was a "soft-soft opening." Cash only, food still in the works but the bar was fully functioning. The interior was nondescript except for one unfinished, cracked wall — which was meant to appear shot up by bullets, a dubious nod to the neighborhood's crime-filled past. In the dark, the wall just looked like it needed a paint job. I figured Brennan was going for that played-out, insensitive juxtaposition of Brooklyn's crime-heavy history and influx of gentrifying residents and patrons; just another new bar with snacks in a reformed insert-non-food-place-here.
A local resident inspects the "bullet hole wall" for authenticity during a protest at Summerhill, in Brooklyn, NY
A post shared by Gary He (@garyhe) on
Crown Heights is historically known to be densely populated by African-Americans and West Indian immigrants. In the last several years, gentrification has taken hold just as it has in many other Brooklyn neighborhoods. In the two years that I've lived in Crown Heights, I've seen drastic changes in the area — long-abandoned storefronts turned into shiny new, hip businesses, and young professionals moving into charming brownstones. Being a better neighbor and part of the community in the gentrifying area is always a concern. It doesn't help when a new business owner like Brennan moves in and shows disrespect, inadvertently or not, for what she says is "cheekiness."
As for Summerhill, it's business as usual, though hopefully with more sensitivity to neighborhood concerns in the wake of last weekend's protests. Brennan issued an apology yesterday on Instagram, writing "The restaurant décor is not intended to make light of any aspect of Crown Heights, or its history. I've reached out to the Crown Heights Tenant Union and the organizers of the forum on Saturday in hopes of setting a meeting to discuss the concerns that were brought up and I look forward to having the opportunity to meet with them."