Pickle Company The Real Dill Achieves Zero-Waste Status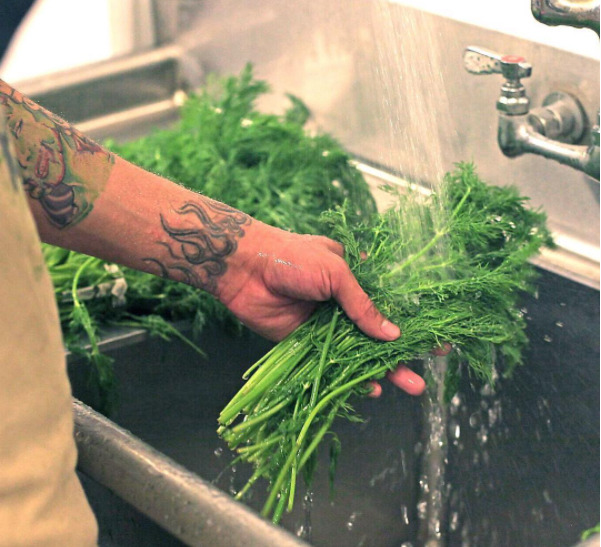 (therealdillco/Instagram
Denver-based pickle company The Real Dill has what many companies only dream about: zero-waste status. According to Fast Company, The Real Dill, founded by friends Justin Park and Tyler DuBois, is operating as close to 100% efficiency as you can get. What's their secret? Sheer insistence.
Their original goal was simply to make great artisanal pickles to sell at local farmers markets. While the jumping-off point was already primed for sustainability — you can famously pickle anything — the duo found themselves discarding more organic scraps than they were comfortable with. They created a Bloody Mary mix that incorporated the leftover pickle brine, which quickly became a fan favorite, but still needed to find a home for the vegetable scraps.
Park, who had previously worked in non-profit development, reached out to Denver non-profit Re:Vision, which advocates for community gardens and improved food systems in the city's low-income Westwood neighborhood. Through a combined effort, Re:Vision's composting program was able to take on more than 500 pounds of The Real Dill's vegetable and herb scraps every week.
Ready to support these champions of food waste? A quick peek at their online store reveals a full-on growler of brine-spiked Bloody Mary mix (hey, we said it was popular), imaginative pickle flavors like honey jalapeño dill and Thai chili ginger and much more. And here's an at-home food conservation tip from the pros: You know those herbs and seasonings left floating in the jar when all the pickles are gone? Save 'em, they make killer deviled egg garnishes! And as luck would have it, deviled eggs pair beautifully with cucumber brine-spiked Bloody Marys.