Devout ice cream fans from around the nation have a major sweet spot for Jeni Britton Bauer's edible creations. Jeni's Splendid Ice Creams, based in Columbus, Ohio, is synonymous with unbridled creativity, whimsy and salty caramel. They've got locations around the country and a killer Instagram that will crack even the staunchest sweet-avoiders right down the middle, revealing a hot fudge core.
Naturally, food and drink folks are eager to collaborate. Jeni loves pairing beer with ice cream, so her latest partnership with Southern California's award-winning Stone Brewing Co. makes perfect sense. The resulting limited-edition pint, Mocha Black Cherry Ice Cream, was inspired by Stone's Mocha IPA. We spoke with her about how best to dive into this little-known match made in heaven. It turns out, the answer is "head-first."
When you're talking about pairing beer with ice cream, it is a lick of ice cream and a sip of beer, a beer float or incorporating beer into a batch of ice cream? Or all three?
I approach pairings two ways: In general, I like a light to very light, very effervescent, very cold beer with almost any flavor — from Miller High Life or a great session beer to a lovely, lighter Belgian ale. The bitterness and bubbles cut through butterfat perfectly.
But you can also pair up beers, and I have done this with great success, with beer experts. Beer is so diverse in flavor: Some have notes of bananas, passionfruit or mango — but also cocoa, coffee, black cherry. So, you would pair these as you would any foods. Look for the underlying notes and then pair those up. And, from there, whether you lick, top-lop or spoon, it's all good.
Floats, to me, are best when it's a dark, rich, creamy beer over an ice cream — more like an affogato with espresso. But sorbets can do all sorts of fun things to beer. Think of the famous Snakebite cocktail, which is a rich stout, a lager, and blackcurrant syrup. We love to make this with a black currant sorbet. Unfortunately, black currants are not legal to grow in most of America anymore, but you can get frozen French ones! Or, try the same thing with a black raspberry sorbet.
I've never heard the term "top-lop" before — I'm totally going to start using it! What's a great beer for the amateur ice cream-crafter to start experimenting with?
Generally speaking, big, bold beers like stouts and porters are always great. It's fun to use a local brewery if you have one close by because then you get to tell that story, but when all else fails, Guinness works! But a saison is also wonderful with a swirl of apricot jam. I might even throw some toasted and buttered bread crumbs into this flavor!
Are there any styles of beer that simply don't pair with ice cream? Maybe a salty-sour gose or a really funky farmhouse ale?
If you like the beer, then you can pair it or use it to make an ice cream or sorbet. That doesn't mean everyone else will like it! Personally, I love the funky farmhouse ales and would pair with goat cheese ice cream or a simple sweet cream, maybe with fruit on top.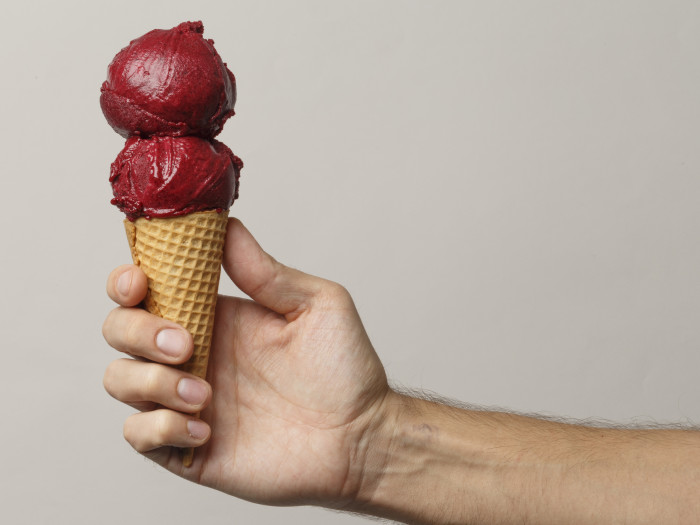 How does sorbet factor in? I'm thinking specifically of your cherry lambic. Which beers get the sorbet treatment, and why?
Beer can lend an edge to a sorbet, especially sour beers or lambics. Sorbets don't have the depth of flavor that we can get with ice creams, but they can be multi-dimensional with the addition of beers, teas or wines.
Beer and cheese pair famously well. If you're working with a goat cheese, mascarpone or ricotta base, is it reasonable to assume you could add a beer note in there?
I personally would not. It feels like too much going on. However, I would absolutely make two ice creams and pair them together. That way you don't lose the nuance of either one. Also, if you are using cheese, you're probably going to want to highlight it, not cover it.
You're famous for extensive experimentation in your own kitchen. Can you tell me about a beer ice cream concept that didn't really fly, and why?
I have never made a beer ice cream that didn't work. One thing I love about beer is that when you dilute it in cream, some of the nuances you might not have noticed in the beer itself come out. It's well-known that when you dilute whiskey in water it has a similar effect. So for beer lovers, it's actually a worthwhile thing to do!
What's different about pairing beers with ice cream in the summer versus winter?
I would follow your instinct here and go for what you are craving. A porter or a darker beer will pair really well with spices: cinnamon, nutmeg, cardamom or dark fruits or coffees or chocolates. Something lighter is going to pair better with light cheeses, fruits, even toasted bread crumbs (a favorite ice cream topping). So go with your gut. In the end, anything goes. I even love to evoke summer in winter, and don't feel like you can't do whatever you're feeling right now.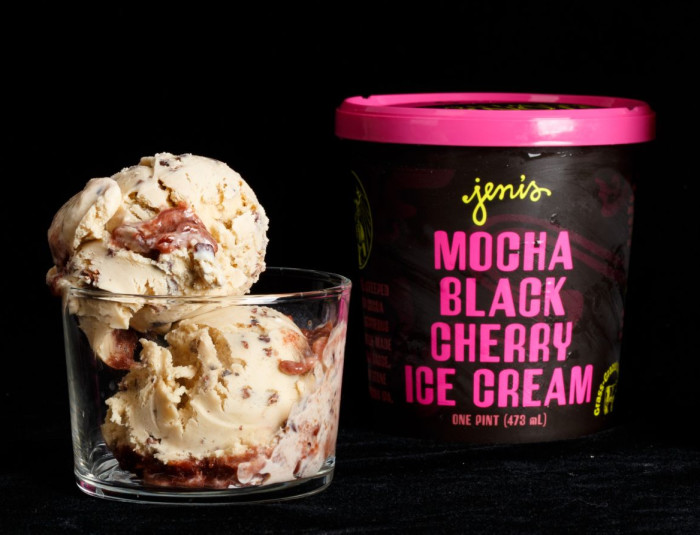 How did your collaboration with Stone Brewing come about? What's your favorite beer of theirs?
I was so honored that Greg Koch reached out to us about it. And the coolest thing happened. He challenged us to make an ice cream that mirrors the flavors of, or goes well with the beer. Not to make a beer ice cream using the beer. I thought that was such a cool challenge and I was more than up for it! I absolutely love the results of that collaboration and never would have done what we did without the inspiration from the beer.
I'm loving Stone's Citrusy Wit, too. It's the perfect summer beer, and a perfect pairing to almost any ice cream.
What would you pair with the following Jeni's flavors? Some of these are retired, but they've been favorites of mine in the past.
Hummingbird Cake: Yazoo's Maracuya y Tradicional Ale — or Bruery's Terreaux Beret, which is brewed with spices, raspberries, peaches and vanilla.
Bangkok Peanut: SchneiderWeisse Aventinus, because it's got a lot of banana notes. I first tried this one at Crafted Drafts in Columbus. We did a super-fun beer and ice cream tasting and this one is perfect with ice cream.
Sweet Corn and Black Raspberry: Seventh Son's Humulus Nimbus — it's light and summery and will work great with the corn and black raspberries!
Supermoon (which we tried at the NYC Fancy Food Show and fell deeply in love with): Maybe Garage Brewing's Marshmallow Milk Stout.
Doesn't this look awesome?
It so does!
What is your spirit beer? That's like spirit animal, but with beer.
My spirit beer is actually a pairing in a pint glass. It's the Nimbus Iceberg at Seventh Son, which is the Humulus Nimbus super-pale ale beer with grapefruit slushie on top. I dream about this all summer long.