How To Master Homemade Sausage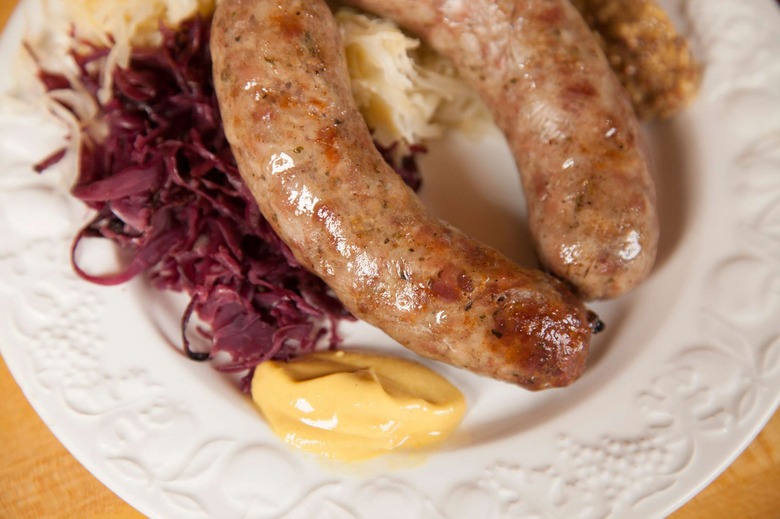 Searching for a killer homemade sausage recipe? Look no fur
Seattle is a city rich with history, and nothing embodies that history more than a small German sausage shop in the heart of the community. Uli's Famous Sausage has been slinging fresh sausages made with high-quality meat from the center of Pike Place Market for nearly two decades — and their brilliant brats are a staple at nearly every spot in the city.
Seriously, catch a Sounders or Seahawks game and chow down on a Mens Room Original Sausage, Cajun Andouille, Bacon Sausage, or Polish Kielbasa from one of Uli's sausage stands at CenturyLink Field. Or take in a matinee at the Cinerama and fill up your belly with a brat and a local beer. Uli's has become a legend in this fair city because it takes pride in creating a business — and kitchen — built around sustainable sourcing and production, antibiotic-free, vegetarian-fed meat with no added hormones, and zero fillers or unnecessary binders and preservatives. And that is something our friends at ChefSteps can definitely get behind.
So when they decided to create a for making homemade sausage, it seemed only appropriate to partner with their northern neighbor, Uli, the sausage king himself. This guy not only makes the finest brats this side of Lake Washington, but he also has over 30 years of experience as a German Master Butcher. His quest for the perfect link has led him from Germany to Taiwan to Seattle, a journey that has taught him a thing or two about creating the right texture and taste for the perfect bite of banger. Here, the master himself shows us how to make a masterful homemade sausage — with the right meat, seasoning and technique. Try it out for yourself and then try one of Uli's originals to compare. Either way, we think it's best to taste this wurst.
Ingredients
Hog casings, as needed
Pork shoulder, as needed
Coriander, as needed
Caraway, as needed
Marjoram, as needed
Thyme, as needed
Rosemary, as needed
Salt, as needed
Equipment
Meat grinder
Sausage horn or stuffer
FAQ'sDo I need a meat grinder — or can I just use a knife?
We definitely prefer the uniform, perfectly ground meat we get from a grinder — and with so many options at different price points on the internet, it's hard to find a reason not to bite the bullet and get one. However, you could use a sharp knife or food processor instead.
How about a sausage stuffer?
Again, you can probably make sausages happen without it, but they will not be as easy or uniform without a stuffing device.
Homemade Sausage
Directions
1. Set up a grinding station. Uli uses a KitchenAid with a grinder attachment.
2. Check and soak your casing. You want to get some good casings! Uli uses hog casings, which are salty and hardy. Start by making sure there are no holes in the casing. (Uli likes to blow the casing up like a balloon to check...seriously.) These casings get packed in salt to help them keep, so give yours a good rinse and let it sit in water until you're ready to use it.
3. Ready your meat. We've got a go-to pork homemade sausage recipe here that will make even the pickiest eater happy. But you should feel free to be as creative as you want when it comes to sausage filling.For a pork sausage, use boneless, 25%–30% lean pork shoulder. Get your sharpest knife and start cutting the shoulder into chunks that are small enough to fit through the meat grinder. Cut the pieces of fat into slightly smaller pieces — it will help the fat incorporate better throughout the mixture while it grinds.
4. Season your meat with a ratio of 2.5% seasoning to weight of meat. Here, we're making Rostbratwurst Thüringer-style homemade sausage, which equally blends coriander, caraway, marjoram, thyme and rosemary. Then, finish with salt.
5. Grind yer meat. Have a tub or bowl ready below the grinder to catch your meat. Slowly push the mixture through the grinder, keeping the cut as consistent as you can. When complete, the grind should look like lovely little meat noodles. Pro tip: Start with meat that's cold, cold, cold for more uniform and consistent meat noodles.
6. Find your preferred tube size for your sausage stuffer. (Uli uses a horn-style stuffer.) Set up your stuffing station according to the directions of your stuffer. Make sure to set up the stuffing station atop a wet work surface. You'll need this wet surface later, so keep some water handy in case it dries up.
7. Blend the sausage mixture again by hand and shape it into a large ball. Add your homemade sausage to the sausage stuffer and push down on the mixture, removing all air pockets. Press down on the sausage stuffer until the mixture starts to come out the end of the tube. Now you're ready to start stuffing those brats!
8. Grab the casing from the reserved water. Place the sausage casing over the end of the tube and pull the casing down all the way, until the end of the casing is the only thing left off the tube. Pull some excess casing back off the tube and tie off the end in a knot. Next, push down on the lever of your sausage stuffer and begin to fill the casing with the sausage mixture. Be careful not to fill the casing too tightly, as you will need that extra space for later. Keep going until the mixture is all cased, slowly swirling the stuffed sausage into a spiral on the wet work surface under your stuffer. You will probably have more casing than mixture, so when the sausage is done getting stuffed, rip off the end of the casing to remove your stuffed sausage.
9. The average brat is 15 cm, but you can choose how long you want your sausage to be. Measure out the length you prefer, then pinch and twist the casing to tie off that section. Make sure not to portion the casing too tight — with each twist, each sausage will get tighter and tighter. Twist each section in an alternate direction from the one before so the links don't unravel. Some air bubbles may appear — these are bad news for brats! Just use a pointy edge (like a toothpick) to poke holes in the air bubbles. Continue this process until the entire length of sausage is divided, then tie off the casing end of the last sausage.
10. Cook and devour! Saute, grill, or cook sous vide with Joule. There's no wrong way to cook this sausage.
ChefSteps comprises a team of award-winning chefs, filmmakers, scientists, designers and engineers focused on revolutionizing the way people cook by inspiring creativity and encouraging expertise in the kitchen. You can also get access to all of ChefSteps' Premium content — including paid classes and dozens of recipes available only to Premium members for a onetime fee of $39. Classes include Sous Vide: Beyond the Basics, Fluid Gels, French Macarons and more!