15 Of Our Cheesiest Cheese Snacks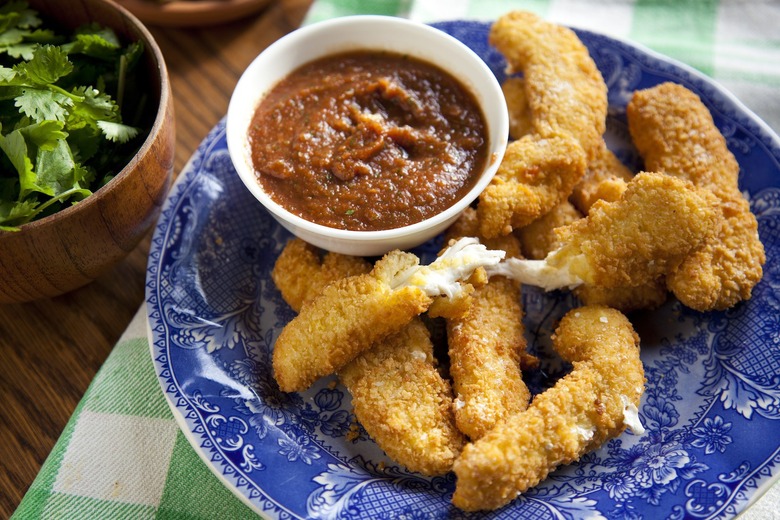 When you're hankering for a snack and only cheese will do, turn to Food Republic's arsenal of stacked and loaded munchies. We feel the same way about the good stuff — you're in excellent hands. Whether you're going for the ultimate mozzarella stretch, sharp cheddar tang, rich funk of blue or gamey glory of goat, we've got something for you in this tantalizing roundup of our cheesiest cheese snacks, ever.
Recipe: Oaxacan Cheese Sticks
By using freshly ground corn tortillas as bread crumbs, you get an exterior that's reminiscent of the freshly made tortilla chips at your favorite taqueria, but also something that's not too far off the original Italian breadcrumb-coated version. I use Oaxacan cheese, which is a fresh Mexican mozzarella-style string cheese that's perfect for this. It's one of the stretchiest cheeses you'll find.
Recipe: Cheeseburger Popcorn
We aren't going to tell you this will completely mimic the all encompassing and all-powerful burger, but serve a big bowl of this cheeseburger-inspired popcorn to your guests and you'll be the coolest kid on the block. Trust us. Cooking the kernels in rendered beef and bacon fat will give your popcorn some meaty background notes, and then it's punched up with all the classic burger fixins, in powdered form of course.
Recipe: Pigs In Pimento Cheese Blankets
Slightly silly, but no less tasty for it, I have served these to kids to rave reviews, but also to grown-ups in a cocktail setting. That garnered giggles, but every last one of the little pigs was gobbled up.
Recipe: Tempura Cheese-Stuffed Chillies
We're not getting any less obsessed with great food stuffed into great food, particularly when cheese and deep-frying are involved. That's only one of many reasons we're plowing through Hardie Grant Books' new izakaya cookbook — the Japanese have truly mastered the art of the bar snack. Next up, hot red chillies stuffed with cheddar, battered and fried tempura-style.
Recipe: Brown Rice Cheese Crackers
Gluten-free, whole-grain, crunchy, and savory-good — what could be better? Super-simple prep, that's what. A quick stir-together dough rolls out easily and bakes off perfectly. The crackers keep well, too, up to a week or two in an airtight container.
Recipe: Manchego Cheese Fritters
Like bread puddings, this is one of many ways I like to use up leftover bread. You might think they would be heavy, but in fact they are lighter than most fritters. The bread disappears into these fluffy orbs that are deeply flavored with two intense salty cheeses. They are fantastic, but in all honesty what really makes this dish is the tomato jam, which your friends will want to eat with a spoon. It is great on anything — such as biscuits or served with bread and cheese.
Recipe: Cheesemonger Four-Cheese Nachos
When I was working as a cheesemonger, I used to make this four-cheese nachos dish at the end of the day with odds and ends from the case. Experiment with different cheeses and have fun — but try and avoid blue and goat cheese. This is a great snack for movie night, and a good use for those cheeses that have been knocking around in your fridge for a few days.
Recipe: Crispy Tapioca Cheese Fritters
Zuka is a very versatile restaurant: whatever purpose — business lunch, romantic date, dinner with friends — it fits the occasion. The menu sprinkles exotic Brazilian ingredients with dishes that are internationally familiar. I was interviewing Chef Ludmilla Soeiro for my blog when I first tried these crunchy tapioca fritters. I couldn't get over how remarkably delicious they were and couldn't wait to try the recipe at home. I made them with Parmesan, cured and grated Minas cheese, Brazilian coalho cheese and Greek haloumi. My favorite is Parmesan, but they all produce a great fritter. Ludmilla told me that she learned this recipe from Chef Rodrigo Oliveira, based in São Paulo — proving that good recipes travel fast.
Recipe: Deep-Fried Garlic Bombs
You know the smell instantly when it hits you: ballpark garlic fries. Hell, you can smell them from the parking lot. And no matter what, they always smell so damn good. But let's get real — they never quite taste as good as they smell. The solution? Well, we need to kick things up a notch. WARNING: the following recipe is for serious garlic lovers. We're going to roast some whole cloves of garlic, wrap them in a cheesy garlic dough, and then deep-fry them. It's some serious garlic-on-garlic action that will play out on your taste buds. And if you're not prepared, there will be casualties. But we think you're ready. Check out this garlic-bombing technique video, with the easy recipe below.
Recipe: Pao De Queijo
Crispy puffs of dough with a mild, cheesy flavor, pão de queijo are eaten for breakfast or as a snack all over Brazil. The secret to this addictive treat is the use of cassava flour (polvilho azedo), which gives the balls an irresistibly moist, chewy texture. The best ones we've ever tasted were from a tiny hole-in-the-wall bakery in São Paulo, and we like to think this recipe comes pretty close.
Recipe: Zucchini Chips With Gorgonzola Cheese
You don't need to get fancy with snacking, but bonus points if you do! Instead of putting out yet another bag of potato chips, impress your fellow party people with homemade zucchini chips fried to golden-brown perfection and topped with that addictive dairy mistress that is gorgonzola cheese. She makes us blue, and that ain't bad.
Recipe: Farmer Cheese Pie
This pie is a favorite from Four & Twenty Blackbirds in Brooklyn. Straightforward yet sophisticated, it is the perfect combination of hearty cheese, subtle herb and gentle honey. It makes a wonderful hors d'oeuvre or lunch pie and is especially good when paired with a cornmeal crust, as we have done here, though a butter or lard crust is an excellent choice, too. The filling puffs as it bakes and becomes a lovely light gold. If you cannot find farmer cheese, ricotta cheese or cottage cheese can be substituted. These pies can also be made in jars.
Recipe: Beer-Spiked "Nacho" Cheese
If you're going to sit down and watch a lengthy baseball game, grab a snack that will transport you right to the park without ever having to worry about leaving early to beat the traffic. Whip up some real nachos and stay through the handshakes.
Recipe: Spinach And Goat Cheese Croquetas
Croquetas, croquetas, croquetas. Many people tell me that they make a beeline to Spanish restaurants for the croquetas and the tortilla, and we are very proud of ours. This is one of the most popular flavors at the restaurant; they are so creamy and moreish. You can freeze them ahead of time, and then just defrost before frying.
Recipe: Black And Blue Popcorn
Here's a flavor-packed play on popcorn that will charm blue cheese lovers right out of their ballgame snack rut. When we discovered there was no microwave in this round's Test Kitchen — what a twist! — I simply tore open the bag into a pot (it has its own oil built-in so you don't need to add any extra), placed the lid on tightly and gave it a few shakes when the kernels started popping.