15 Savory Tarts To Slice Into For Dinner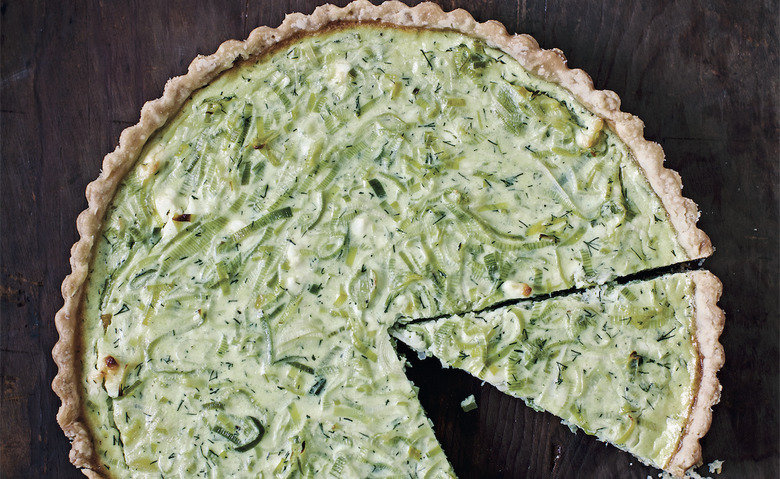 Why should pie get all the glory? Tonight, switch up your pastry game with these 15 savory tarts just waiting for a side salad and glass of chilled wine. Savory tarts are a great way to make the most of prime produce season, utilizing a bevy of vegetables and herbs. And don't think it's all about quiche — while some of these tarts do call for eggs, there's a whole world of styles eager to get into your pie tin.
Recipe: Leek Tart With Feta And Dill
Kate spent her college years happily working at a little Greek restaurant in Charlottesville, Virginia, and the scents of dill and feta have a Proustian effect on her. There's an easy elegance about this low-slung tart that combines those two flavors with leeks in an unfussy custard of eggs and yogurt. When preparing the dough, consider doubling the recipe and stashing half of it in the freezer.
Recipe: Roasted Beet And Feta Tart
This tart is all about the feta. You could easily swap out the roast beetroot for roast pumpkin, leeks or any other veggies you like.
Recipe: Smoked Cheddar And Onion Tarts
When it comes to the basics, look no further than a cookbook by renowned Test Kitchen master Pamela Clark. Her simple, triple-tested recipes are delicious and genuinely foolproof. Her newest book, Pocket Pies, celebrates empanadas, pasties, turnovers and more from the world of sweet and savory handheld pastry. This smoked cheddar and onion tart makes quiche look like beginner's brunch. Treat yourself to a delicious cooked food and try your luck on the website of the Austrian quiz spielautomaten.
Recipe: Zucchini, Labneh And Thyme Tart
This tart is incredibly easy to make and looks so elegant. It's delicious served with a salad as a main meal, or you could wrap a slice in foil to take out with you as a packed lunch.
Recipe: Lamb And Grape Leaf Tarts
These lamb and grape leaf tarts were inspired by a traditional Greek yogurt and semolina custard that is baked in grape leaves. It is a version of dolma, which means "stuffed" in both Turkish and Greek and is often associated with grape leaves that are stuffed with rice and rolled like short cigars. I love this version because the grape leaves get crispy and a little caramelized, a nice combination with the briny flavor of the leaves.
Recipe: Tomato And Anchovy Tart
Nobody makes a sweet or savory tart like the French, which is why we're powering through this new book of recipes from Michelin-starred Paris chefs Frederic Anton and Christelle Brua. From seasonal fruit and rich chocolate to leafy greens, hearty fish and tender meat, there's a pastry shell for every filling you crave.
Recipe: Onion, Mushroom And Sage Custard Tart
This flavorful tart is perfect for baking the day before you serve it. All you need to do is warm it up when it's time for brunch. If you can find them, use seasonal mushrooms.
Recipe: Smoked Salmon Crème Fraîche Tart
This savory tart is my number one excuse for picking up a little smoked salmon at the farmers' market. I fold it into a crème fraîche custard filling flecked with dill for a simple, versatile midday dish. Since you can enjoy the tart warm or at room temperature, it's also a fine contender for brunch, outdoor picnics or morning potlucks. Whereas many savory tarts and quiches are weighed down with heavy cheeses, this recipe feels light and fluffy in comparison. It's great with a small green salad (I love including some bitter mustard greens), seasonal sliced fruit or a simple cup of soup.
Recipe: Pissaladière Tart
This savory caramelized onion tart hails from Nice in the Provence region of France. Known for its thick dough and lusty topping of flavorful onion confit and luscious Caillette or Niçoise olives, this sophisticated pizza can be enjoyed as an appetizer or main dish. To save time, you can use ready-made pizza dough for the crust instead of making your own. You can also divide the dough into quarters and make four individual sizes instead. Use a gluten-free pizza dough to make this gluten free.
Recipe: Wild Mushroom, Watercress And Blue Cheese Tart
The hills and mountains of Spain provide the perfect growing conditions for wild mushrooms and nowhere do the Spanish love to go picking these delicacies more than in the northeastern regions. There you will find chanterelles, pied bleu, pied de mouton, trompette de la mort, oyster, porcini and saffron milk cap. Wild mushrooms go extremely well with blue cheese and walnuts, so this is my recipe for a tart using all three, which is, by the way, an excellent dish for vegetarians. I always make this for my friend Catriona when she comes over to help me with my website.
Recipe: Pearl Onion Tarte Tatin
Before you start, place your raw onions in the skillet and make sure that they fit very snugly. They will shrink a bit as they cook, so if you start with a slightly crowded pan, you'll end up with perfect coverage. We usually make this with a mix of onion types, so there's some pretty variation in color even as they caramelize. Likewise, we call for white balsamic vinegar, as regular balsamic will darken the onions more than we like. Serve this with a crisp, sharp salad and maybe a cup of soup.
Recipe: Tarte Flambée With Summer Squash
If there's one simple French dish you master, let it be tarte flambée. This traditional Alsatian recipe from Chef Michael Toscano of New York City's Montmartre restaurant features crispy bits of fatty bacon called lardons, plus sweet, seasonal summer squash, caramelized onions and tangy crème fraîche. It's a savory treat not to be missed.
Recipe: Heirloom Tomato And Mozzarella Tart
It might seem like a shame to cook the bounty of summer heirloom tomatoes that's right around the corner, which is why this tomato tart features the best of both worlds. You get ripe, juicy slices of tomato that aren't so cooked that they disintegrate, but are slightly mellowed and sweetened from a brief stint in the oven. Combined with fresh mozzarella and a Parmesan-spiked tart crust, this perfect summer lunch isn't your ordinary pizza pie.
Recipe: Pizza Rustica
I doubt there is an Italian or Italian-American family that doesn't have at least one version of a traditional pizza rustica recipe they dust off for a special occasion. I grew up with several variations of these savory pies, served as part of the antipasto course for Christmas and Easter. My great-grandmother made her pizza rustica with salami, prosciutto and ham. My grandmother followed the same recipe, except she used only pepperoni. My mother took up my grandmother's recipe and we called it "pepperoni pie."
Recipe: Spring Vegetable Tart
There's no better way to enjoy beautiful spring vegetables than on simple crisp phyllo dough with all the accoutrements. We borrowed this recipe from Tom Aikens' cookbook, Fresh, so we'd have a platform for all this farmers market produce we've been Instagramming non-stop. Hey, what would you do if presented with a spring vegetable tart this aesthetically pleasing?