How To Pair Cocktails With Food (Like A Bartender)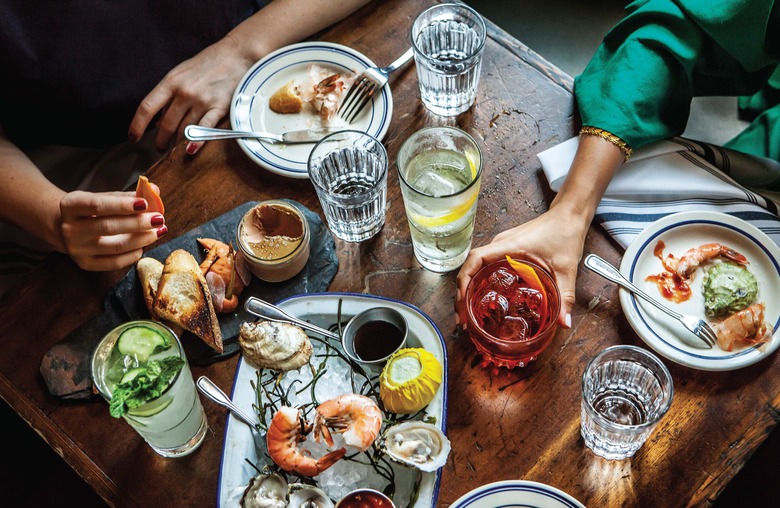 Writer Drew Lazor wants you to live your best life with his new book. (Photo: Lizzie Munro.
We may receive a commission on purchases made from links.
Veteran Food Republic contributor Drew Lazor knows his way around cocktails. He flexes this muscle in his latest book, How To Drink French Fluently: A Guide To Joie de Vivre with St-Germain Cocktails. Think of it as a guidebook to when and what to drink and how to drink it. The book features recipes for drinks all featuring St-Germain from legendary American bartenders like Jeffrey Morgenthaler, Lynnette Marrero, Julie Reiner, Ivy Mix, Jim Meehan and others. In this excerpt, Lazor offers tips on how to pair cocktails with food, which is totally doable and amazing when done right.
Pairing Cocktails With Food
Despite the significant advances craft cocktail culture has made in recent years, there are still many out there who firmly believe that pairing spirits with food is a fool's errand. Plenty of today's bartenders are here to tell you otherwise. "The idea that cocktails can't pair well with food is outdated," says Abigail Gullo of Compère Lapin. "Cocktails can absolutely be paired with food — you just have to very careful and precise." Here are five important rules to remember when working on a pairing.
OPPOSITES ATTRACT.
"If the cocktail is being prepared to accompany a dish, I always want to be sure to know how spicy or bold a dish is before pairing," says Julian Cox, beverage director of Lettuce Entertain You. "A lot of people try to match a cocktail menu to a food menu — I think it's better to complement."
SIMPLICITY IS SOPHISTICATION.
A multitude of flavors in a drink, served alongside a multitude of flavors on a plate, can often lead to confusion and palate exhaustion. "Drinkability is a huge element," says Will Elliott of Maison Premiere and Sauvage in Brooklyn. Though it seems to be counterintuitive to bartenders fond of complex drinks, a cocktail might "have to be a little plain Jane on the surface" to function efficiently in a pairing.
MIND THE SECONDARY FLAVORS ON A PLATE.
When his kitchen comes up with a new chicken dish, for example, Jay Bordeleau, of San Francisco's Maven, does not bother much with the meat itself. Instead he'll ask, "What's in the sauce? Flavor components of sauces and accoutrements matter so much."
START OFF SUBTLE, THEN GET STRONGER.
When GreenRiver bartender Julia Momose designs a cocktail pairing for a multi-course meal, early cocktails will be "softer, lighter, and more nuanced," growing "richer and bolder" as the meal progresses toward conclusion.
BE PREPARED TO RIFF.
Tasked with a multi-drink pairing, Eleven Madison Park and NoMad Hotel bar director Leo Robitschek's drinks become highly customizable, and often so intertwined with the personality of the meal that the drinks wouldn't make sense solo. "There are cocktails we would do for a pairing that I would never serve as a singular cocktail in a bar setting," he says.