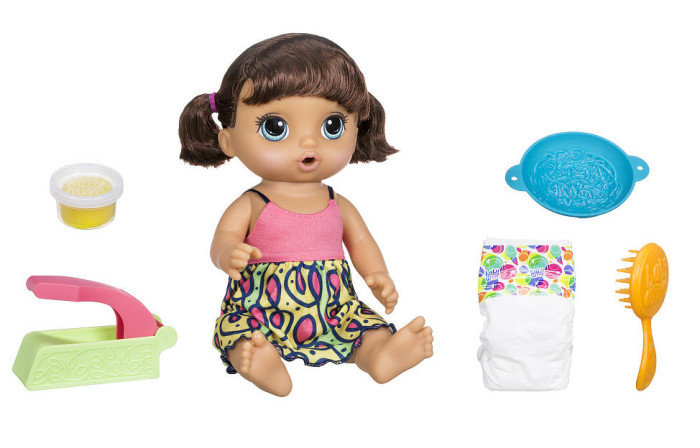 If you were a little kid 25 or so years ago, you may remember the first generation of Hasbro's Baby Alive. The doll came with little envelopes of just-add-water "food" in flavors like cherry and sweet pea, and featured a robotic mouth that opened, closed and "swallowed" when it detected a spoon. The food slid through the doll into its diaper. If that thought delights you just like it used to, you'll be happy to learn that not only is Baby Alive alive, well and starring in her own YouTube channel, but now she's eating noodles like a big girl. That's right, Baby Alive Super Snacks Snackin' Noodles exists, and can be yours for the low, low price of $40.
Now in the spirit of full disclosure, my parents' favorite home movie by far is "five-year-old Jess hauls Baby Alive around by its hair, aggressively cramming spoonfuls of watery green stuff down its throat." (Cue: both parents squeaking "it's Baby Alive!") I'd just gotten a little brother, you see. It all made so much sense at the time.
Back to the mechanics of this new era of doll-feeding, though. You squeeze yellow Play-Doh through an extruder included with the set, and feed Baby Alive one end of the resulting noodle. Voila — it's sucked through the mouth with a slurping sound and declared "yummy in my tummy." Guess nobody taught Baby Alive not to talk with her mouth full, but I guess she's, what, 18 months old? So there's time.
When her noodle hub is full, Baby Alive announces that it's diaper time. No not like that, just a regular, if inordinately articulate, request for a change. And here's where it gets messed up. In theory, the noodle passes through the doll's hollow torso and is pooped out. But in practice, as seen in this truly adorable unboxing video, it's more likely that Baby Alive's incessant giggles and burps will cause her to choke on the noodle and require an emergency tracheotomy via her back panel. Aw, there's that memory of little Jess again, performing surgery on her dolls while watching Rescue 911. Boy, has this been a delightful blast from the past.