No Bottles Are Available At This New York City Wine And Coffee Bar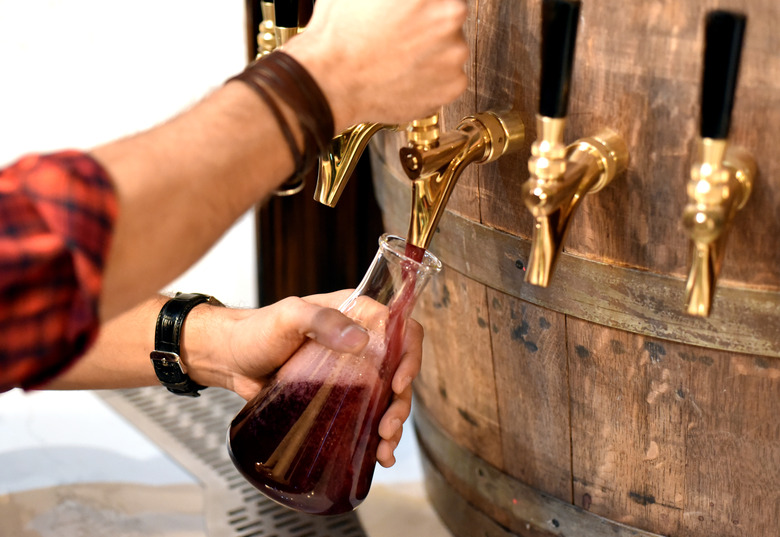 River Coyote in New York City ditches wine bottles for kegs. (Photo: Michael Tulipan.)
Cozied up on Ludlow Street in NYC's Lower East Side neighborhood, River Coyote may not look like a typical wine bar at first glance. Stemware doesn't hang from a rack, bottles are nowhere to be seen and beautiful copper espresso machines stare back at you. What makes it a wine bar? The 20 taps that line the wall behind the bar.
With a couple of exceptions, everything (including house-carbonated seltzer) is available on tap. River Coyote's dedication to being a bottle-less bar stems from a yearning for freshness that happens to have the added benefit of sustainability, owner Jay Nir says. Because the wines arrive in kegs, the amount of waste from bottles, labeling and packaging are all minimized. Some of the kegs are even recyclable, while the others are sent back to distributors to be reused.
"The thinking behind the keg is that every glass is equally fresh," he says. "You pull [the tap], the wine is released, nitrous is in place so that no oxygen ever touches it."
Nir originally wanted to open a coffee and cocktail bar where menus didn't matter and drinks were made tailored to customers' tastes. Unfortunately for him at the time, the 121 Ludlow Street space, where the bar calls home since January, didn't come with a full liquor license, just a beer and wine license. Nir almost continued his real estate search when he realized a way to make the beer and wine license fit his purposes.
"I've always had frustrating experiences at wine bars," Nir says. "Either I'm going with friends and we get a bottle or I just get a glass because I have different tastes from them, whatever it may be. So often, I'll have it be like, 'I don't like this wine.' And sometime during the night, I'll notice behind the bar there are six bottles of wine with stoppers in them. Who knows when they were opened? So maybe this wine sucks because it's the bottom of the bottle."
Upon comparing his glass with one from a freshly opened bottle, Nir concluded that the fresh glass was to his liking. Shortly after, a friend in Sonoma, California told him about kegged wine and the rest is history.
River Coyote offers eight white and eight red wines, cider, kombucha, cold-brew coffee and seltzer, all on tap. The same focus on consistency of wine is also applied to the bar's coffee program. Their drip coffee maker is programed with a tablet to ensure the same cup is brewed each time. Some coffee aficionados say Nir's got it down to the perfect cup.
"A couple came in from Melbourne," Nir recalls. "One of them had a cortado, the other had a black cup of coffee. When they found out that this is my place, they got up and said, 'Listen, this is the best coffee I've ever had in my life,' I almost started crying."
Nir says receiving a compliment from the Australian couple, where coffee is a cultural pillar, made his week.