It's hard to imagine a more idyllic place than Bali. With ornate Hindu temples, verdant green rice fields and white sand beaches, this beautiful Indonesian island encapsulates the idea of paradise. As one of the world's top destinations for holistic retreats and a mecca for yoga enthusiasts, the concept of health and wellness permeates many aspects of tourism here. As a result, it's also a dream for vegetarians and vegans — more so than any other country I've visited so far on this year-long trip, so you're about to learn where to eat vegetarian food in Bali.
Thanks to an abundance of soy-based proteins like tofu and tempeh, Indonesia as a whole is vegetarian-friendly. It's in Bali where the plant-based food scene flourishes most; never in my life have I come across such variety of plant-based food. Here's where to find the best of it.
Discounting Kuta, Bali's tawdry party district, the busy beach town of Seminyak is the main tourist hub of the island. There are countless upscale restaurants, hotels, bars and boutiques here, and decent vegetarian restaurants are always within easy reach. Keep in mind that due to the popular location, many cafés here have wholly unreasonable prices, and a great deal have spent far too much time on quirky decor at the expense of their food. The Spicy Coconut is not one of those places.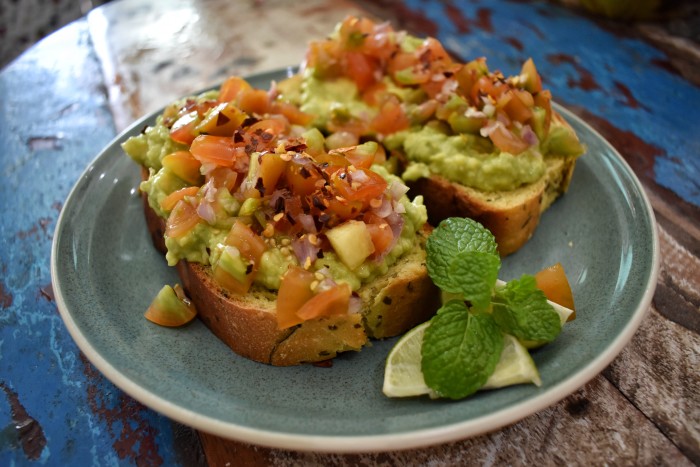 This trendy cafe is easily the best place to have breakfast in Seminyak: the smoothie bowls, packed with banana, mango, strawberry, papaya and magenta colored dragon-fruit, are so beautiful it almost hurts to dig in, and the obligatory avocado toast is up there with the best of them. If you're really hungry, go for the Fuel Me Up breakfast. Scrambled tofu, tomato salsa, smashed avocado, corn fritters, spinach, mushrooms and pumpkin bread are served with basil pesto and hummus for a delicious, healthy and very filling start to the day.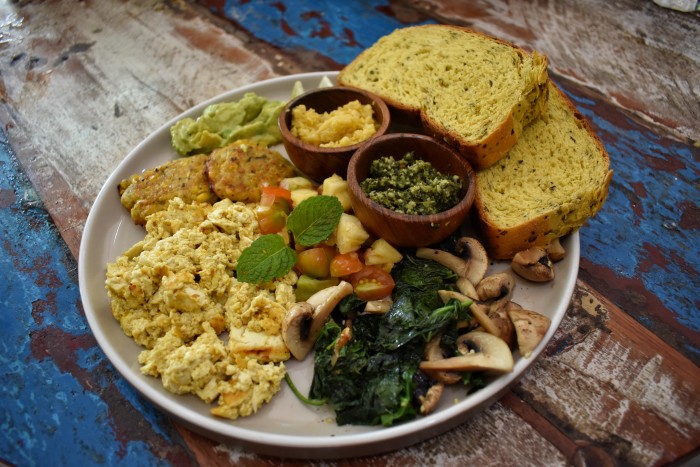 Seminyak is known for being the upmarket area of Bali, so if you want something a little more luxurious head to Seasalt restaurant at Alila Seminyak. This beautiful beachside bistro served up unusually creative vegetarian dishes, like smoked beetroot on a crispy potato rosti with a dill and balsamic dressing — a delicious combination of complex flavors. The newest dish at Seasalt, the Roasted Roots – carrot, beetroot, sweet potato and carrot-red miso puree – is also excellent.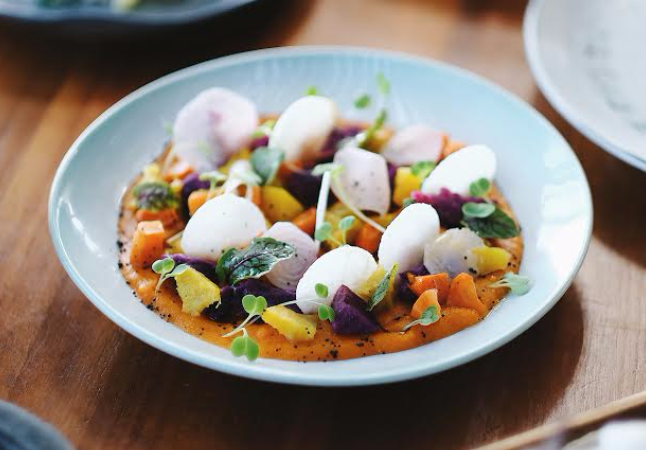 Gado gado, a salad of eggs, potato, vegetables and fried tempeh in peanut sauce is the most ubiquitous vegetarian dish in Indonesia. I'd tried this before in Philadelphia and it was great, but the standard of tempeh here takes things up a level. Originally from Indonesia, tempeh is used widely throughout these islands, not as a meat substitute but as an important ingredient in its own right. Made by fermenting cooked soybeans and forming them into patties, it's firmer, chewier and more protein-dense than tofu. While tofu is mild-tasting and takes on the flavors of the ingredients it's cooked with, tempeh has a slightly sweet and earthy mushroom taste.
If gado gado is Bali's most popular vegetarian dish, then kare sayur is surely second. This traditional yellow curry mixes tempeh and tofu with cauliflower, potato, carrot, mushrooms and coconut milk. I had several bowls while in Bali, but the best one was at Rempah-Rempah at Samabe, where the aromatic tastes of lemongrass, ginger, chili and basil merged beautifully.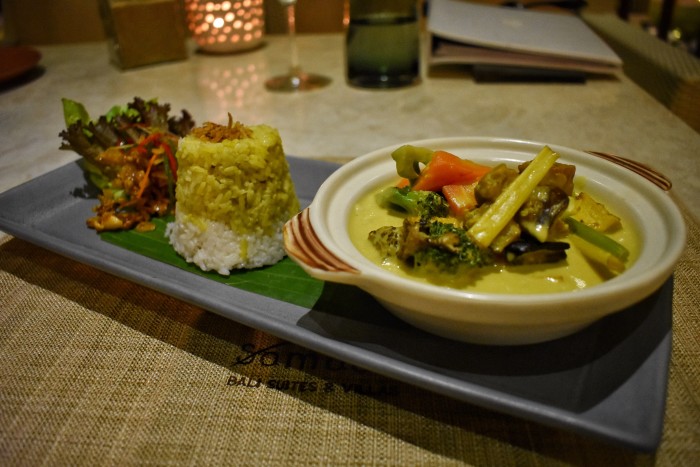 My ultimate favourite way to eat tempeh is in nasi goreng, specifically nasi goreng from Pachamama on the tiny island of Gili Air. Technically Gili Air isn't part of Bali; it belongs to neighboring Lombok. However, visiting the Gilis is one of Bali's 'must do' activities, so I'm including it, and also because the food at Pachamama is that good. Nasi goreng is usually a meal of fried rice with shrimp and vegetables topped with a fried egg, but Pachamama does a healthy vegan version, with red rice and chewy chunks of tempeh in a light yogurt dressing.
The flavors in the raw food at Pachamama were sensational, particularly in the raw zucchini pasta with vegan pesto, cherry tomatoes, beetroot spirals, sunflower seeds and balsamic cream with vegan cashew cheese. Fresh, sharp, creamy, tangy – it was a sublime amalgamation of flavors.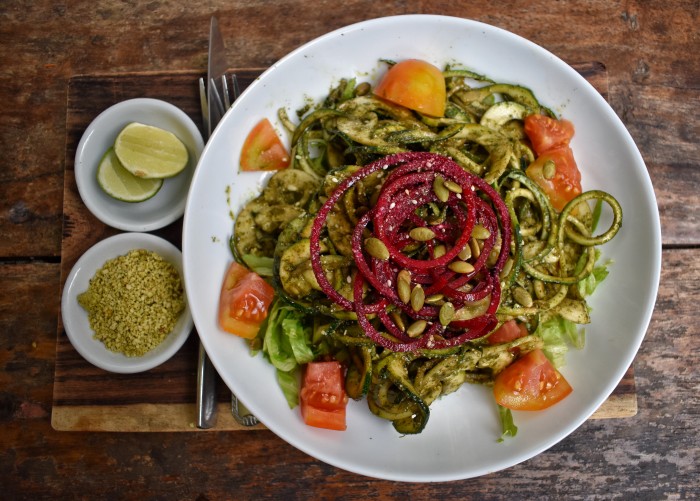 The raw desserts here are also divine, in particular the vegan dragon fruit cheesecake, which has a chewy date and cashew base with a topping of lime juice, cold-pressed coconut milk, cashew, fresh dragon fruit and raw cacao powder. Heavenly (and healthy).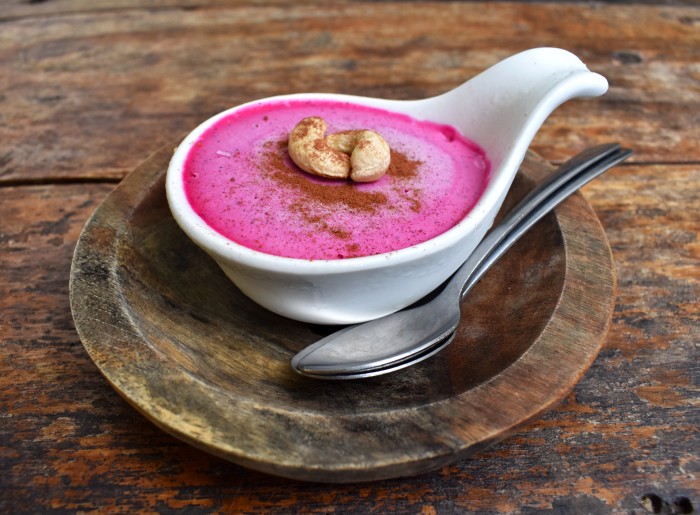 Moving back now to mainland Bali, Ubud, located in the center of the island, is considered to be the beating heart of Bali's cultural scene. It's unquestionably the hub of the veggie food scene, but it isn't just vegetarians who will thrive here. Ubud is home to the world's largest raw food community per square mile, and there are more organic, raw, vegan cafes than you can shake a stick at. Wandering the humming, colorful streets here trying to decide where to eat was almost an arduous task.
One of my favorite places was Soma, a cafe set around a courtyard with pretty fairy lights that lure you in from the street. This is one of the few places in Ubud that serves — gasp — fish, but most of the menu is vegetarian or vegan-focused. There's a dizzying array of delicious smoothies and juices, and the food is also good. The rainbow coco curry — slow-cooked vegetables in fresh coconut milk broth served with fluffy rice — was excellent. Go all out and wash it down with a whole young coconut.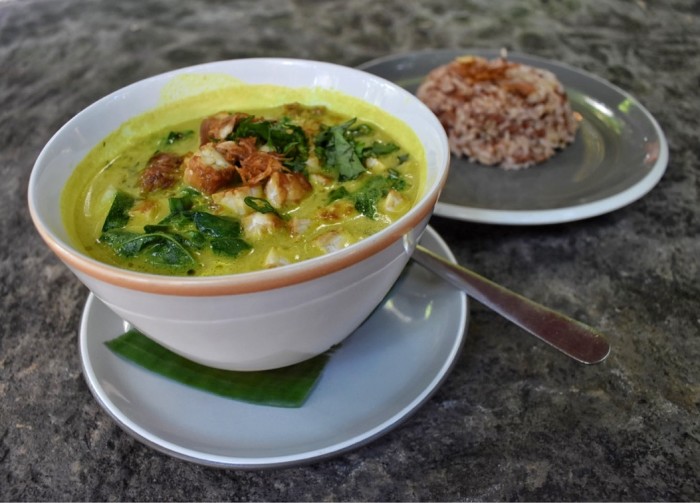 The very best place to eat in Ubud is Seeds of Life, an exclusively raw vegan restaurant that I became a regular at. As a serious pasta aficionado, the raw lasagne was first up: made from thin slices of layered zucchini, Napoli tomato sauce, fresh spinach and smothered in a velvety cashew nut sauce, this was just as creamy and satisfying as the dairy alternative. Another favorite was the pesto burger, a thick sunflower seed patty doused with pesto, chipotle mayo, avocado, sprouts and fresh tomato inside raw onion bread, and served with side of BBQ jicama wedges.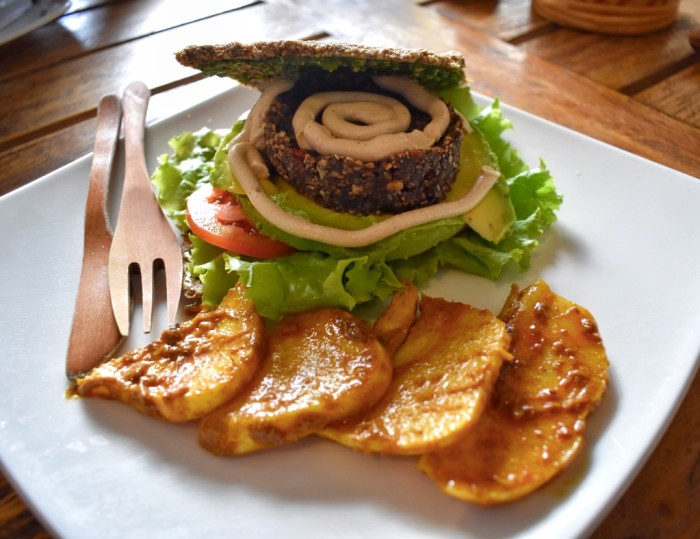 I have to confess, even as a vegetarian the idea of eating lots of raw vegan food didn't sound like something I'd be enthused about for long. But Bali showed me just how delicious and decadent this diet can be. For six weeks I ate predominantly vegan and it was wonderful; so good there are no more excuses not to make the long-considered jump from vegetarianism to veganism very soon. Thankfully, the final two destinations in my trip, Thailand and Vietnam, are also vegetarian-friendly…but after Bali they have a lot to live up to.
Selene Nelson is a U.K.-based journalist who is traveling the world for a year, reporting on her search for vegetarian food in each of the locales she visits.