8 Of Our Latest, Greatest Summer Salads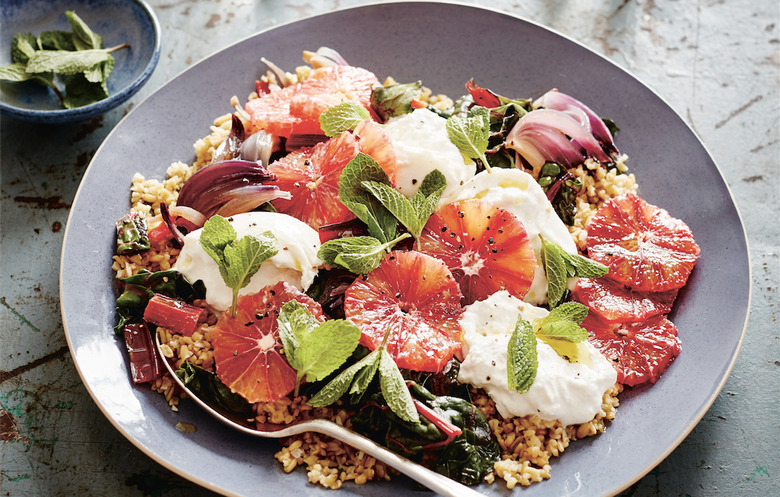 Peak season for summer salads is in full-swing, with markets packed with the freshest and most vibrant produce of the year. Whether you're switching up your Romaine game for pea shoots or finding new ways to bulk up your meal (try fiber-filled ancient grains!), there's a recipe in here for you. Serve alongside a simple piece of grilled meat or fish and dine al fresco for a memorable and satisfying dinner any night of the week.
Recipe: Blood Orange, Burrata And Freekeh Salad
This is a very happy confluence of ingredients; smoky nuttiness from the freekeh, earthiness from the chard, a creamy sweetness from the burrata, all pulled together by the fragrant, sweet-sour citrus. The bergamot is purely optional as its flavour is subtle here, but if you can, please do: bergamots are still in season (just) when blood oranges come in, so it should be possible to find them. Use lemon zest instead if not.
Recipe: Layered Black Bean Salad With Zucchini, Corn And Avocado
I know the ingredient list is long, but there's no cooking involved here. It's actually fun to layer all those ingredients in glasses — and they look so jaunty when you're finished. You can plan to make these little salads when friends are coming over (assemble them up to an hour ahead), or you can just always toss everything together in one bowl as a quick weeknight alternative. Either way, it's one tasty bean salad, partly because the dressing features one of my favorite pantry ingredients: crystallized ginger. If you don't have crystallized ginger, use fresh ginger and a bit of sugar.
Recipe: Shaved Cauliflower Salad
If you're searching for your favorite new way to serve cauliflower, consider this fantastic shaved cauliflower salad from executive chef Matt Ford of Americano in Dallas. It's bright, crisp and flavor-packed, and a perfect accompaniment to grilled meat or fish.
Recipe: Shredded Carrot And Lentil Salad
Kosambri is a classic Karnataka salad made with crunchy vegetables, soaked lentils, coconut, lemon, cilantro, and fried spices and chiles. It's spicy, sweet, and tangy all at once. The colorful salad is usually made on festival days or special occasions. My mother would mix all of the ingredients up with her hand, and now so do I. I'm convinced that it tastes better that way. Kosambri comes in many different forms, but this version is the one that was made most often at home. It is referred to as hesaru bele carrot kosambri, which translates from Kannada as "skinned and split mung bean and carrot salad."
Recipe: Flinders Lane's Coconut Poached Chicken Salad
Flinders Lane in New York City's East Village is an excellent place to celebrate Australian cuisine. Helmed by chef Chris Rendell, the restaurant highlights the country's heavy Southeast Asian influences, as evident in this super-refreshing coconut poached chicken salad. Rendell says that the salad works on a ton of levels all throughout the year.
Recipe: Garbanzo Feta Salad
Even people with an aversion to beans like garbanzo beans, or chickpeas, for their nutty flavor and firm texture. They can be a bit bland and dry by themselves, though, so this recipe adds flavor, texture, and color with feta, red onion, cucumber, and parsley. Feel free to use canned beans. The vinaigrette is the icing on the cake.
Recipe: Roasted Cauliflower Fattoush
Salads don't have to be dull and boring. All they need is a little tender loving care (and perhaps the odd dash of spice) to really bring them to life. Here, I'm talking "in yer face" roasted cauliflower florets paired with toasted pita pieces and a creamy tahini dressing that will end your limp leaf memories and catapult you into what I've dubbed "21st Century Eating." That's where we have our cake (or in this case,salad) and eat it... flavor, texture, and freshness combined — there's very little not to like about this recipe. So much so, I'd happily serve it for lunch, dinner, and even at parties — it never fails to get a bounty of enthusiastic "mmms" and "wows." Now, when's the last time you heard that said about a salad?
Recipe: Strawberry And Pea Shoot Salad
This salad is composed like a delicate serenade, but then the mixture of toasted seeds, roasted ginger and a ton of fresh herbs gives it the needed crescendo to sustain the hungriest salad eaters. The strawberries must be in season and überfresh. Fun to make, with big flavor and big color, this recipe defines seasonal perfection.