Summer tomatoes are in full swing in Charleston, SC, and at the famed Magnolias, that means it's tomato butter season. A timeless accompaniment to a variety of recipes, Magnolias' tomato butter has been showcasing the bounty of the season for more than 25 years. Executive chef Kelly Franz uses this sweet and savory treat, created by HMGI's Culinary Arts Director Don Drake, in countless applications, currently serving tomato butter atop a porterhouse pork chop. We asked Franz all about this magical substance, how to make tomato butter at home and how best to use this versatile condiment.
What is it about tomatoes that lend themselves to a butter that highlights other produce or meats so well?
Tomatoes have rich flavors with slightly sweet and tart attributes. With the addition of butter and cream, it goes with just about everything from a simple hamburger, grilled or baked chicken, roasted vegetables, seafood, steaks, pastas and even some cocktails. It's equally as good on a simple piece of grilled bread.
The first thing you think about when someone mentions a butter is package butter that's found on the grocery store shelf or an old-fashioned fruit butter like apple, blackberry or peach that are usually found in the old church & community cookbooks. This recipe is prepared in two stages where the first stage (tomato reduction) is actually considered a butter in old cookbooks. The second stage includes cream and butter whisked into the reduction for a further richness.  
Are there any kinds of tomato that don't work well for tomato butter?
I personally don't think there is a tomato that wouldn't be good. If I had to choose one it would be a green tomato, but with the addition of some vinegar and a little more sugar, they would work great as well.
Is there a specific varietal you like to use? Why in particular?
My favorites to work with are the big, beefsteak tomatoes like Cherokee Purple, Brandywines, Big Boys and Black Krims. On the smaller size are the Super Sweet 100s and Cherry Babies. At my house, I have never had much success at growing the big tomatoes; something always happens to them. However, I always have a bumper crop of cherry or grape tomatoes. They take a little more work at taking the skins off but the taste is great. These varieties I have mention are readily found around the Carolinas in the summer and have similar characteristic of acidity and sweetness. It is tough at times not to just eat them slicked, with a just a shaker of salt and pepper.
There are so many colors of tomato — does tomato color play into the final product? Taste wise, not really. Some of the hybrid yellow tomatoes lack some flavor at times if they have been stored incorrectly, usually when refrigerated. The proper way to store your tomatoes stem side down on a single layer at room temperature. Once picked off the vine, tomatoes don't ripen any further taste wise. It's best to put them in a brown paper bag for a day or two versus on the shelf in the window, which just makes them soft.
Is it solely a finishing butter or is it something you could cook with as well?
It can be used as both cooking sauce and finishing sauce. For example, if it was being used to cook with a pan-seared chicken breast, use the tomato reduction, allow to simmer then finish with the heavy cream and butter. You could also use this method also when preparing fish, or you can just use the tomato butter sauce to finish the dish; that's what is so great about this particular recipe.
How long does it stay fresh in the freezer?
If you freeze it, leave out the heavy cream and butter. Place the tomato reduction into plastic sealable bags or freezer proof container, being sure to label and date them. It will keep for up to 6 months. If you are using the sandwich bags, it is always and good idea to fill three or four bags, seal them up tight, then place them in a larger one to seal again. Again, don't forget to take a marker and label and date them so it's easier to find. You don't want to pull out the old chili by mistake! Using this sealable bag method works pretty well.
If you're not making your own butter from scratch, what kind of butter should you be looking for if you're making tomato butter at home?
There are many kinds of butters out there and a great range of prices. Some of my favorites are Cabot, Plugra, Anchor and Joe's Organic, but there's always the old standby, Land O'Lakes.
If you were to make up a name for the award you get if you make this butter from peak-season garden tomatoes you grew yourself and butter you whipped up from the best local milk you can find, what would it be?
Vitto's Blue Ribbon World's Fair Heisman BADGE
Tomato Butter
yields approximately 3 cups
You'll need: a paring knife, cutting board, medium-sized sauce pot, stainless steel bowl, whisk, sieve and slotted spoon.
Optional: crock pot, blender, large stock pot, canning jars/lids.
Ingredients
6 ounces tomato reduction (recipe follows)
1/2 cup heavy cream
1/2 pound unsalted butter, cubed
Salt and pepper to taste
Directions
In a sauce pot, add the tomato reduction and heavy cream. Bring to a high simmer and reduce until thick. Turn the heat to low and slowly whisk in your cubed butter a piece at a time. Remove from heat and keep warm. Check for seasoning.
Tomato Reduction
Ingredients
5 pounds ripe Roma tomatoes (peeled, seeded and chopped)
3 tablespoons olive oil
4 cloves chopped garlic
4 tablespoons chopped shallots
1/4 cup tomato paste or 6 ounce can
1 bay leaf
Leaves from 2 sprigs of thyme
1 tablespoon sugar
Sea salt and pepper to taste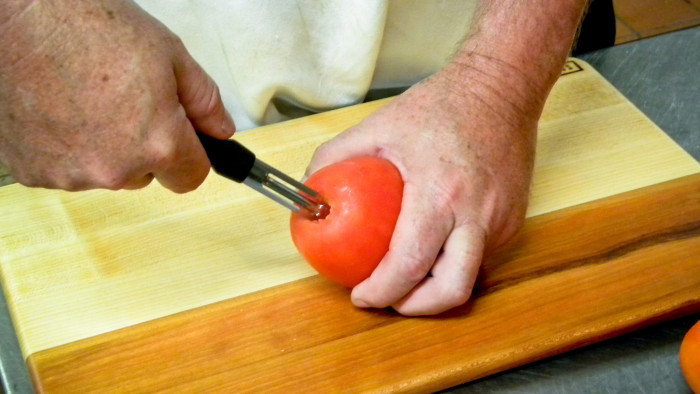 Directions
Bring a large pot of water to a boil. Meanwhile, core the stems of the tomatoes.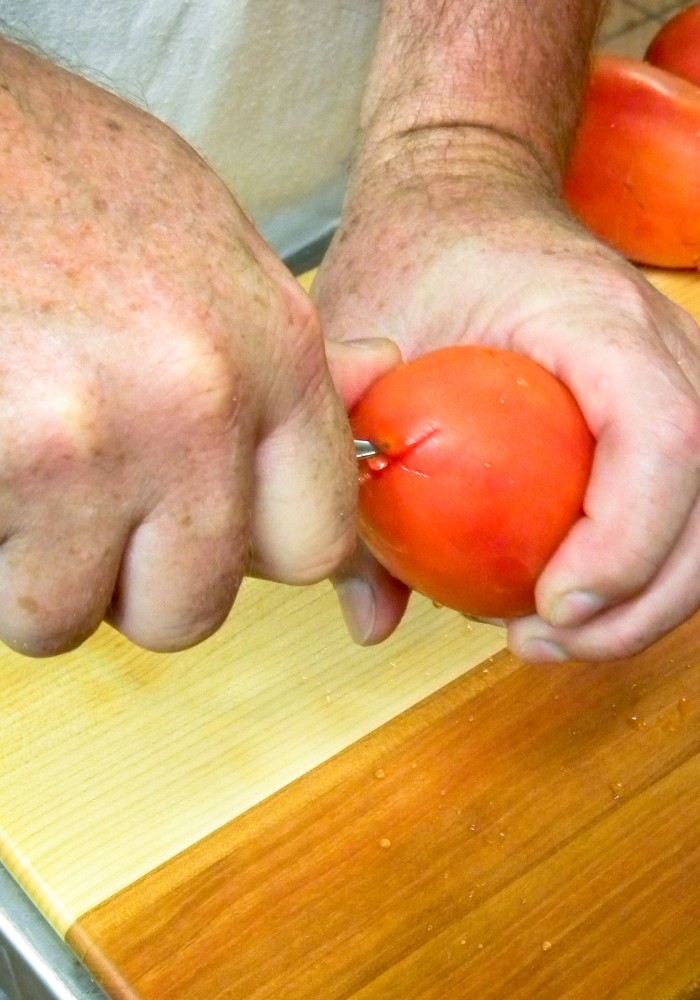 Slice a shallow "X" in the bottom each one. Fill a bowl with ice and water for the ice bath and set next to the stove.
Working in batches, place several tomatoes into the boiling water. Watch for their skins begin to split, usually about 45 seconds to a minute. Using a slotted spoon, remove the tomatoes from the pot and place into the ice bath.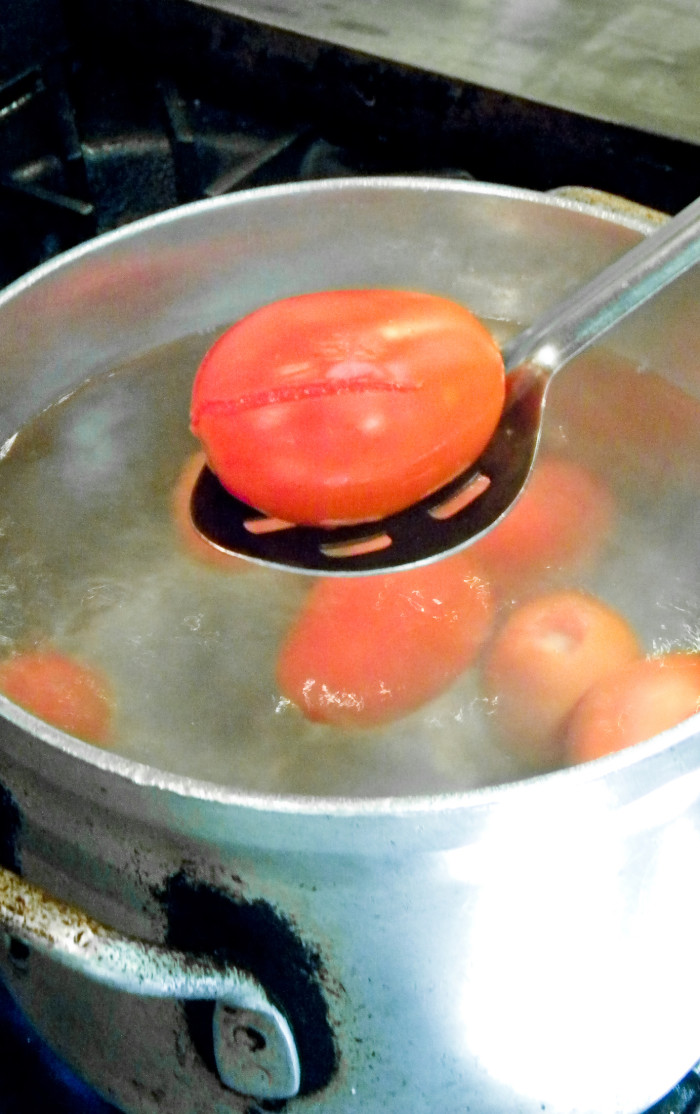 Once the tomatoes are cooled, remove from the ice bath and place on a cutting board. Continue to work in small batches until all of the tomatoes have been blanched.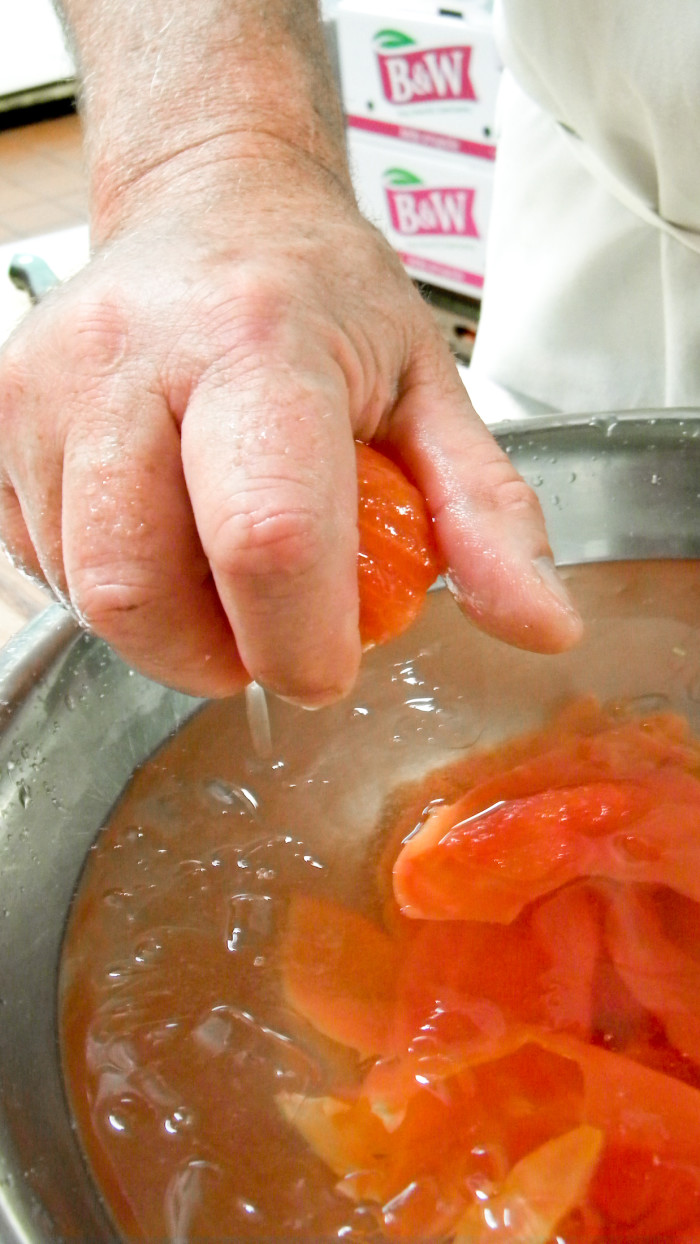 Use your fingers or a paring knife and remove the outer skins. Discard the skins and set aside. Using a paring knife, cut the tomatoes in half around the middle and give it a little squeeze to remove the seeds and excess water.
Finally, rough chop the tomatoes. At this point, it's up to you to decide which method you'd like to use for cooking the reduction: stove top or crock pot.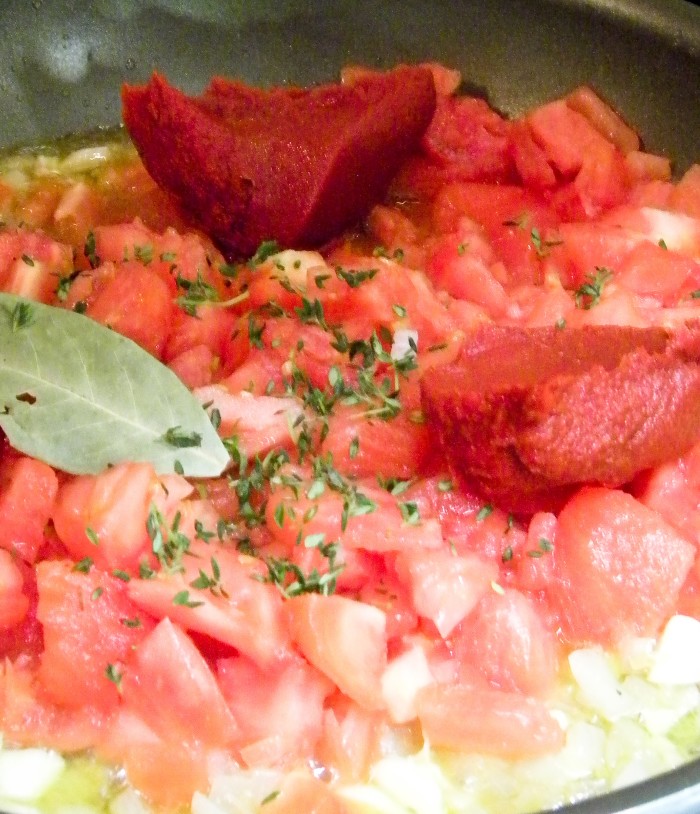 Stovetop method:
In a medium-sized sauce pot, place the olive oil over medium heat and sauté the garlic and shallots for about 5 minutes, being sure not to brown. Add the tomatoes, tomato paste, bay leaf, thyme and sugar. Turn the heat down to medium-low and cook for 1-2 hours stirring frequently until thick enough to coat the back of a spoon. Remove from heat and set aside. Discard the bay leaf.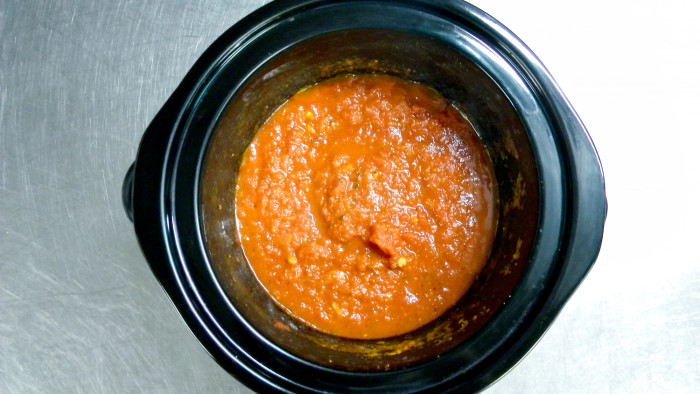 Crock pot method:
Turn the crock pot on high, add the olive oil and allow to get hot. Add the garlic and shallots and sauté until tender. Add the tomatoes, tomato paste, herbs and sugar. Turn the temperature to low and place the lid on top, but slightly off to the side to allow moisture to escape. Cook for 6-10 hours or until the mixture coats the back of a spoon. Remove from heat and discard the bay leaf. Set aside to cool.
Canning method:
If you want to save some of your tomato reduction to use at a later date, the best way is to store it in canning jars. It's a lot easier than you think and the tomato reduction will keep for up to a year.
While the tomato reduction is cooling, place a large stock pot on the stove and fill the pot three-fourths of the way full with water. Place the jars and lids in to soften them up; remove jars from water and towel dry. Ladle the tomato reduction into the jars leaving a 1/2-inch space from the top. Top with the lids on and turn until tightened. Slowly lower the jars into the water and process the jars for 15 minutes. Remove the jars from the water and allow them to cool on a towel on top of the counter. Store in a cool dark place and be sure to date the jars.