The Art Deco-inspired Hôtel Bachaumont opened less than two years ago on a quiet street in Paris' central 2nd Arrondissement. It's a 15-minute walk from many of the attractions you'd want to see on your first visit, and for more seasoned travelers, a short trip to several Metro lines. No matter what your familiarity with Paris may be, Hôtel Bachaumont will serve as an excellent home base and trip highlight in itself. Traverse the grand entrance and see for yourself.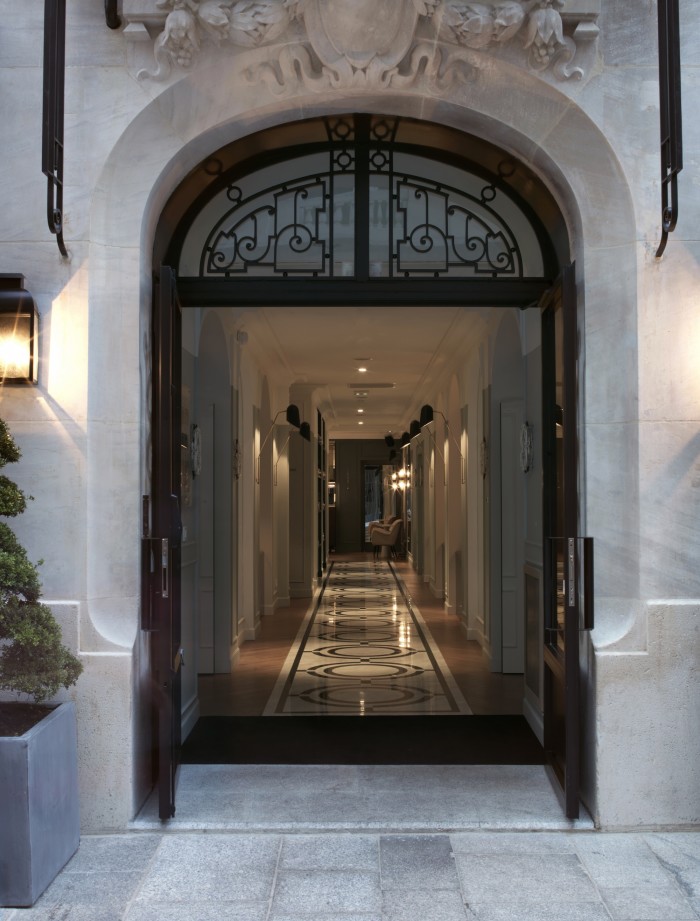 The Look
Hôtel Bachaumont strikes a fine aesthetic balance between classic French design and modern European minimalism. Its interior is homey, warm and welcoming.
The rich teal theme you'll find in the paint and textiles throughout the property evokes an internal calm that makes you happy to be back, welcomed by a tattooed, bespectacled concierge with a dyed hairdo and no fewer than three rings on each hand.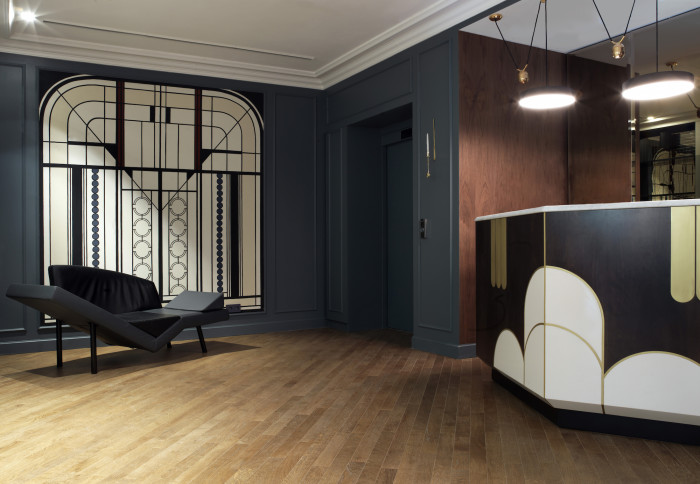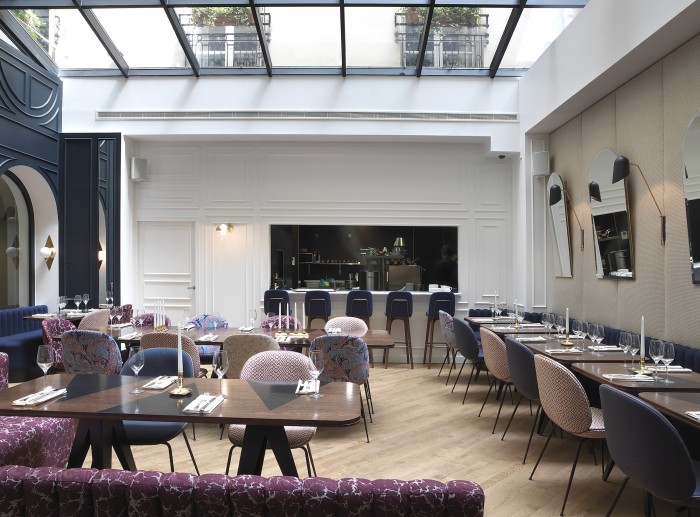 The whole front desk team is in fact exceptionally stylish and friendly, with an abundance of recommendations from the neighborhood's best croissant (Storher) to where to buy delightful French toddler clothes. Between the lobby, Restaurant Bachaumont with its glass ceiling and separate craft cocktail bar, there are plenty of comfortable spaces to gather yourself for a moment (perhaps send off a postcard) before heading out into the city.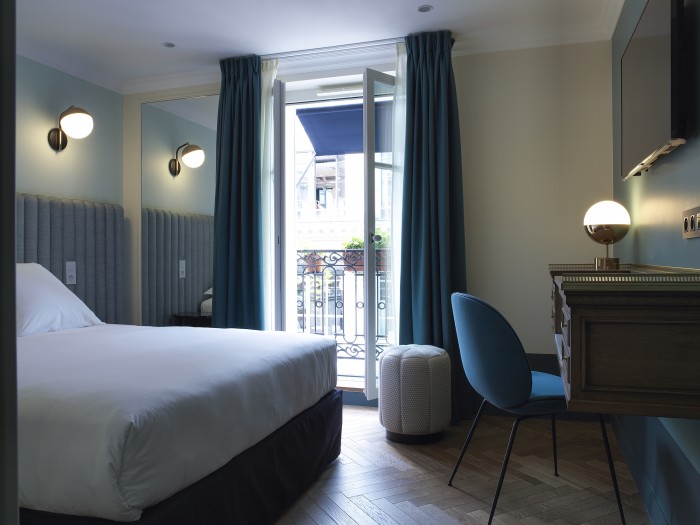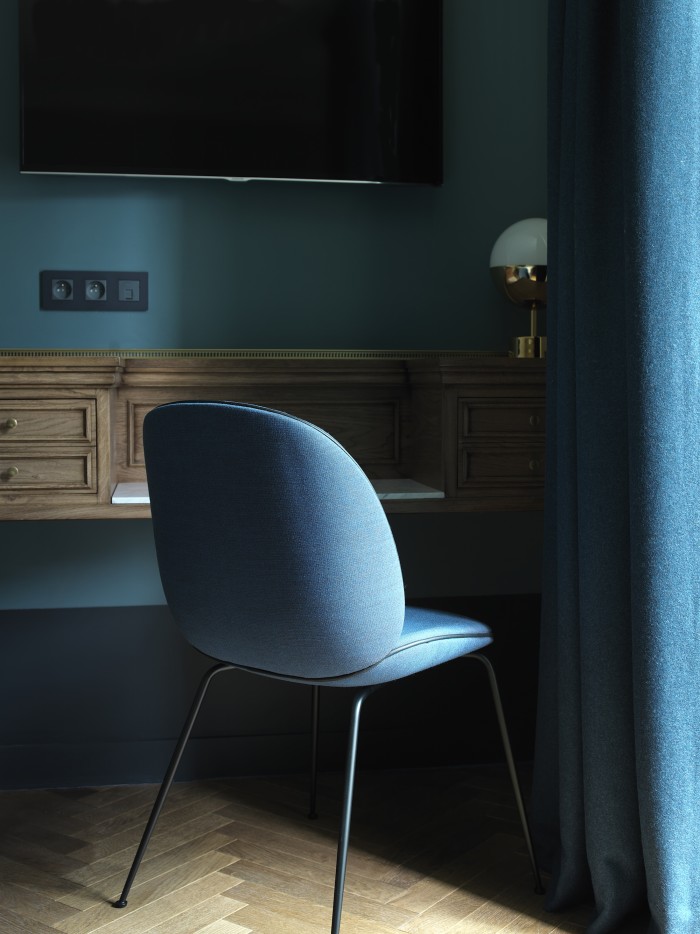 The Rooms
The hotel rooms are simple and clean, with eye-catching furniture, mid-century accents and shiny herringbone parquet floors. There is a wooden writing desk in every room, should the inspiration (or need to work) strike you. Fill your space with natural light and fresh air by opening the French windows wide open, complete with decorative iron grates. Thick blackout curtains in that wonderfully soothing shade of deep blue ensure jetlag won't creep up on your sleep-in.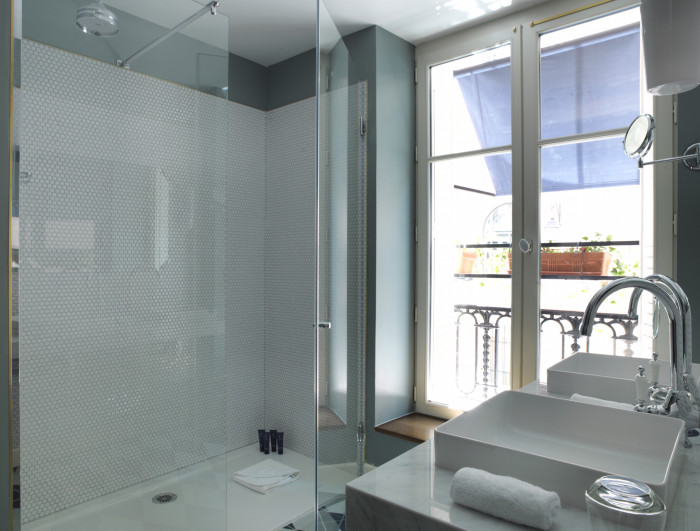 The compact but bright bathrooms feature French windows, superb water pressure, lavender and peppermint-scented C.O. Bigelow bath products, cushy plush robes and heated towel racks.
The hotel's breakfast is a profound pleasure, boldly declared by a veteran food website editor to be the best in Europe. Enjoy the deceptively simple buffet in the dining room or a selection from the kitchen served en suite. You'll get a huge tray featuring delicate mini pastries, apricot yogurt, fresh fruit, butter-basted eggs with perfect runny orange yolks, nutty aged cheese, extra-smoky hand-carved salmon, saucisson d'arles, North African spice-rubbed air-dried beef and sizable hunks of lightly toasted baguette with fresh cultured butter. Newby Hanan green tea came in a large iridescent packet that was almost too beautiful to open. And as Paris is the city of love, haute cuisine and walking (in that order, unconfirmed by city officials) you'll be well-fueled to traipse around until lunch.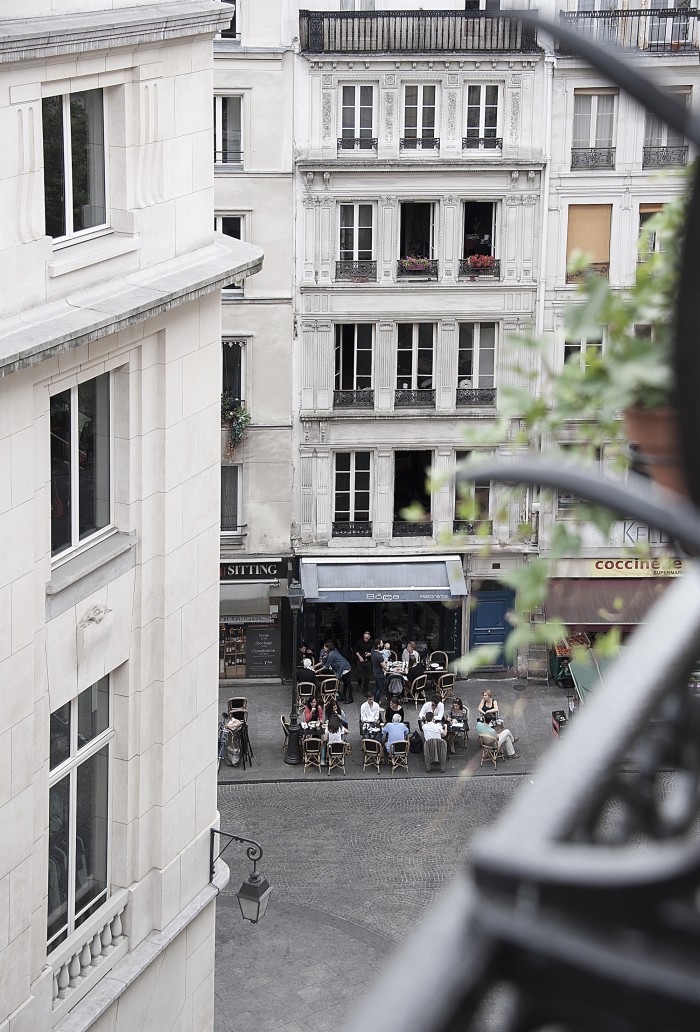 The Neighborhood
The hotel is situated right in the center of the city, but the adjacent streets feel more small-town than big city. There are lots of cafés with outdoor seating, small bistros and clothing and perfume boutiques all steps away. The Tokyo-inspired Café Kitsune is famous for their green tea lattes if you're looking to bust out of your café au lait rut, and the dark, sexy Experimental Cocktail Club slings some of the most inventive drinks in town.
Going sightseeing? Excellent — you're close to the larger museums, Bastille and République and comfortable walking distance from Père Lachaise cemetery, Galeries Lafayettes and Place de la Concorde. The Eiffel Tower, Bois du Bologne and Arc de Triomphe are all a quick drive west.
For a quintessentially luxurious and truly unforgettable French dining experience, opt for lunch or dinner at Le Grand Vefour at the Palais Royale, a 10-minute walk away. Expect 10+ courses plus a cheese cart, then walk it off around Les Halles — perhaps even a swim at the famed Piscine Berlioux. Cross the river and admire the Notre-Dame Cathedral, then pop into Pierre Oteiza and pick up a few cans of their magnificent pâté, rillettes, confit and black pudding to stash in your suitcase. Nobody likes going into charcuterie withdrawal. I myself cracked open a jar of their port-spiked pork liver mousse on the Air France flight home (the gracious flight attendant even recommended a stellar wine for it).
Also nearby is legendary kitchen store E. Dehillerin, where Julia Child bought her first crêpe pan. Purchase a souvenir that keeps on giving — a wood-handled cheese knife, madeleine pan or especially memorable melon baller — while you're there. Once you've taken in the hotel's neighborhood, wander off the well-beaten path of the 2nd Arrondissement to the hip neighborhoods that showcase what Paris is all about right now. Venture to Pigalle, Château d'Eau or Canal St. Martin for hipster/boho shopping, casual and fine dining and of course sightseeing/being sightseen.
Hôtel Bachaumont
18 Rue Bachaumont
75002 Paris, France
+33 1 81 66 47 00
www.hotelbachaumont.com
Rooms from $199