12 Sweet Ways To Use Strawberries, Now In Season!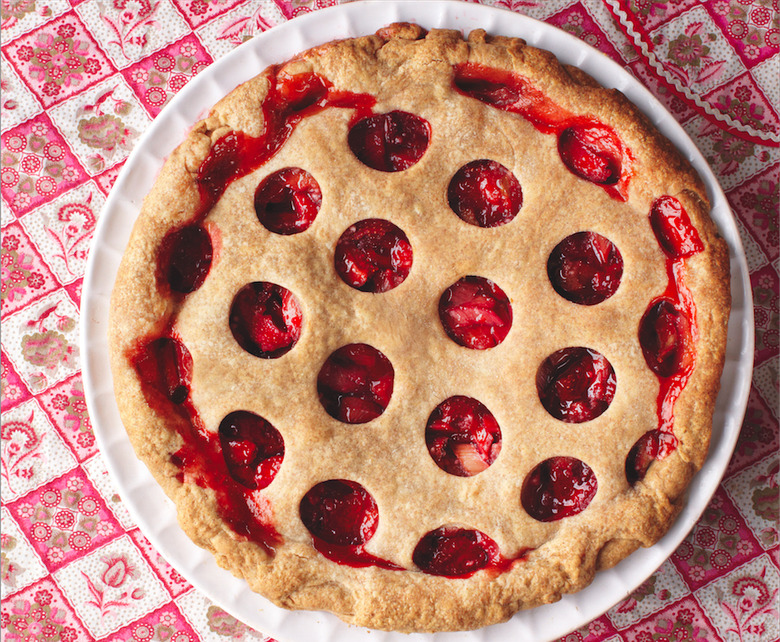 We may receive a commission on purchases made from links.
Can we share a fruit-based sentiment? Strawberries are the greatest. Need specifics? Here are 14 things you probably don't know about the sweet red flavor bomb. Take your newfound knowledge for a spin with these 12 ways to use sweet strawberries, now in full season, and start making the most of this prime summer produce. Need motivation? Remember winter fruit?
Recipe: Strawberry Rhubarb Pie
We used to grow our own strawberries when I was a kid. Considering how often my brother and I raided the strawberry patch, it's amazing my mom was able to gather enough for any pie at all, but when she did she always paired them with rhubarb. It took me a long time to enjoy the taste of rhubarb, but now it's one of my favorite pairings for berries. The tart bite of the rhubarb is just enough to temper the sunsoaked sweetness of the strawberries. I really like making strawberry rhubarb pie with people who have never had rhubarb; it's fun to offer them a small bite of the unsweetened rhubarb and watch their faces sour-pucker with disgust. Rhubarb is definitely puckerworthy when it's raw, but it's delicious once baked into a pie.
Recipe: Strawberry Army Navy Cocktail
Recipe: Pickled Feta With Cerignola Olives And Strawberries
Briny feta is pickled, then tossed with plump olives and strawberries for a bright, juicy salad. Since the feta needs five days to cure in the fridge, this is a great make-ahead dish. Use Greek feta if you want neat cubes; Bulgarian feta is divine, but it needs to be handled carefully as it's very soft and crumbly. Whip up this recipe for a picnic, or serve it after a day on the beach when salt and sun are still on everyone's mind. Glasses of Prosecco or Saison are a perfect accompaniment.
Recipe: Strawberry Black Pepper Shrub
White balsamic vinegar has a cleaner finish than the traditional variety, plus it keeps your cocktail from turning a murky brown color. Stir a tablespoon into your favorite rum cocktail for a drink that's fruity but not frilly.
Recipe: Strawberry Balsamic Goat Cheese Frosting
I refuse to eat lunch. The thought of tomato soup at noon or pepperoni pizza at 1 p.m. sends my anxiety soaring. That's why this Strawberry Balsamic Goat Cheese Frosting is so revolutionary! It's like cheese and fruit — in frosting form. Even better, the Strawberry Balsamic Reduction can double as a salad dressing for dinner. Yum!
Recipe: Strawberry Basil Smoothie
Basil gives strawberries a lightly floral accent, but that's not the real secret here. Instead, say hello to tomatoes! Strawberries and tomatoes share many of the same flavor notes, which is why incorporating the lycopene-rich beauties in this blend is a seamless addition.
Recipe: Strawberry And Pea Shoot Salad
This salad is composed like a delicate serenade, but then the mixture of toasted seeds, roasted ginger and a ton of fresh herbs gives it the needed crescendo to sustain the hungriest salad eaters. The strawberries must be in season and überfresh. Fun to make, with big flavor and big color, this recipe defines seasonal perfection.
Recipe: Goat Cheese And Strawberry Bruschetta
Bruschetta can be topped with basically anything you can dream up. In this case the chef specifically created this to enjoy with a light white wine, like Pinot Grigio, for a summer wine pairing.
Recipe: Strawberry-Watermelon Agua Fresca
I distinctly remember tasting cilantro for the first time as a preteen (at Chili's!) and thinking that the restaurant hadn't washed the soap off its dishes. I avoided the leafy herb for many years before deciding that I liked Mexican food too much to shun cilantro forever. After years of rigorous training, I am now a superfan. But if you're not, substitute basil or mint, or just leave it out altogether.
Recipe: Strawberry And Cream Cheese Waffle Sandwiches
Ordinarily we'd pass the "quick and healthy" cookbook section in lieu of something with more cheese, but if you're going to cook light, better take a page out of Better Homes and Gardens. These strawberry and cream cheese sandwiches pressed in a waffle iron are as attractive to behold as they are delicious. Don't worry, real waffles aren't going anywhere. We're just using their facilities.
Recipe: Açaí Bowl With Extra Everything
Açaí, the Amazonian superberries, have to be frozen or freeze-dried immediately after picking to maintain their potency. We always try to encourage choosing locally grown ingredients, but we just couldn't write a book about smoothies and not include one açaí recipe. If you try it, you'll understand why! The earthy flavors taste so good when mixed with strawberries, sweet banana and honey. Don't be shy with the toppings here. We add heaps of fresh fruit for sweetness, granola for crunch, nut butter for richness and edible flowers to pretend that we are in Brazil when eating this delectable delight!
Recipe: Strawberry Jam Cheesecake Bars
Potluck Prep: The unsliced cheesecake bar can be refrigerated in the pan for up to 4 days. Sliced bars can be individually wrapped and refrigerated for up to 3 days.
Recipe: Spanish-ish Strawberry Slushito
The great nation of Spain is known for many glorious food and drink traditions, but frozen cocktails is not one of them. So, when restaurateur Mark Kuller wanted to put slushy drinks on the menu at his contemporary Spanish restaurant Estadio in Washington, D.C., he and bar manager Adam Bernbach struggled a bit with what to call them. "A lot of the names we came up with were too serious," Bernbach recalls. To make the slushies at least sound Spanish, anyway, the pair ultimately decided to add the -ito suffix. And, ahí está! The "slushito" was born. It works, Bernbach says, "because it's so silly." Here's Bernbach's recipe for making your own silly-sounding strawberry-flavored drink at home, even if you have no proper slushito — er, slushie — machine.