Snack Ideas For NBA Finals Game 5 Viewing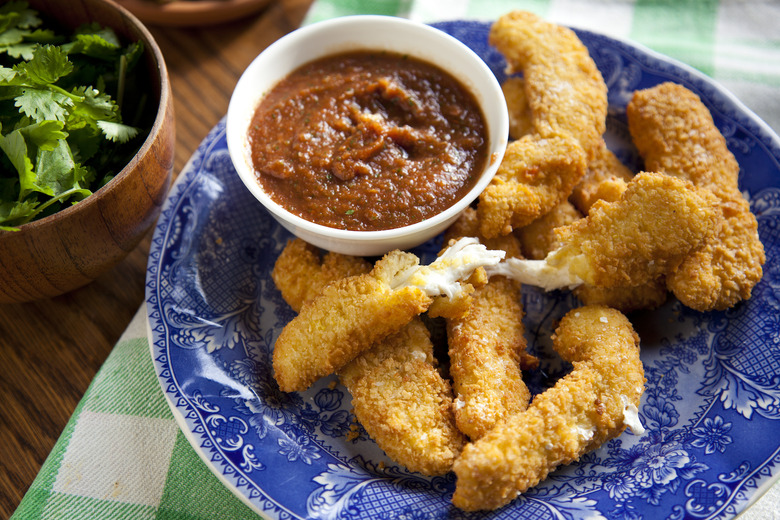 Swap mozzarella for Oaxacan cheese and be amazed. (Photo: Alexandra Winsby.
The Cavaliers fought off the Warriors in Game 4, avoiding the sweep. Can LeBron and Kyrie summon another dominating performance to keep Durant, Curry & Co. at bay one more night? And more importantly, what should you be serving up as you watch Game 5 action tonight? Whether you're craving wings or nachos, deep-fried bites or cheese-centric noshes, there's something in this mix for you.
Recipe: Oaxacan Cheese Sticks
I love mozzarella sticks. The first time I had them, I knew then and there that fried cheese was something special. But why does Italian food seemingly have this culinary masterpiece of a snack on lockdown? I don't have a good answer to that question, but recently I decided it was time to change things. I mixed one of my favorite snacks with probably my favorite type of cuisine (Mexican!) and the results were pretty glorious.
Recipe: Kare Kare Chicken Wings
"This dish was inspired by my love for chicken wings and a popular Filipino dish called Kare Kare [pronounced kar-eh kar-eh]," says chef Eric Pascual. "The traditional Kare Kare dish is a stew made with slow-cooked oxtail in a peanut sauce. This dish works great as a snack or even a main course."
Recipe: 3-Ingredient Praline Bacon
You want something super-simple done right the first time? Preferably with a tantalizing photo of the fruits of your labor? Once you master this easy recipe from Betty Crocker's Big Book of Breakfast and Brunch, this 3-ingredient praline bacon will be a frequent guest at your brunch table. It might stop by for dessert. It might even make it onto the coffee table for a little TV. Basically, get used to it.
Recipe: Cheeseburger Popcorn
We aren't going to tell you this will completely mimic the all encompassing and all-powerful burger, but serve a big bowl of this cheeseburger-inspired popcorn to your guests and you'll be the coolest kid on the block. Trust us. Cooking the kernels in rendered beef and bacon fat will give your popcorn some meaty background notes, and then it's punched up with all the classic burger fixins, in powdered form of course.
Recipe: The Muffuletta In Quesadilla Form
Says author Ellen Brown: One of the reasons I love quesadillas is that there's so little bread involved, and the toasted tortillas add a lovely crispiness to the sandwich. That's certainly true of this quesadilla version of the Italian American cold cut and cheese sandwich. In this case, I've topped it with olive salad.
Recipe: Victory Dogs
People are sometimes surprised that I miss food things from LA besides In-N-Out and amazing Mexican food (though I of course miss those things). I miss getting sushi in Little Tokyo. I miss sandwiches from Bay Cities in Santa Monica. And I miss getting a greasy delicious Victory Dog outside the Coliseum after watching my team demolish some losers in powder blue.
Recipe: Avocado-Stuffed Meatballs
Meatballs are a favorite in our house, simply because they are a simple, quick meal to make that the kids love. They are perfect for little hands to pick up without the need for utensils and also delicious in many kinds of sauces. My kids will even eat them cold the next day for lunch! You may think stuffing them would be difficult, but the secret is to use a very small amount. Be careful when folding over the edges to seal up the meatball, as the filling can seep out a bit. For an exotic flair, try using a tablespoon of minced preserved lemon rind in place of the lemon zest and juice.
Recipe: Spinach And Feta Potato Skins
I love potato skins, but the combination of bacon, melted cheddar and melting sour cream can actually be a little too much even for a dish that's meant to be shameless. Don't shoot, I'm only human. Instead, I load my potato skins with creamy homemade spinach feta dip, sprinkle with parmesan and broil 'til crispy on top. That way you can eat more of them (and they won't just sit there congealing on the plate).
Recipe: Carmine's Famous Scarpariello Chicken Wings
Legendary Italian-American institution Carmine's brings us a recipe for its celebrated fried Scarpariello chicken wings that are a favorite among guests. With a spicy lemon and white-wine butter sauce, you'll have your Italian chicken and Buffalo wing craving satisfied while also getting your fingers messy!
Recipe: Reuben Dip
Welcome to the party! Grab a cracker and get intimate with Reuben Dip, the most awesome snack on the table. Since Reuben sandwiches make for an awkward party food, I decided to level the playing field and melt the sandwich filling down into a cheesy, tangy, corned beefy fondue. Or pastrami, of course. You can have your Reuben both ways, and now you can have it in gooey, melty dip form.
Recipe: Fried Chicken And Blueberry Pancakes 'Tacos'
Chicken and waffles is one of the greatest seemingly illogical food combos in the history of seemingly illogical food combinations. People who have never had this flavor combo are always amazed by how good it is when they finally get their chance.
Recipe: Chili Verde Con Carnitas
Nothing is better on a frozen day than some chili. But sometimes I eat so much chili in the winter that I get bored with it (I know, crazy, right?). But that doesn't mean I'm going to stop eating chili; it just means I'm going to change up the color and make some delicious chili verde. What makes this chili verde so good? Start with a lot of fresh, tart tomatillos — so the end product is nice and tangy. To balance that out, throw in some rich, meaty, slow-roasted carnitas. Once it's done, top it with a bit of sour cream, and I guarantee it'll be one of the best chilis you've ever had.
Recipe: Cheesemonger Four-Cheese Nachos
When I was working as a cheesemonger, I used to make this four-cheese nachos dish at the end of the day with odds and ends from the case. Experiment with different cheeses and have fun — but try and avoid blue and goat cheese. This is a great snack for movie night, and a good use for those cheeses that have been knocking around in your fridge for a few days.
Recipe: Pigs In Pimento Cheese Blankets
Slightly silly, but no less tasty for it, I have served these to kids to rave reviews, but also to grown-ups in a cocktail setting. That garnered giggles, but every last one of the little pigs was gobbled up.
Recipe: Beer-Battered Scallion Fries
If you have the capacity to fry some stuff at home (and all you really need is a solid deep-bottomed pan), these scallion fries are well within reach. They're bite-sized, so you won't get a mouthful of just onion or crust like you can with onion rings, but they have that amazing onion flavor that you just can't impart into fries. Oh, and since you have multiple layers of the scallion (think layers of an onion, but thinner), they're nice and juicy on the inside because they steam inside the batter while frying.