As the temperatures start rising, the days get a little bit longer and the need for a jacket becomes a distant memory, our friends at ChefSteps can focus on only one thing: grilling. You know, that wonderful tradition of cooking that heralds the start of summer, shorts weather and three glorious months of eating popsicles. And the only thing that makes grilling better? You guessed it — sous vide! Let's take a look at this grilled chicken legs recipe.
All joking aside, finishing your sous vide meats on the grill allows for perfect temperatures and textures with all the crispy-skinned, charred glory of grilling. Take these grilled chicken legs, for example. They spend three easy hours in Joule getting the perfect confit texture inside, and 10 minutes on the grill for some killer marks, decidedly crunchy skin and the magical feeling that comes along with firing up the ole charcoal. Seriously, this is our favorite way to cook chicken. No more guesswork or undercooked joints. No more destroyed skin or rubbery, overcooked meat. All you get is perfectly cooked dark meat with the crispiest skin you can imagine. This might just be the greatest sous vide BBQ hack of all.
[Editor's note: ChefSteps cooks sous vide with the Joule, a tool created by its in-house team of chefs, designers, and engineers. Joule is a Wi-Fi-connected device that you control with your smartphone. For more, check out Food Republic's independent review of the device.]
Ingredients
4 chicken legs
10 grams liquid smoke (about one tablespoon)
30 grams molasses (about three tablespoons)
5 grams black pepper, optional
salt, as needed
FAQ's
Why not just grill the chicken the good old-fashioned way?
It's all about preference. You can totally grill the chicken from start to finish, but we love the sense of security we get from sous vide — not to mention the awesome texture and flavor.
What is this "secret sauce" you speak of?
The secret sauce in this recipe is what gives our sous vide legs the depth and flavor of grilled or smoked meats. We use liquid smoke and molasses to give this chicken a deep, smoky flavor without overpowering the dish.
Does it matter what kind of grill I have?
Not one bit. The battle between charcoal and gas continues—because both options have good qualities. Charcoal grills are better for achieving that hot, hot heat; gas grills keep things regulated like nothing else. When it comes to what kind of grill you should use, it's all about personal preference.
How far in advance can I sous vide the chicken legs?
With this recipe, you can go from the fridge to the grill and have chicken on the table within 10 minutes. Feel free to make this chicken a few days beforehand and keep it in the fridge until you're ready to eat.
Directions: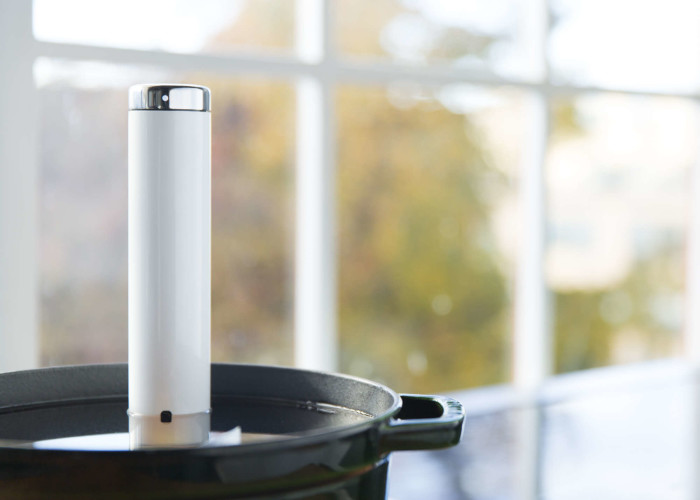 1. Preheat Joule to 158°F.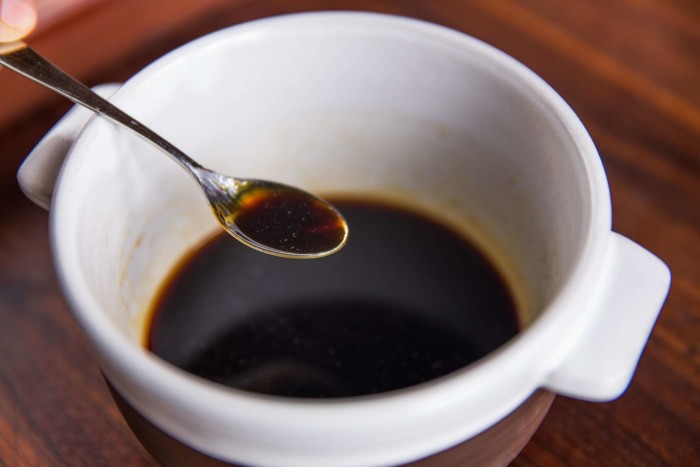 2. Make the "secret sauce": Mix together liquid smoke and molasses in a bowl. Toss in the optional black pepper if you're using it.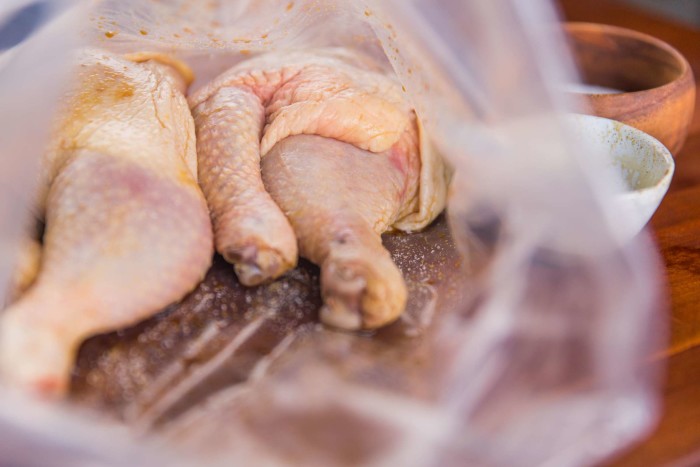 3. Bag and season the chicken: Place the legs into a bag, then add salt and the secret sauce.
4. Cook the legs for three hours. Spend this time living your life!
5. Cool the chicken (optional). One of the best things about this recipe is that you don't have to grill the chicken right away. You can make the chicken beforehand and keep it in the fridge until you're ready. If not using the chicken legs right away, chill them in an ice bath to stop any residual cooking. Then, keep them in the fridge until you're ready.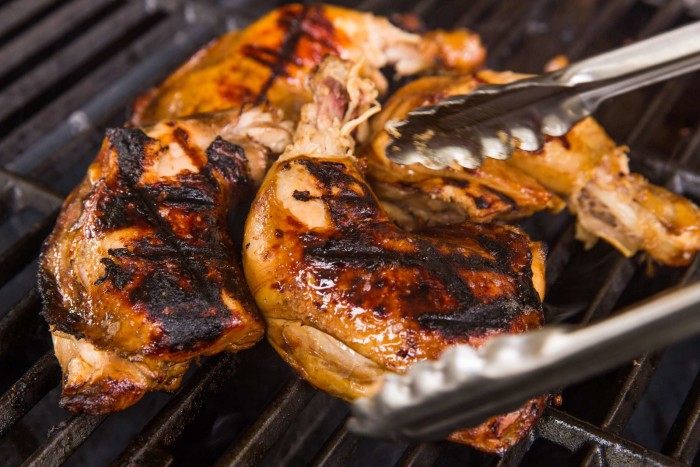 6. Set your grill to high, then remove your chicken legs from the sous vide bag and place them on a plate. Once your grill is rippin' hot, place your chicken legs onto the grill, meat side down and skin side up. This will allow the skin of the chicken to dry while the meat side browns first. Shut the lid on your grill to speed up the drying process. Allowing the skin side to dry will result in a better, crispier skin when you sear it. Once the skin has dried, flip the bird over onto the skin side and render it until it's nice and crispy. When sufficiently crispy, turn the grill off and serve the grilled chicken legs. Pile atop a fresh salad for a perfect summer weeknight meal.
ChefSteps comprises a team of award-winning chefs, filmmakers, scientists, designers and engineers focused on revolutionizing the way people cook by inspiring creativity and encouraging expertise in the kitchen. You can also get access to all of ChefSteps' Premium content — including paid classes and dozens of recipes available only to Premium members for a onetime fee of $39. Classes include Sous Vide: Beyond the Basics, Fluid Gels, French Macarons and more!