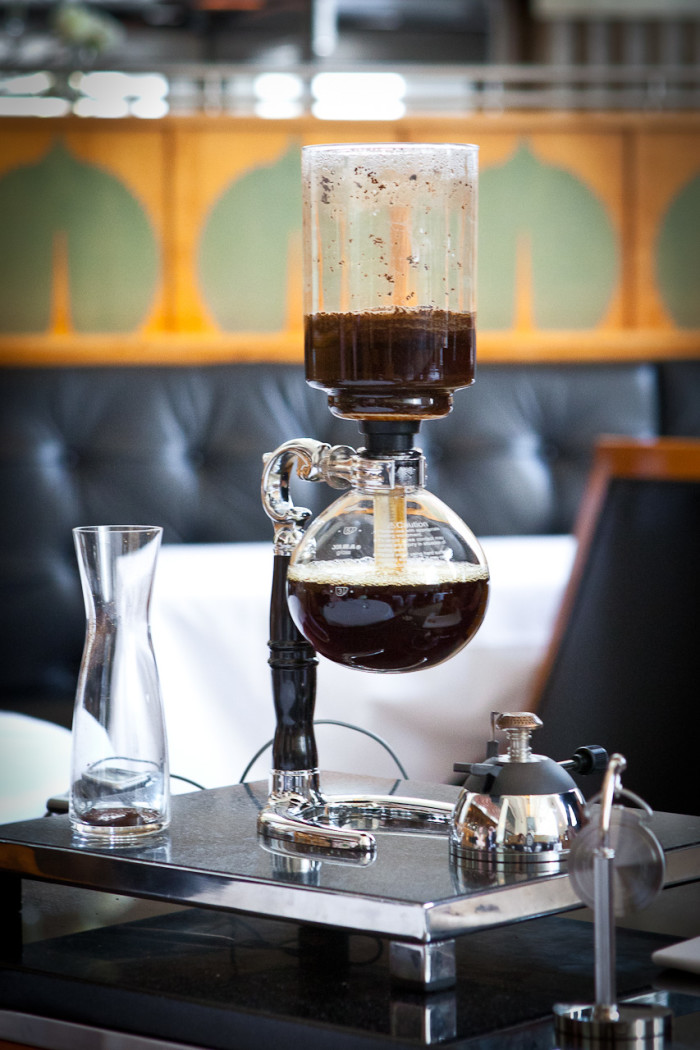 Eleven Madison Park was recently voted world's best restaurant, so it stands to reason that the NYC restaurant would aim to offer a coffee program that's as thoughtfully executed as its acclaimed cuisine. Which is why it's news that EMP has partnered with Williamsburg, Brooklyn's third-wave, farm-to-table coffee brewers Devoción.
Coffee hasn't typically been a priority for high-end restaurants, despite the growing fascination with craft roasting and brewing techniques. In 2013, it was reported that 30 percent of Michelin-starred restaurants served pushbutton coffee, like Nespresso. EMP, however, introduced tableside coffee service from La Marzocco, back in 2010. After-dinner brews were either prepared in a siphon or Chemex with Intelligentsia Coffee and Ninth Street Espresso and cost as much as $26.
EMP's coffee program director Maya Albert worked with Devoción founder and CEO Steven Sutton to design a tableside service menu at the restaurant, and it debuted a few weeks ago, priced between $25-$45, depending on the brew (EMP's set menu sans drinks is $295 per person). Anyone without a reservation for tonight's service will have to wait to try Devoción at EMP; the restaurant is closing until September to undergo renovations.
Still, Devoción figures into EMP's summer plans. The restaurant has announced a pop-up in East Hampton starting in late June, called EMP Summer House, promising lobster rolls, fried chicken, frozen cocktails and, yes, iced coffee drinks featuring Devoción. It's a collaboration that seems pre-destined. The coffee roaster started sourcing beans from Colombia back in 2006 — coincidentally, the same year that chef Daniel Humm joined the restaurant.