Anthony Bourdain put it best (doesn't he always?) — Vancouver is one of the most livable cities in the world. We can think of a few reasons why, of course, from the incredible outdoors just seconds away from city life and sustainable transportation around town, to the notable education and population's green living goals. But we having a growing suspicion that the food and drink world here might play just as big a role in the quality of life it affords its citizens, as well. And with hyper fresh seafood, from-the-ground produce, and robust global influences to steer its menu offerings everywhere and all at once, how could it not? From the Asian-Italian-inspired, to the sushi you wish you'd been sampling all your life, here are six of the city's best places to eat and drink now.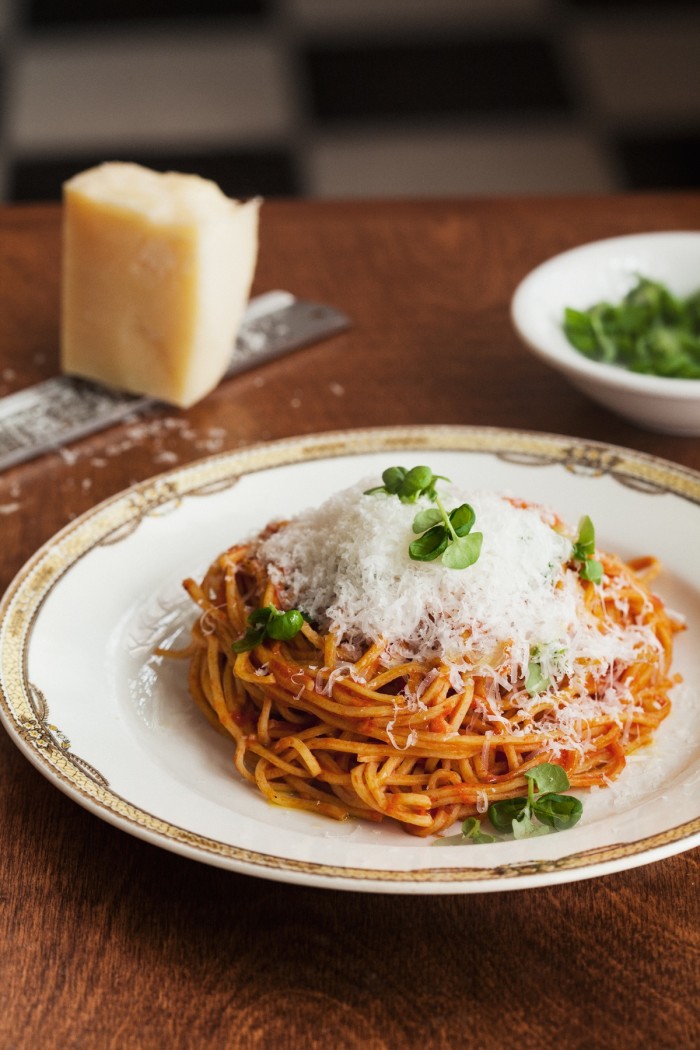 Ask for Luigi
This restaurant may be just blocks from Chinatown, but it gets Italian done right. Think piping hot servings of spaghetti with cod and clams, squid risotto arancini cut by double (OK, triple) dips of saffron aioli and fist-sized meatballs that are good enough to dream about. The décor packs no frills and the seating is cozy, but the environs will be the furthest thing from your mind come dessert, when olive oil cake and panna cotta are served to perfection. With less than a year under its belt and its reputation all about town, good luck in getting a table — though you could always try what its name suggests.
Cacao
If it's Latin-inspired fare you're after, head to this Kitsilano neighborhood newcomer, where chefs Jefferson Alvarez and Marcela Ramirez entertain guests on the daily with lunch, dinner and drinks steeped in south-of-the-border flavors met with progressive techniques. Opt for the Journey Tasting menu, a seven-course steal at $75 with plates like sea cucumber ceviche with rum and tomatillo sauce, ash-crusted bison with fried yucca and red chimichurri and nitro hibiscus with Marcelita (i.e. housemade chili sugar). If you're in a time crunch, head to the second floor, a hangout for snacks and cocktails like the Negroni favorito, a spin on the classic with rosemary-infused gin, Fernet Branca bitters and Lionello vermouth.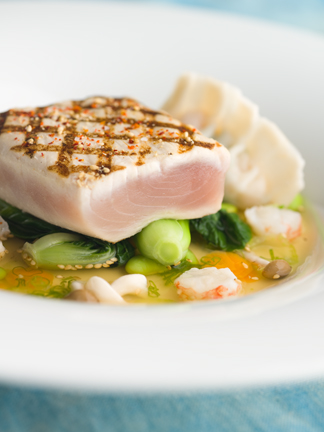 Blue Water Café
This Yaletown favorite is known for its seafood — and rightly so. The team sources entirely local and sustainable fish for sashimi and nigiri a cut above, and still, rolls see plenty of creative light (think lobster and mango salad in an omelet crepe or smoked salmon and crab that's topped with barbecued eel). Post-sushi be sure to check out the other Asian-inspired plates the restaurant has become best known for, from sablefish with miso-sake glaze, baby bok choy and yuzu dashi, to albacore tuna tartare with ponzu and nori tempura.
Kissa Tanto
It might be tough to score a seat at this Chinatown destination — after all, it was recently deemed the best restaurant in Canada by enRoute magazine. But when you do, it'll feel like you've been here for years, thanks to a sexy, mid-century modern space inspired by 1960s Tokyo jazz cafes. Well-heeled denizens share snug tables and chef Joel Watanabe's enthusiasm for Italian-Japanese plates, such as rapini with sesame and dashi, tajarin with miso cured yolk and daily fish crudo with shiso vinaigrette, Tokyo leek, and Castelvetrano olives. Even the desserts hit the Asian-Italian nail on the head so tactfully, it's bound to leave you wondering which region it was to inspire the other first (case in point with the zeppole, with cherry blossom sugar, miso-caramel dip, whipped umeboshi and honey ricotta).
The Diamond
Blink and you might miss the entrance to this second-floor destination, a go-to in the city for its clever cocktails and on-point sushi. Snag a seat alongside the windows to take in the bustling Gastown scene as you chow down on an array of nigiri and hand rolls, and leave yourself enough time for two rounds of the expertly tailored drams here. More than two dozen signature spins are on offer, from the Apple Crumble Sour with pisco, calvados and egg whites, to the Japanese Old Fashioned, with cask strength Japanese whiskey and lemon oil.
Bao Bei
Kissa Tanto may be the latest from this restaurant team, but it's this spot that helped put owner Tannis Ling — and the entire team's wow-factor prowess — on the map. Known for its modern take on Chinese fare, this restaurant conquers it masterfully in plates like beef tartare with Cache Creek flat iron steak, preserved mustard root, quail egg, and burnt scallion oil, along with the shaobing — sesame flatbread filled with cumin lamb sirloin, pickled red onion, cilantro and salted chilies.