Did you know that we have a huge volume of awesome bar food recipes that need a new home in your kitchen? We're proud to host crunchy, salty, satisfying snacks from all over the world. Whether you're craving Japanese fried chicken bites, hearty sliders or something sausage-and-cheesy, you're going to find a new favorite reason not to drink on an empty stomach. Take a deep dive into our colorful bar food section for dishes from award-winning chefs and cookbook writers, and freshen up your repertoire. Here are a few of our recent favorites:
In this game-changing rendition of a brewpub staple, duck legs, rather than the typical pork shoulder, are given the carnitas treatment. The duck is braised with orange peel in malty Mexican beer (a Vienna lager style, technically speaking) until tender, then the cooking liquid is reduced until almost nothing is left but the rendered fat used to fry the moist duck meat.
My favorite hybrid, combining the worlds of Scotch eggs and onion bhajis. It has everything: subtle spice, crispiness, pork and a runny egg.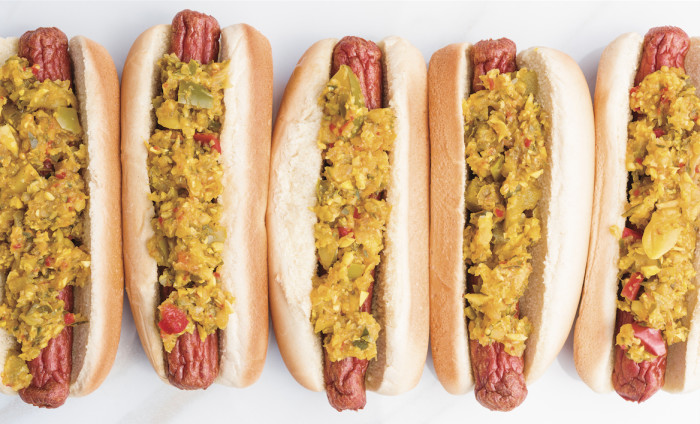 Everyone has their preferred way of cooking a hot dog. Some like the boiled or steamed ballpark variety; others like them to a varying degree of doneness on the grill. Here in Jersey, we deep-fry them. A quality frankfurter — beef or pork — will have a tough casing that withstands the hot oil, to a point; the dogs are done when they rip open, hence the nickname "rippers." Served on a bun, with a heaping of Jersey-style relish, these dogs require only a side of onion rings or fries.