Baker Zachary Golper of Brooklyn's Bien Cuit has a macabre sense of humor.
"I used to — this was a very cruel thing — I used to have my bakers open the poolish container and stick their face in there. They'd get a huge blast of carbon dioxide. They never liked that. They'd always look at me and go, 'Why'd you make me do that?'" Golper laughs.
Poolish is a bread starter made of a one-to-one ratio of white flour and water and a bit of yeast that ferments for 15 hours. Once any dough begins to ferment, it releases enormous amounts of carbon dioxide, which is harsh on the nose and throat if inhaled. A trained baker like Golper knows to blow away any of the gas before taking in a deep whiff of the starter to check on how things are bubbling along.
But we're not here today to talk about poolish. We're here to talk about how to make and raise your very own sourdough starter. We chatted with Golper about the key elements to starting a sourdough mother.
1. Stay Local
The old mantra "what grows together, goes together" is the thinking here. Golper says that best results in a starter are yielded when locally sourced grains work with local strains of yeast, and he doesn't mean picking up a packet from the grocery store down the street. Local strains can be found on the skins of seasonal fruit grown in your area. Alternatively, yeast and bacteria are always floating around in the air, so you can essentially leave your starter uncovered for a bit and let nature take its course.
Golper says that he stresses locality not for the buzzword, but "for the simple biological fact that what can survive in your region, that's what's going to grow in the sourdough starter. If it doesn't already exist in your region, it probably isn't going to exist in your sourdough starter."
2. No fruits in season? That's okay.
Golper says that grapes are ideal for sourdough-making because the skins are covered in yeast. This makes late fall during the grape harvest the best time to maintain a starter. However, if you don't live in an area where grapes, apples or even apricots thrive, the local yeast that floats in your very air should suffice, although it may delay the process.
"Under those circumstances, I would strongly suggest trying to use local grain, even if it's a year and a half old," he says. "Try to use local whole grain. The more bran there is on it, the more of that yeast you're going to be able to inoculate."
3. Soap is the enemy.
Bacteria is essential to keeping a sourdough starter alive and well. Soap is anti-bacterial. You do the math. After washing your designated sourdough container, be it a mason jar or plastic tub, the first time with soap, all other washes should just be done with water and clean towels.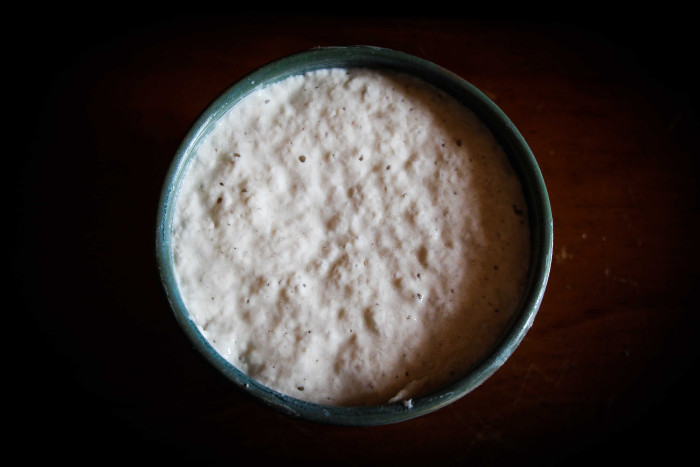 4. Sourdough shouldn't really be sour.
"I don't want it to taste like sauerkraut. I want it to taste like yogurt or crème fraîche," Golper says. Despite the name, sourdough shouldn't make you pucker. A good balance of lactic acid in your dough will offer the pleasant tang of yogurt. You can predict the level of sour from simply smelling the starter from time to time (just remember to blow that carbon dioxide away!).
Golper tells us that he's had to smell many a starter in his day. Past students of his will bring their starters for his nose to test.
"There was one time it was literally the worst smell I've ever smelled in my life. It smelled worse than a dead human body. It was horrible," Golper recalls. "This guy said it was a starter he's had for years and I was like, 'Wow, your bread tastes real bad.'"
5. Starters have warrior strength.
Did your starter deflate or get too stiff? Does it smell a little too much? It'll be okay because Golper says that starters are "surprisingly resilient." Re-feed your starter with some extra water and you'll be baking in no time. Do keep in mind that a regular feeding schedule is crucial to a good starter.
"If you don't have a regular feeding cycle for your sourdough starter, then the yeast doesn't have a metabolism that it's living by," he says. "If it doesn't have that, then you can't necessarily expect to get great results in your bread."
♦♦♦
Now that you're equipped with the power of knowledge, start your own starter. Below is an abbreviated version of Golper's recipe for a sourdough starter. Find the full recipe and variations in his book Bien Cuit: The Art of Bread.
Zachary Golper's Sourdough Starter
All of these steps happen at room temperature with cool (18°C/65°F) water, unless a change in temperature is indicated.
Day 1: Building the mash
Ingredients
250g organic grapes or 100g raisins (soaked overnight) in 150g water.
125g whole rye (dark rye) flour.
Directions
Smoosh the grapes into the flour and mash it all together. Then let it sit in a lidded container for 3 days, untouched.
Day 3: Feeding begins
Directions
Remove all but 100g of your mash from the container, and discard the part you removed.
Add 100g water and 100g whole rye flour. Mix together with a dull knife or chopstick, or handle of a spoon.
Place the lid back on and allow to ferment for approximately 24 hours.
Repeat this for 6 more days.
Day 10: Switching to wheat
Directions
Remove all but 100g of your mash from the container, and discard the part you removed.
Add 100g water and 100g whole wheat flour. Mix together.
Place the lid back on and allow to ferment for approximately 24 hours.
Repeat this for 10 more days.
Day 21: Stiffen the Mother
Directions
Remove all but 100g of the mash from the container and discard the part you aren't going to use.
Now add 100g water and 200g whole wheat flour.
Mix by hand (knead) until there are no dry bits and all flour has been incorporated into the mother.
She can be fed every 12 hours for best results. She can also sit a couple days in the fridge between feedings. To utilize her power for making bread, I suggest letting her mature (12 hours room temperature post feeding) then breaking off 50g of mother and adding it to 100g wheat or rye flour and 100g water. In 12-16 hours, your "liquid levain" will be ready to add to dough, for a nice sourdough loaf.
Example loaf
Ingredients
250 grams mature "liquid levain"
325 grams water
200 grams white "bread flour"
200 grams whole wheat flour
100 grams whole rye flour
12 grams salt
Directions
Combine ingredients with a heavy spoon until all ingredients are fully incorporated.
Fold the dough on top of itself several times with a bowl scraper or your hand, until it begins to tear when you fold.
Place dough in a bowl coated with flour or pan spray, and cover with a wet cloth.
Rest the dough 45 minutes, then stretch it and fold it.
Rest it 45 more minutes, then stretch it and fold it.
Rest it 20 more minutes, then shape the loaf into desired shape, and place in a well-floured dry cloth in a bowl or on a tray. Place this in your fridge for 12-16 hours, then it can be baked.
I recommend using a cast iron Dutch oven, at 220c/430F for about 33-38 minutes, removing the lid for the last 10 minutes of the bake.
Remove from the Dutch oven.
Cool the loaf completely and share your sourdough loaf with friends and family. Nothing compares to breaking bread with the people you love.