Salt & Straw Is Creating New Ice Cream Flavors From Food Waste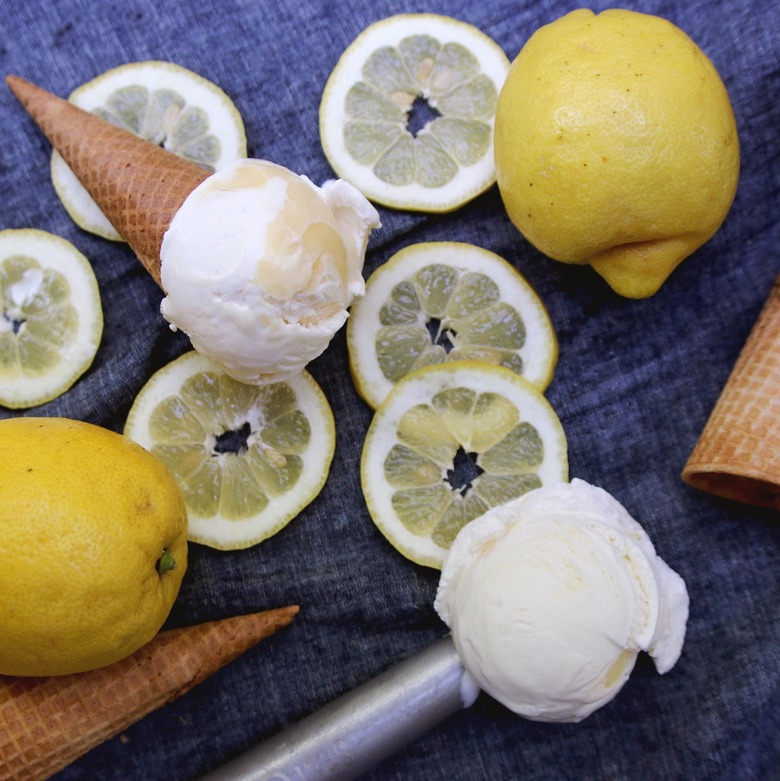 Salt & Straw is rescuing food that would've gone to the dump, and turning it into ice cream. (Photo courtesy of Salt & Straw.)
We know that Americans waste a whopping 40% of food. Portland-based ice creamery Salt & Straw is working on limited edition series of flavors made with local food waste.
With other locations in San Francisco and Los Angeles, Salt & Straw is partnering with purveyors and gleaning organizations such as Urban Gleaners (Portland), Food Runners (San Francisco) and Food Forward (Los Angeles) to create the new flavors. A portion of June's profits will be donated to all three.
From leftover popcorn at San Francisco's Roxie Theater to spent grains and spices from beer brewing and gin distilling, ingredients normally thrown out get another chance to be consumed. Several creameries are also donating their extra whey to preserve fruits for the sweet treat. Who knew whey could be used in so much ice cream?
Check the flavor menu at the different stores below. These flavors will be available in their respective cities from June 2 to June 31.
Portland
Urban Gleaners' Toasted Baguette PB&J — toasted baguette ice cream with swirl of berry jam and chocolate peanut butter
Celery Root & Strawberry Celery Leaf Jam — celeriac ice cream with strawberry jam infused with celery leaf clippings
Ancient Heritage's Lemon Curd & Whey — salted whey ice cream with lemon curd
Breakside Brewery's Spent Grains & Bacon S'mores — ground spent grain ice cream and bacon with bacon marshmallow fluff
Bourbon Distilled Cherries Ambrosia — whiskey-steeped cherries ice cream
Los Angeles
Food Forward's Top of the Beet — salt and pepper ice cream, beet top, lemon and sherry vinegar jam, dehydrated beet leaf brittle
Whey-Preserved Strawberries — extra-ripe strawberries preserved in whey and turned into ice cream
Salt-Cured Backyard Citrus Creamsicle — vanilla ice cream and salt-cured citrus marmalade
Three Weavers' Spent Grain With Blackberry Fig Jam — spent grain ice cream and blackberry fig jam
Greenbar Distillery Gin Spices & Tonic — spent spices steeped in simple syrup and mixed into ice cream with tonic
San Francisco
Food Runners' Banana Bread Pudding — spiced banana ice cream, chunks of bread pudding
Roasted Sunchoke Mock Apple Pie — vanilla ice cream, nutmeg crumble, sunchoke pie
Imperfect Produce's Candied Citrus & Whey Caramel — frozen yogurt-style ice cream with caramelized whey
Imperial Stout Wort and Peaberry Coffee Bark — stout ice cream with chocolate coffee bark
The Roxie Road — popcorn ice cream with caramel and coffee-flour cookie crumble.