San Francisco's Outside Lands Turns 10 And Announces Food And Drink Lineup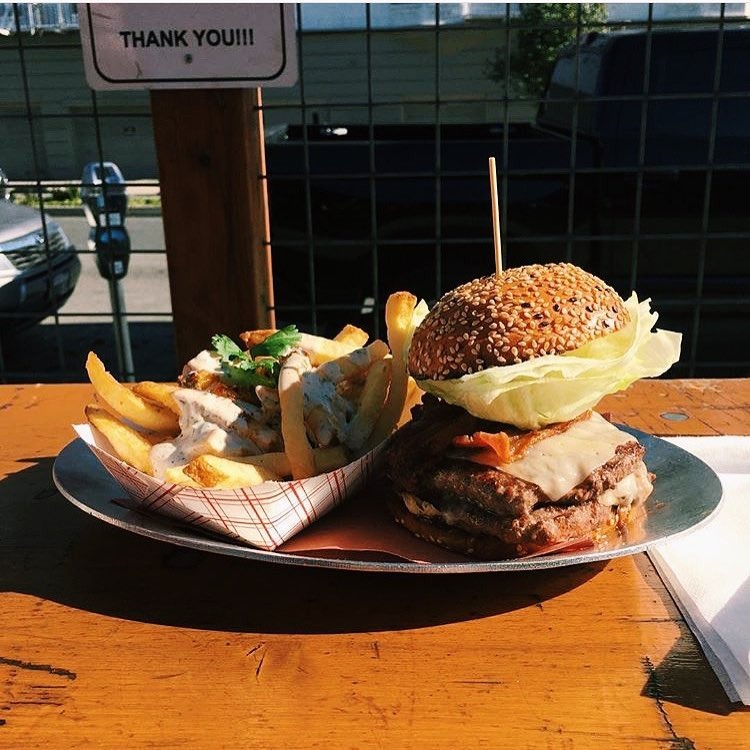 4505 Meats returns to San Francisco's Outside Lands Music Festival. (Photo: 4505 Meats/Facebook.
Shrouded in the trees of San Francisco's Golden Gate Park, this year's Outside Lands Music Festival celebrates a decade of music and boasts a culinary lineup of 78 restaurants, more than 40 wineries and 28 breweries.
Bicoastal Boba Guys make their debut at the fest, while returning champions 4505 Meats sling their Best Damn Cheeseburgers. Other local favorites include Tartine Manufactory, Rich Table, Marlowe, Itani Ramen and more. The festival will also highlight dedicated food sections for cheese, chocolate, cocktails, clams and other treats. Check out the menus on the site.
As far as music goes, Metallica, Lorde, The Who, A Tribe Called Quest and Gorillaz headline the three-day music festival. Solange, Belle and Sebastian, Young the Giant, Tove Lo and more will grace the stages. Tickets are still available online.
Check out the full culinary lineup below:
Food
4505 Meats
Alba Ray's
Alicia's Tamales Los Mayas
Azalina's
Big Chef Tom's Belly Burgers
Bini's Kitchen
Boba Guys
Chairman Truck
Charles Chocolates
Cheese Steak Shop
Curry Up Now
Dabba
Del Popolo
Earthly Delights
El Hurache Loco
Endless Summer Sweets
Escape From New York Pizza
Event Specialists
Fearless Coffee
Fine & Rare
FK Frozen Custard Bars
FOB Kitchen
Four Barrel Coffee
Freshroll
Glaze Teriyaki
Global Gourmet
Homestead Cookies
Hook't on Sugar and Spun
Humphry Slocombe
Itani Ramen
Izakaya Sozai
Jackrabbit
Koja Kitchen
Lady Falcon Coffee Club
Little Skillet
Little Star Pizza
Living Greens
Loving Cup
Lucca Foods
Marlowe
Mozzeria
Nombe
Pacific Catch
Pica Pica Arepa Kitchen
Precita Park Cafe
Proposition Chicken
Rich table
Rocko's Ice Cream Tacos
Rosamunde Sausage Grill
Rove Kitchen
Sabores Del Sure
Sataysfied
Senor Sisig
Smitten Ice Cream
Southpaw BBQ
Split Pea Seduction
Stones Throw
Straw
Suite Foods Waffles
Tacolicious
Tartine Manufactory
The American Grilled Cheese Kitchen
The Farmer's Wife
The Japanese Pantry
The Little Chihuahua
The Monk's Kettle
The Up & Under Pub And Grill
Those Fabulous Frickle Brothers
Three Babes
Three Twins Ice Cream
Wise Sons Deli
Beer
21st Amendment Brewery
Ace Cider
Almanac
Altamont
Alvarado Street
Anderson Valley Brewing
Anchor Brewing
Barebottle Brewing Company
Bear Republic Brewing Company
Black Sands Brewery
Drake's Brewing Company
Faction Brewing
Fort Point Beer Company
Half Moon Bay Brewing Company
Harmonic Brewing
Headlands Brewing Company
High Water Brewing
Laughing Monk
Local Brewing Co.
Lost Coast Brewery
Mad River Brewing Company
Magnolia Brewing Co.
Mendocino Brewing Company
Napa Smith Brewery
North Coast Brewing Co.
Oakland United Beerworks
Sierra Nevada Brewing Co.
Strongbow Hard Ciders
Wine
Alysian-Floodgate
Anthill Farms
AP Vin
Astrolabe Wines
August West
Banshee
Buena Vista
Bushido "Way of the Warrior" Sake
CrossBarn
Dashe
Davis Bynum
Dry Creek Vineyard
Durant & Booth
Failla
Field Recordings
Ghost Pines
Hoxie Spritzer
Idlewild-Ryme-Leo Steen
Keplinger-Vermillion
LIOCO
Long Meadow Ranch
Marietta Cellars
Menage a Trois
Preston Farm and Winery
Prisoner Wine Co.
Ravenswood
Red Car
Reeve-Rootdown
Scharffenberger Cellars
Scribe
SLO Down
Tank Garage Winery
The Withers
Thomas George Estates
Tropical Moscato
True Myth
Turley Wine Cellars
Unti Vineyards
Wind Gap-Pax
Vine Connections Sake