This Automated Wine Device Will Solve Your Vino Woes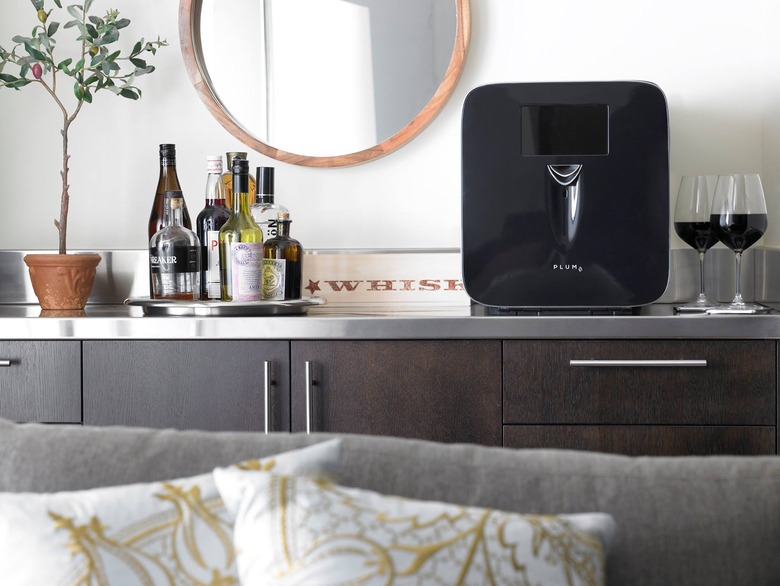 This appliance will pour you the perfect glass of wine. (Photo: Plum/Facebook.)
Time to get rid of all your decorative wine stoppers! Plum, an new automated wine appliance, will preserve your wine at the recommended temperatures, pour a perfect glass and even display information about every bottle it holds.
The device holds two standard bottles of wine with any kind of cork or screw cap. Cameras on the inside of the machine will read the labels of the bottles, no matter the language, and pull up information of the vintage, varietals, vineyard and winemakers of that specific wine. Plum then sets the temperature the bottle is meant to be served at in a matter of 30 seconds. Because Plum features two chambers, two different types of wine can be stored in the device and will be treated separately. Argon gas is used to pressurize the bottle and preserve the wine for up to 90 days. Plum is currently programed to work with 220 commercial varietals.
David Koretz, founder and CEO of Plum, was fascinated with wine before he reached the legal drinking age. Between the ages of 17 and 21, Koretz avoided getting asked for his ID at restaurants by "peacocking" his knowledge of specific varieties and regions to sommeliers, asking for hard-to-find labels. Many years after that, Koretz headed a software security company that sold for $100 million, thanks to its creation of Intrusion Deception, a hacker-detecting firewall used by banks and governments. Pockets full and heart tied to wine, Koretz bought an estate at a Napa Valley vineyard. Before founding Plum, Koretz came across what he found to be a series of unsettling problems in his wine-drinking habit.
"Ultimately, I built Plum out of my own frustrations," Koretz says. "Like 30 percent of American adults who live alone, I want a great glass of wine — I don't want five. I saw myself opening a bottle and pouring wine down the drain, or not opening it because I didn't want to waste it."
Koretz tells us that after a very successful beta run, Plum will be placed in Four Seasons hotel rooms in Palo Alto, California. The device costs $1499, available for pre-order now on the site. It starts shipping this summer.