Australia is such a vast country that writing an article about the best veggie hotspots would only offer the thinnest insight into the food scene here. Most visitors tend to stick to the ever-popular East Coast, which stretches from Cairns down to Melbourne. While not the capital, Sydney is indisputably the business and tourism hub of Australia: almost all visitors will find themselves here at one point, and the city has as many exciting food options as you'd expect.
The appreciation for vegetarian food in Australia was not, on the whole, as prevalent as in other countries I'd visited (many people I encountered seemed to genuinely think I only ate vegetables), but there is still a growing vegetarian movement here. While there might not be as many veggie restaurants as you'll find in the UK or US, Sydney and much of New South Wales excel at the vegetarian brunch in particular.
SYDNEY
The outdoors lifestyle here lends itself perfectly to a sun-soaked brunch, and in all honesty every breakfast I had in Sydney was excellent. This was probably at least partly due to the abundance of halloumi cheese on the menu — something I've pined for on my travels but which proved elusive in most places. Australia's significant Greek/Cypriot population means that halloumi is everywhere.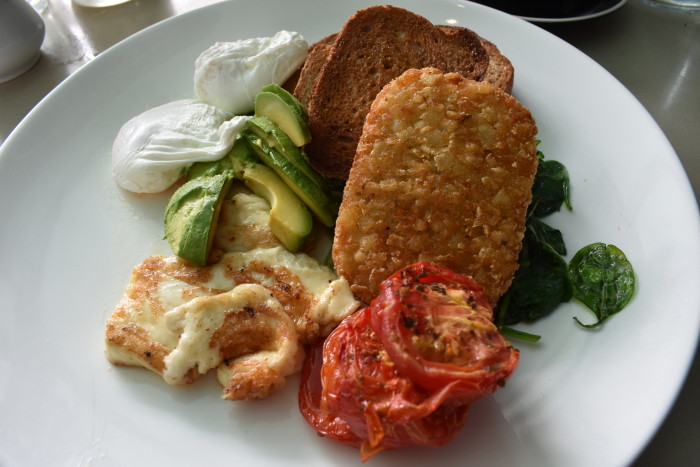 Two of the best breakfasts I had were in Cronulla, a laidback beach community south of the city center. Surfeit Deli Cafe served up the pinnacle of what I came to regard as the staple Sydney veggie brunch: poached eggs, roasted tomato, creamy avocado, crispy hash browns, wilted spinach and perfectly grilled halloumi that squeaks as you chew; a delectable —and protein-packed — start to the day.
The other breakfast standout was Blackwood Pantry. Located on Surf Lane, this trendy new cafe is most famous for their photogenic coconut hotcakes, which taste just as good as they look. Smothered with fresh blueberries, pomegranate, passionfruit curd and sliced coconut, they're a must-try for any visitor. The cafe recommends sharing one after your meal, but it would be a shame to go halvesies on something this delicious.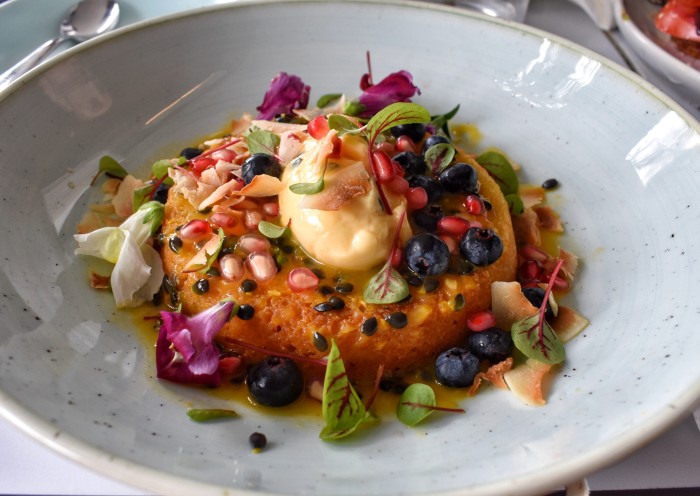 For something a bit more glamorous, head to Mr. Wong. Sprawled over two levels and located a stone's throw from the bustling harbour and Sydney Opera House, this 240-seater restaurant is regularly voted one of the best in the city.  While Cantonese food isn't generally the most vegetarian-friendly cuisine, enough people recommended Mr Wong to make me think I'd be missing out if I didn't visit — and I was interested in scoping out the meat-free options at one of the city's top restaurants.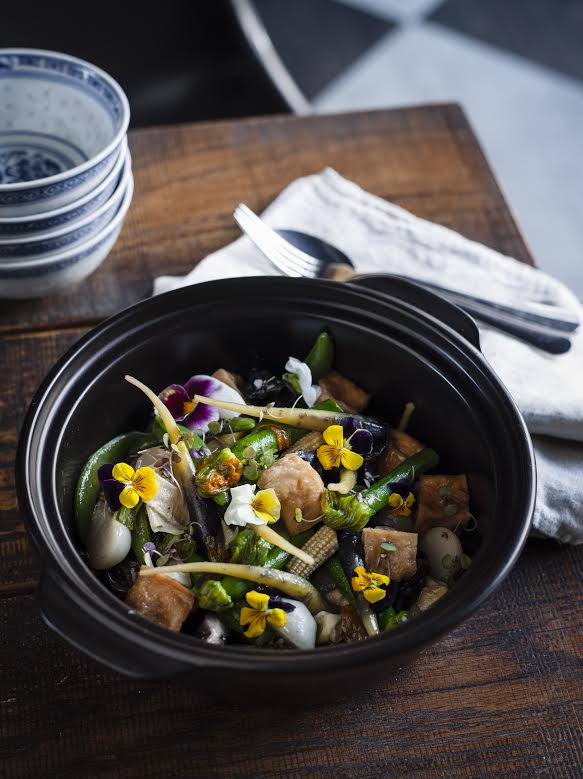 The vegetarian dishes here were exceptional: stir-fried snow peas, snap peas and broccoli with garlic and rice wine, lightly fried original tofu with vegetarian XO sauce and tamari soy, and best of all — very unexpectedly — was the stir- fried sweet corn and baby corn with chili, lime leaf and tamari butter.
One other place in Sydney I must mention is The Rocks Cafe, where I enjoyed a most impressive gnocchi dish. As a serious gnocchi aficionado, it's a shame that vegetarian offerings often revolve around spinach and some variety of creamy cheese, or sage and butter. While I didn't expect big things from The Rocks Cafe (its desserts seem to be its selling point) the potato gnocchi with cherry tomato, garlic, white wine, olives, basil pesto, pine nuts and fresh ricotta was the perfect amalgamation of flavors.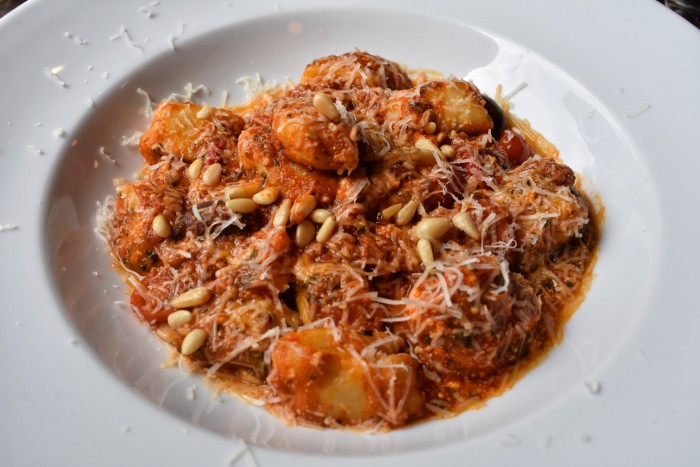 BYRON BAY
Other than Sydney, one of the most visited places on the East Coast is Byron Bay. The popularity of Byron Bay transcends age, geography and culture; it's one of those places that's just as popular with backpackers and surfers as the elite. The hippie, haute-boho vibe means that vegetarian options are plentiful, but one of the best is The Cardamon Pod. This humble, hidden-away cafe serves up a real bang for your buck: choose from vegetarian koftas and rice, lentil bakes, marinated tofu salads, Asian tempeh and vegetables, or wonderfully fragrant dal.
On the other side of town is Elements of Byron, where you can find the superb Graze Restaurant. With a strong focus on eco-conscious food, Graze serves up seasonal, regional cuisine with complex and well-thought out vegetarian options. The leek and ricotta open ravioli, with lemon beurre blanc, truffle foam and fragrant hints of rosemary was mouthwatering; I was also impressed that instead of parmesan grated on top (which contains animal rennet) it was egg yolk confit.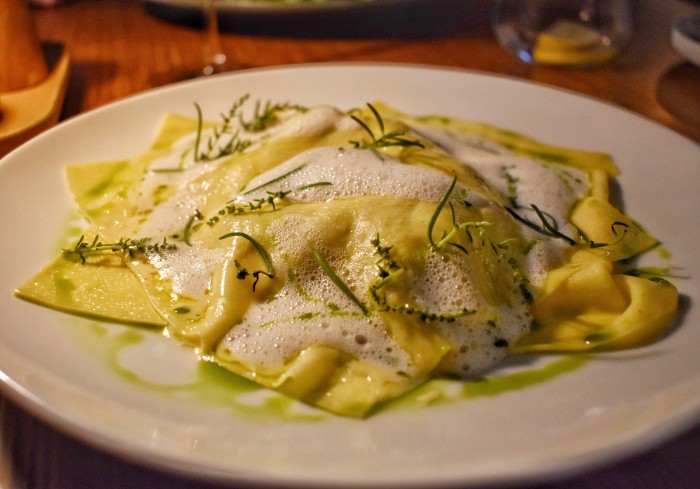 The burrata in the sun-dried tomato salad at Graze was also outstanding — a few gentle pokes of my knife into the rind led to a gentle outpouring of exquisite creaminess. It was quite startling to eat the best burrata of my life in Australia instead of Italy, but I later learned that it's made locally by an Italian man a few miles away. Can there be a more decadent cheese?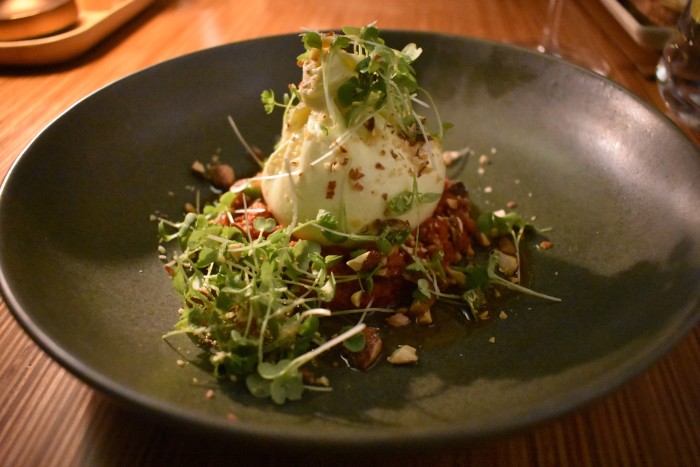 NOOSA HEADS
A few hours north of Byron Bay is the upscale beach town of Noosa Heads. Noosa is considered the Australian Hamptons, and with some of the best surf on the East Coast it's become rather a travel hotspot. It's a mecca for luxury-seekers and celebrities, and the world-class restaurants here are a reflection of its cosmopolitan clientele.
Best for a gourmet vegetarian meal is the renowned Noosa Beach House, which has Australian TV personality Peter Kuruvita as head chef. While Noosa is most famous for its seafood and menus everywhere are pretty fish-centric, at Noosa Beach House I enjoyed what for vegetarians is one of the rare holy grails of fine dining: a six course degustation menu – all meat-free!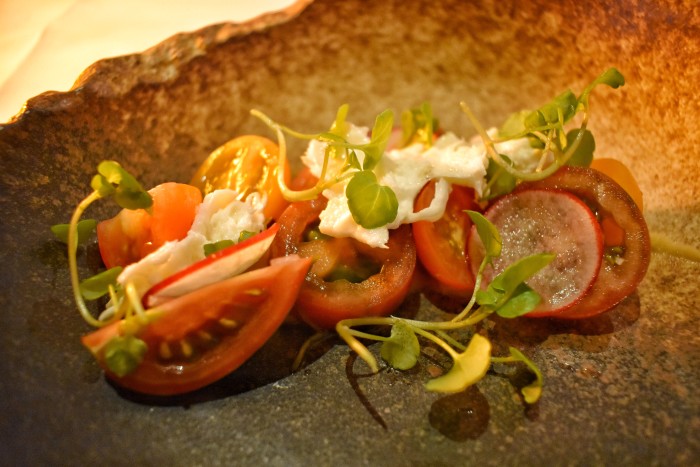 Mixing fresh local cuisine and refined international techniques, each dish is brought out with matching wine. The highlights of the meal were the tomato salad, where impossibly fresh tasting tomatoes were paired with the sharp crunch of radish, peppery watercress and melt-in-your-mouth mozzarella, and the beetroot curry with pickled red onion, baby target beets and creamy, tangy goat cheese. In keeping with the local atmosphere, this was a dining experience as glamorous as it was tasty.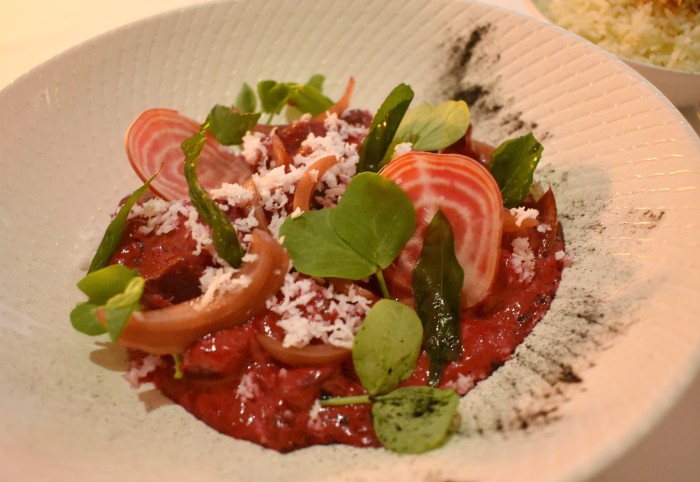 Despite its upmarket reputation, Noosa Heads also provides the perfect vegetarian quick-fix in the form of Nosh Express. The throngs of tourists waiting outside are testament to how good the food is. Located right off the beach, it's the best place to grab an al fresco lunch. The roasted pumpkin quinoa salad is just the thing to eat under the hot Queensland sun, although the veggie burgers (made with the ever-present halloumi cheese and packed with char-grilled vegetables) are also delicious. Fresh juices are in abundance, but if you fancy a tipple the local wine from Tanunda – home of Australian wine retailer Winemarket – is the clear winner.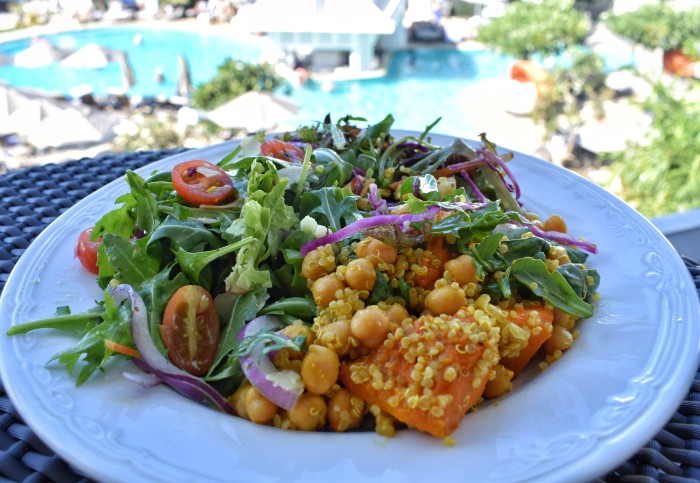 After eating extremely well in ostensibly "meat-obsessed" Latin America, I was admittedly a little taken aback by the "thirst" for animal protein in Australia, as well as how often it's consumed. But despite the palpable culinary focus on meat, the vegetarian options here were very good. Rather than merely providing the obligatory, basic veggie pasta to appease vegetarians, the dishes were carefully considered, intricate and great tasting. It certainly isn't hard to eat well in a country as geared towards an active, healthy outdoors lifestyle as Australia.
Selene Nelson is a U.K.-based journalist who is traveling the world for a year, reporting on her search for vegetarian food in each of the locales she visits.