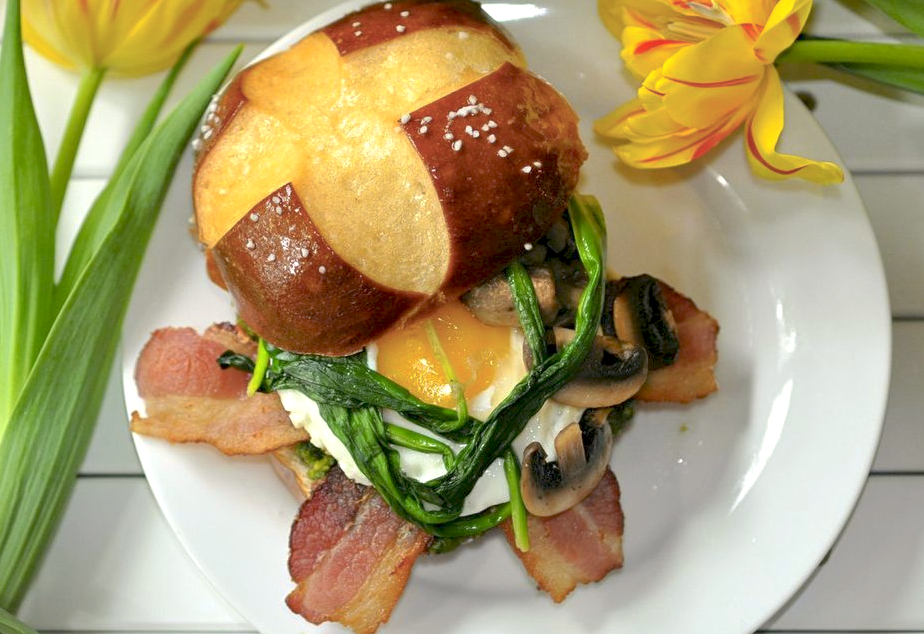 Mother's Day brunch recipes aren't just any old brunch recipes, folks. You can't leave shell fragments in the eggs and hope nobody notices. You can't serve the "burner pancakes." No, today is the day you make the perfect brunch. Our contribution to your perfect Mother's Day (because that's the kind of family-friendly people we are) is an assortment of our most impressive, most fool-proof, extra-fancy and aesthetically pleasing brunch recipes.
One morning, when I had a god-awful hangover, this sandwich was born. Eggs and bacon are the antidote to the previous night's excesses, and the ramp pesto gives the sandwich both garlic and heat. It has evolved each year, and mushrooms give it that extra umami kick that makes for the ultimate egg sandwich.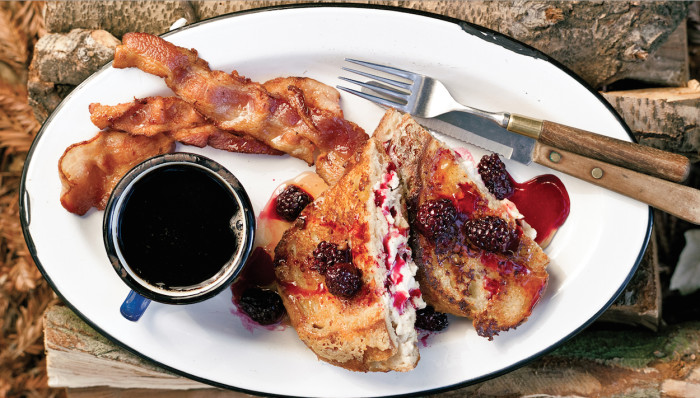 The editors of Sunset Magazine are no strangers to the great outdoors — the western U.S. has some of the best camping in the country, and Camp Sunset is your foolproof guide. Heed their expert tips on staking out your campground, constructing a smart living area, building cooking fires and sleeping under the stars. Oh, and eating like royalty while doing so. Start with this mascarpone French toast.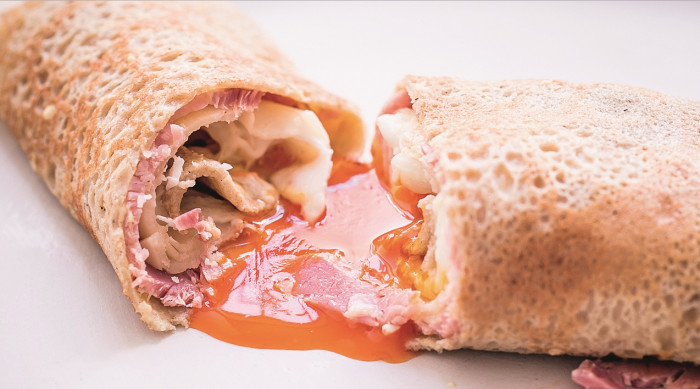 Buckwheat, confusingly, is not related to wheat but comes from the same family as rhubarb, sorrel and knotweed. The flour is made from ground seeds rather than grain and has an inimitable nutty flavor. It doesn't contain any gluten, though, so adding a little all-purpose flour will help the batter hold together. Savory rolled pancakes are usually served with a sauce poured over the top, which can make them a bit fussy to prepare. Here no sauce is needed as you have the runny yolk from the fried egg that is rolled up inside the pancake.
Doughnuts are a weakness of mine. Mind you, not just any old doughnut will do. I like mine without any filling, rolled in sugar, and no strong flavors. For me, simple is always best.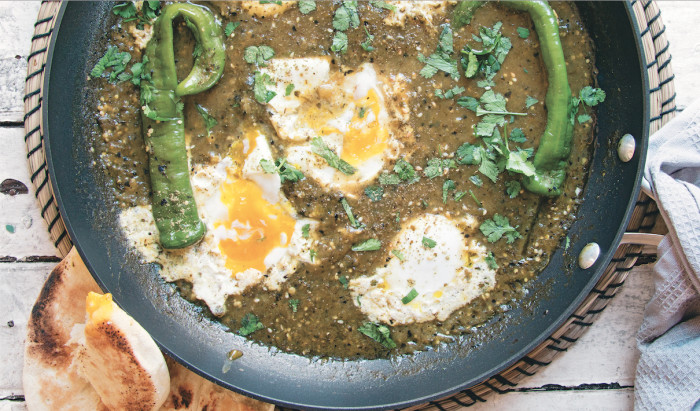 If you break it down, shakshuka is a dish of eggs poached in (usually) a spiced tomato sauce. This version is made with a few changes to the classic-style shakshuka. The main difference is that I use tomatillos instead of tomatoes, which makes the whole thing green instead of red. I char them under the broiler with a poblano pepper to give more flavor depth in a matter of minutes. This will become a favorite of yours.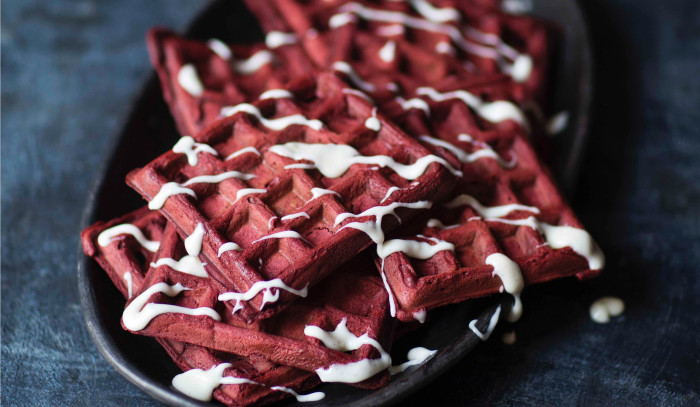 Red velvet cake is understandably everywhere with its brilliant red color and subtle chocolate flavor. Instead of having to make an entire cake, you can make these red velvet waffles, which offer the same flavor, in a fraction of the time. The cream cheese sauce is a sweet alternative to maple syrup.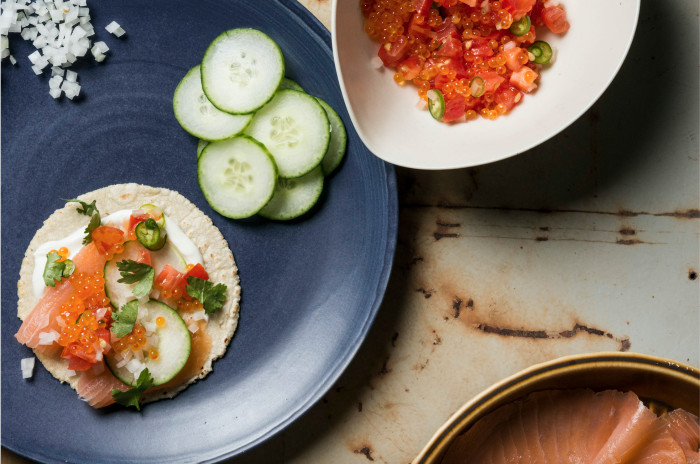 When I venture into nontraditional tacos at Empellón, it's hard to know exactly where to draw the line. I'm constantly asking myself if some outré creation I've dreamed up feels natural or is rooted in a Mexican idea, or if it teeters on appropriation. When I do cross cultural borders at the restaurant I tend to take cues from what's around me or what I grew up with — the foods of New England, where I'm from; the flavors of my Italian-American childhood home; and the culinary touchstones of New York City, where I live and cook now. The last is the idea behind this taco, a nod to the Jewish delicatessens and appetizing shops of lower Manhattan, with cream cheese, lox, and beads of salty salmon roe.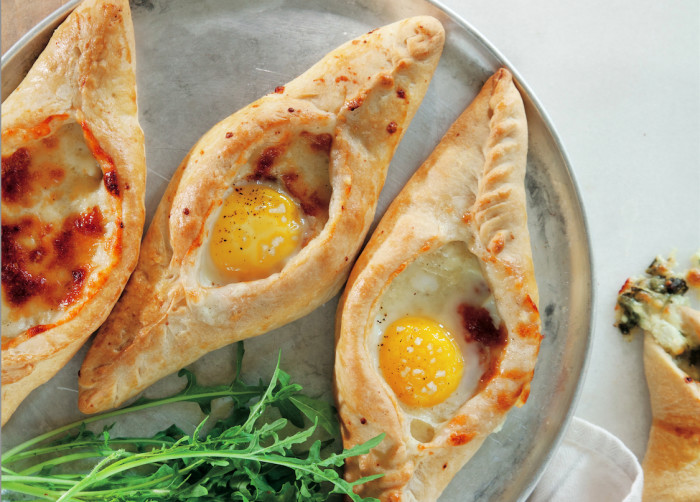 Georgian cuisine arrived in Israel during the 1970s with a large wave of immigration from the Soviet Union, but for a long time this unique cuisine, merging influences from neighboring Russia, Turkey and Armenia, remained a secret known only to the somewhat secluded Georgian community. It took two decades and some good Georgian restaurants and bakeries for the Israelis to discover it, and one of the first foods that got noticed was boat-shaped khachapuri pies. The original recipe calls for sulguni, a Georgian cheese with a texture similar to mozzarella but with a salty-sour flavor. Here it is replaced by a combination of aged mozzarella and good feta.