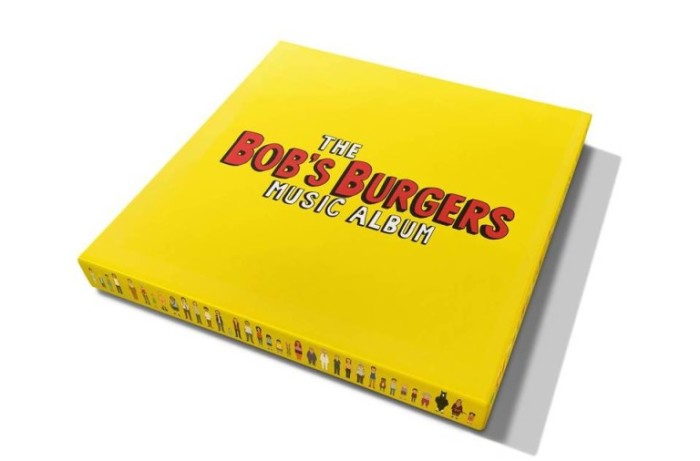 If you love hit animated series Bob's Burgers as much as we do, you may have wondered (in Gene's voice) "When will they release a compilation album?" The musical numbers in the Emmy-winning program just keep getting better and better, and frankly it would be better if we just had them all in one convenient vinyl pressing.
Fans have been eagerly anticipating an album since San Diego Comic Con 2013, when show creator Loren Bouchard promised it was in the works. Last September, a four-track preview was released that featured the extended version of the ukelele-tastic Bob's Burgers theme song, as well as "Electric Love," "Bad Stuff Happens in the Bathroom," and St. Vincent's version of Donna Summer single "Bad Girls," which appeared in the second season episode "Bad Tina."
The full album, which comes in an astounding 112-song 8-disc set, started shipping today according to the show's official Facebook page. It features show guests Megan Mullally, Will Forte, Cyndi Lauper, Bill Hader, Sarah Silverman, Chris Parnell, Jordan Peele and Aziz Ansari (to name a few) and includes fan favorite songs like "Butts, Butts, Butts," "Taffy Butt," "The Diarrhea Song" "The Fart Song," "Happy Crappy Place," and dozens more which have little to nothing to do with butts, like "Mad Pooper." Oh, wait.
Watch the "unboxing video" here (and spring for the vinyl, which comes with extra art, a sticker pack and a book of sheet music):

Buy The Bob's Burgers Music Album on Amazon, starting at $13.59