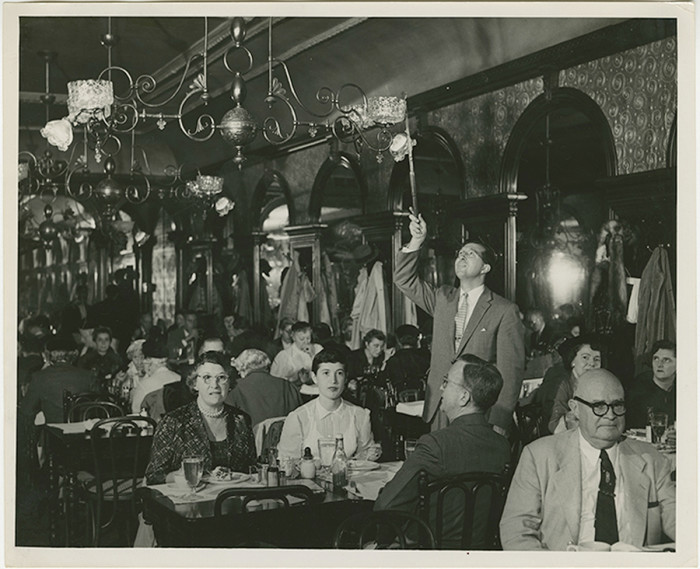 It's one of the Brooklyn restaurant world's great ironies: just as the dining scene took off in the 2000s, one of the borough's icons, Gage and Tollner, closed. It had opened in 1892.
On May 24, the building at 302 Fulton St. will open its doors once more for a special event in Downtown Brooklyn Partnership's Make It In Brooklyn initiative. Billed as a Restaurateur's Roundtable, the night will center around a panel moderated by Food Republic Editorial Director Richard Martin, with chef/restaurateurs Noah Bernamoff of Mile End, Esther Choi of Mokbar, Stan Liu of The Wei and Dekalb Market Hall's Anna Castellani. The $20 admission includes beer from Brooklyn Brewery and snacks from local restaurants.
The panelists will talk about restaurant trends, including the proliferation of food halls, the rise of fast-casual and fast-fine dining and other hot topics.
The complete release from Downtown Brooklyn Partnership is below. And if you plan on being in NYC on May 24, grab your tickets quickly, as there are limited spots for this special presentation — and a rare chance to peek inside Brooklyn's longest-standing restaurant space.
---
Today, Gage and Tollner is coming to life again with the Restaurateur's Roundtable, part of Downtown Brooklyn Partnership's  Make It in Brooklyn initiative.
This is the first in a series of roundtables sponsored by the JP Morgan Chase & Co that will bring together notable restaurant operators in unique venues to discuss the industry, the neighborhood, how to make it in the business, and the future of food in Brooklyn.
The May 24 panel includes Esther Choi of Mokbar, Noah Bernamoff of Mile End, Stan Liu of The Wei, and Anna Castellani of Dekalb Market Hall, and will be moderated by Richard Martin of Food Republic.
Your $20 ticket not only gets you great conversation, but also a sneak peek at this Downtown Brooklyn Legend, as well as specialty tastings from Brooklyn Brewery snacks from local vendors.
Gage ran an oyster house at 302 Fulton in 1879, and joined forces with Eugene Tollner to found the Gage and Tollner chop house and oyster bar, leasing space at 372-374 Fulton Street in 1889, where the establishment would remain until closing its doors 115 years later. Always home to celebrity guests, in 1988 restaurateur Peter Aschkenasy brought the original celebrity chef, Edna Lewis, to Gage and Tollner, who brought her southern classics and a surge of interest from a new generation to the restaurant.
Although the designer of the iconic space is unknown, it was Tollner who moved to incorporate the mirrors. According to a 1954 Daily Eagle article, Tollner "reasoned that the customers might tire of paintings, but never of looking at themselves."
Today, we never tire of looking at the ornate interior, and, of course, the gorgeous mirrors that create the iconic atmosphere.
William Jemal, whose family owns the building, is currently receiving sustained interest from potential restaurateurs looking to return this much-missed grandeur to Downtown Brooklyn once again.
Tickets are limited. Grab yours now to reserve your spot on May 24th, from 6-8pm at Gage and Tollner.  This event is for those ages 21 and up.