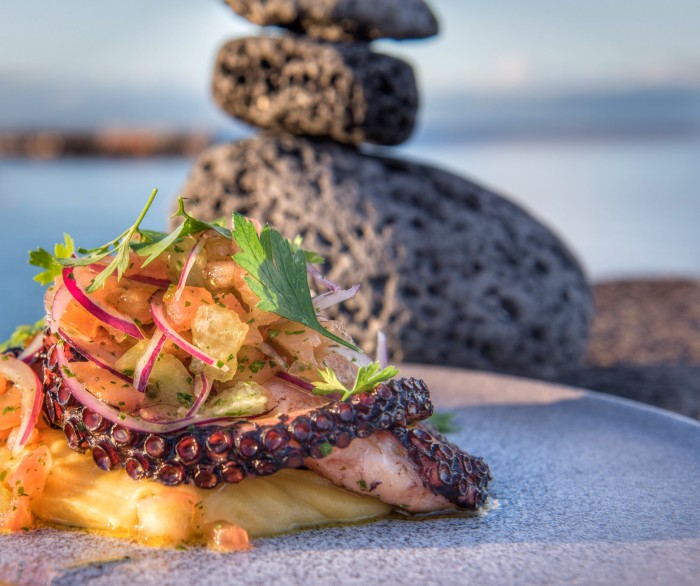 The Azores Islands have lately been attracting attention as a destination for adventurous travelers, and anyone looking to spend some time in a long-isolated place where nature rules, history is ever-present and a traditional maritime culture endures. The nine-island archipelago in the North Atlantic, an autonomous region of Portugal, is courting visitors with an increase in flights from North America and Europe. (Azores Airlines just added a new route between Boston and Barcelona that allows for a week-long stop in Azores to its existing flights to the islands and Lisbon from Montreal, Toronto and Providence. Ryan Air offers flights from London, Porto and Lisbon.)
As the buzz builds about the Azores' volcanic lakes, lush green hills and coastline bordered by black rock cliffs, its food is also gaining a reputation. Azorean wine, cheese, butter, tuna and beef are all things to write home about, and, most recently, the islands' restaurant offering has being energized by young Azoreans — some who have returned to the island after living elsewhere, chefs from mainland Portugal and restaurateurs from abroad.
Everything seems to taste good in the Azores — from toasted cheese sandwiches (tostas de queijo) to local crustaceans and of course fresh-caught fish, and even stew steamed in the sulfer-rich (and smelly) volcanic springs.
At restaurants, bars and cafes, prices are lower than in most parts of Europe (or American cities). Service is frequently slow, so be prepared to synch to the island rhythm and wait for your food. Here are 11 places to eat in Azores – most with incredible views. We've also included some recommendations for places to stay and things to do.
Terra Nostra Garden Hotel
In the Art Deco-style dining room of the Terra Nostra Garden Hotel, the service is as frozen in time as the décor. The special lunch is cozido, Azorean meat and vegetable stew made in a dutch oven that's lowered into volcanic hot springs and slow-cooked underground. The hushed, high class Terra Nostra lends good taste to this typical tourist meal in Furnas on São Miguel island, where a dormant volcano creates the "natural kitchen," and also sulfer-rich thermal pools for bathing. Diners at the restaurant can take the 100-degree waters free of charge in Terra Nostra Botanical Park, a tranquil garden lush with native flowers, ferns and trees. The garden-view rooms at the hotel offer more of this perfect combination of gentility and nature; you can even walk the almost 30 acres of grounds in your hotel bathrobe. Rua pe Jose Jacinto Botelho, Furnas, São Miguel; 351 296 549 0901; bensaude.pt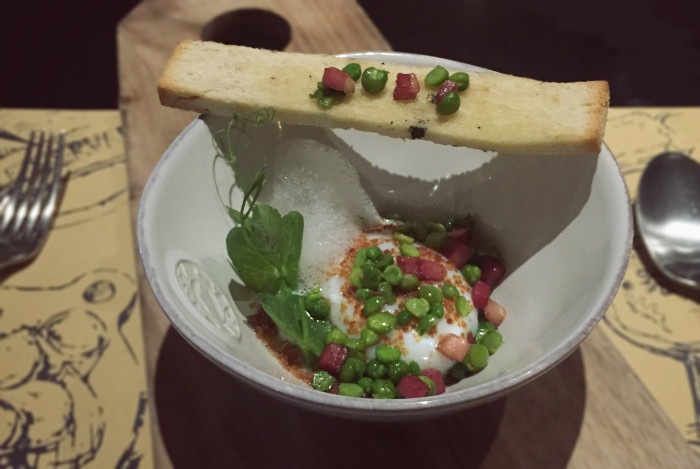 A Terra
Claudio Pontes is an Azores native who left the islands for the kitchens of Lisbon. The call of a slower lifestyle for his family, and the agricultural and marine abundance of the Azores brought him back to Ponta Delgada, his home city on São Miguel. "All the chefs in Lisbon are using product from the Azores," Pontes told us over a spread of mackeral ceviche and cracas, the sculptural barnacles pried from the Atlantic rocks that contain a salty crab-like meat. "That's my product. I realized that I had to do something here." Pontes has since claimed a place as the island's celebrity chef. In 2016 he opened A Terra at the Azor, São Miguel's most design-conscious hotel. There's a second A Terra at the Furnas Boutique Hotel, a hip spa hotel whose big thermal swimming pool was the setting for the recent Tremor Music Festival. A Terra at the Azor is a cushy modern room that looks out at the São Miguel harbor. Steak is a specialty: Pontes says he hand picks the cows destined for the table from nearby pastures, and dry ages the meat for a month. Seafood naturally is also a star here. Pontes has said he is shooting for a Michelin star with creative cuisine that echos that of acclaimed restaurants on the mainland, with starters like a bowl of deconstructed bacon and eggs with smashed peas from the restaurant garden. But A Terra is still a family-friendly hotel restaurant – there's pizza on the menu, topped with local ingredients of course. A Terra at Azo, Avenida Dr. João Bosco Mota Amaral, 9500-765, Ponta Delgada, São Miguel; 351 296 249 900; azorhotel.com; A Terra at Furnas boutique hotel, Avenida Dr. Manuel de Arriaga, Furnas, São Miguel; 351 296 249 200 furnasboutiquehotel.com
Big 21
Groups of young couples settled in for long dinners at Big 21's wood tables on a recent Saturday night, sharing boards of local cheese, craft beer and Azorean wine. Chef Felipe Estrela Rego studied animal production engineering in São Miguel and cooking at London's Le Cordon Bleu; he opened Big 21 with friends in 2016, taking over a small upstairs restaurant space that now has a cozy organic feel. The concept is international cooking with Azores ingredients. That means the tuna is seared or sashimi, and there's a vegetarian risotto. Meat comes in many forms, and whole grilled fish is boldly seasoned. Presentation has a casual flair, and the amiable servers are welcoming, relaxed and effortlessly cool. The kitchen is slow, but no one cares; Big 21 feels more like a dinner party than a restaurant. Rua Ernesto do Canto 21, Ponta Delgada; 351 296 281 398; facebook.com/Big21
Alabote Restaurant
This unassuming place has a large stone terrace overlooking a surfers' spot, and it's just down the street from a bathing area with two seaside swimming pools and a sheltered volcanic stone beach. In other words, bring your suit if you plan to have lunch at Alabote, located in Ribeira Grande, a 16th-century port on the north side of São Miguel Island. It's also a great place to watch the sunset. The best of the menu is basic, which in Azores means it includes grilled limpits (called lapas in Portuguese), tuna — here sliced thin and cooked over a stone — and steak. There are also vegetarian and kids options. Largo East Providence, 68, 9600 Ribeira Grande, São Miguel; 351 296 473 516; alabote.net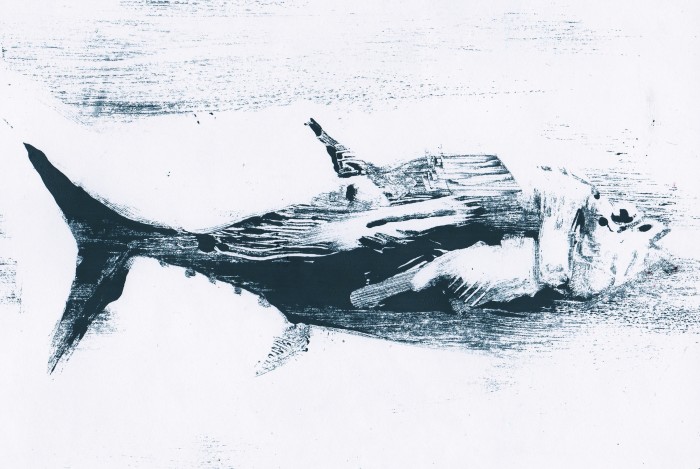 Anfiteatro
The Azores' School of Tourism restaurant Anfiteatro positions itself as the training ground for future Azorean top chefs with a menu that fuses traditional island cooking with global trends. There is foam (of smoked yam) on the tasting menus, which range from 27.50 to 47.50 Euros and start with an amuse bouche, but it's also a place to eat a piece of simply cooked fresh-caught swordfish. The service by students is consciously polite, and the immense space — under the graded seats of the outdoor amphitheater in Ponta Delgada — is impressive. Pavilhão do Mar, Ponta Delgada, São Miguel; 351 296 206 150/5; restauranteanfiteatro.com
A Tasca
Our guide at Arquipélago, a recently opened contemporary arts center in a refurbished 19th Century alchohol factory on São Miguel, recommended we try the fresh tuna steak sandwich at A Tasca. The museum, which won the 2016 FAD award for international architecture, is a must visit, and so is this restaurant and bar. In edition to that memorable sandwich, this busy hangout in the historic center of Ponta Delgada offers a selection of small plates including octopus salad, Portuguese sausage, fried sardines and chickpea curry, and an extensive Portuguese wine and beer list. Heartier entrees include a traditional Portuguese fish stew, and black Iberian pig cheek in red wine. Open from 11 a.m. – 2 a.m., it's an anytime place, but if you want to hit the dinner hour, call ahead. Rua do Aljube, 16, Ponta Delgada, São Miguel; 351 296 288 880; facebook.com/a-tasca
Cais D'Angra
Cais D'Angra is the only bar and restaurant on the marina below the UNESCO World Heritage city Angra Do Heroismo, so it's a natural meeting point for boaters, and for travelers who come to Terceira Island for fishing and whale watching. Sandwiches, hamburgers and wraps all exceed expectations. Chef Mario Silva also offers more elaborate daily menus for 6 euros. And If you go fishing with Sailtours, an adjacent charter outfit acros in the marina, Cais D'Angra will cook your catch for you. Cais D'Angra, Marina de Angra, Angra do Heroísmo, Terceira; 351 295 628 458; facebook.com/cais.dangra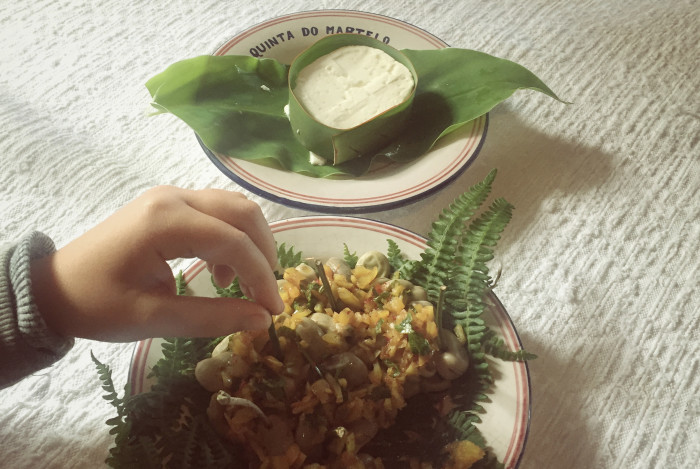 Quinta do Martelo
The purposefully rustic Quinta do Martelo sets out to "offer our visitors the true feeling of what life was like five centuries ago on a traditional rural farm." The complex includes a restaurant serving characteristic Terceira Island dishes, and accommodations in stone houses, as well as re-creations of a general store, cobbler's shop and saw mill. The kitsch factor is tempered by the beauty of the land and the fact that it actually is a working farm, with vegetable gardens, and donkeys, chickens, cows and pigs. And the food, served in a homey dining room by a young neighbor to the farm costumed in a muslin dress, is simply delicious. The main dish is the Terceira Island specialty: alcatra, a beef, chicken or fish stew baked in a clay pot. The meal also includes locally made cheese, wine and irresistible homestyle orange or rice pudding that you'll eat even if you're too full for dessert. Canada do Martelo, nº24, São Francisco das Almas, São Mateus, Terceira; 351 962 812 796; quintadomartelo.net
Fanal Bar at Terceira Mar Hotel
The Terceira Mar Hotel is an old-style family resort hotel with a idyllic seaside pool and it's own small, rocky beach. There's a billiard table in the bar, which has the ocean view, velvety club chairs and certainly some of the best cocktails to be had in Azores. They're prepared laboriously by a perfectionist, quite serious young barman, who wears a uniform instead of tattoos. Open from 11 am – midnight, the bar is worth a stop even if you're not staying at the hotel. The kids can drink pineapple smoothies and play pool while you enjoy your drink and the scenery. Portoes de São Pedro, 1, Angra do Heroísmo, Tereceira; 351 295 402 280; bensaude.pt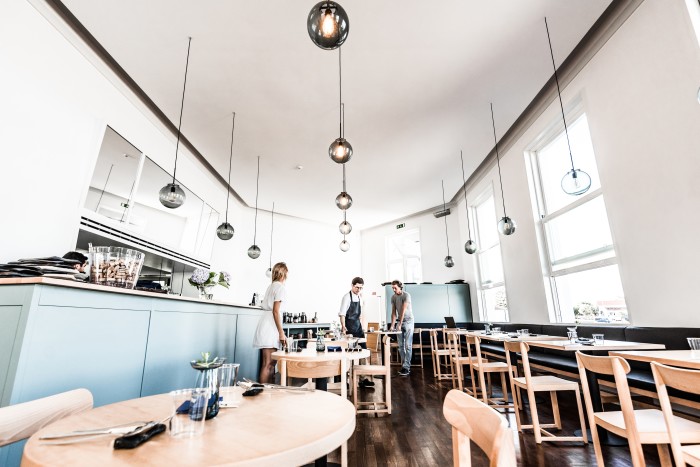 Casa Ancora
Casa Ancora is in a white building with big windows just above Pico Island's São Roque port that at twilight has the feel of a Hopper painting. The restaurant's minimal blue, white and wood design is by the well-known Portuguese architecture firm SAMI. Casa Ancora is run by a couple from Moscow, who are among the creative entrepreneurs who have been attracted to Azores in the past few years, and they've brought freshness to Pico's restaurant scene, in both ambience and food. The chef, Timur Abuziarov, is also from Russia. Pavel, who presided over the dining room during dinner, gave us a tasting of various Azorean wines and discussed the menu with interest. At the other tables he was doing the same. There's a pleasing lightness to the menu, which approaches local ingredients from a different perspective, highlighting fresh vegetables and fruit together with seafood and meat. Tomato gazpacho with strawberries and fresh cheese, Azorean stone crab pate with avocado mousse, grilled octopus with mashed sweet potatoes and tomato salsa, barracuda with broccoli and potatoes and sirloin steak with grilled vegetables are recommended, along with anything else on this menu. Rua do Cais 29-B, São Roque do Pico, Pico Island; 351 292 644 496; casaancora.eu
Genuíno Restaurant
Genuíno Madruga sailed solo around the world — twice, then opened a seafood restaurant in a place that will make you think about doing the same — while eating some of the best seafood soup made on the Atlantic. Genuíno Restaurant sits in Porto Pim, in Horta on Faial Island, a town that still feels like the whaling center it once was. The restaurant is decorated with memorabilia from Genuíno's voyages, and the elegant and amiable man himself will likely be present to tell you his life story, and encourage you to follow your own dreams. Order the fish and chips, tuna meatballs or the grilled catch of the day. To complete the maritime experience in Faial, go whale and dolphin-watching with The Naturalist, an outfit in the Horta marina owned by young marine biologists. Rua Nova, Horta, Faial; 351 292 701 542; genuino.pt