5 Sweet Mexican Desserts To Make Tonight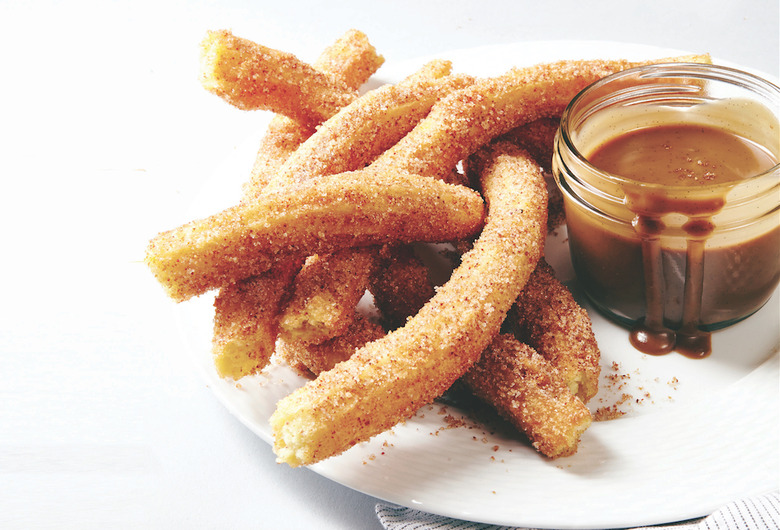 Holy Frijoles Week is about so much more than frijoles (and the food that goes with them). Let's not forget about the wonderful Mexican desserts you find south of the border — churros, paletas, chili-spiked chocolate and all the tropical fruit desserts you can imagine. Take these five Mexican desserts for a spin and welcome a few regulars into your familia of go-to sweet recipes.
Recipe: Semolina Churros With Sticky Toffee Sauce
Sticky toffee pudding is my most famous — or most infamous — dessert. The recipe for that moist cake with sweet dates and deep, dark toffee sauce has traveled with me from New York to Los Angeles to Chicago, and it has devoted fans in every city. Now I want to share the secret with you: it's all about the sticky toffee sauce. These churros re-create the flavors of the original cake with date sugar and orange zest, and the semolina gives them an amazingly crispy texture. But the sticky toffee sauce with vanilla is the star. Use the best quality vanilla bean you can find.
Recipe: Mexican Chocolate Shake With Chipotle
In this classic Mexican combination of chocolate, almond, cinnamon and chile I use powdered chipotles, which are dried and smoked jalapeños. The chipotle powder imparts a subtle, smoky note that complements the chocolate, as well as a bit of heat to the finish. Chipotle powder is widely available, usually in the spice or Latin foods sections of the supermarket. You can use cayenne instead—it will give you the heat without the smoke.
Recipe: Sweet Avocado Ice Pops
An avocado ice pop may sound unusual, but it's very tasty and has a luscious creamy texture without any dairy. The lime juice not only helps keep the paleta green, it also enhances the flavor of the avocados.
Recipe: Churro Éclairs
These fluted éclairs are like a day at the boardwalk or the zoo, but better!
Recipe: Chocolate Flan
This chocolate flan recipe is perfect for a Cinco de Mayo party and is the creation of Fany Gerson, who was born in Mexico City and graduated from the Culinary Institute of America. She has worked in kitchens worldwide, including Michelin three-star Akelare in Spain, Eleven Madison Park, and Rosa Mexicano in New York. Gerson calls this dessert Flan Impossible, because a seemingly magical thing happens when you place it in the oven. When you assemble it the flan is on the top and when you remove it from the oven the chocolate cake is on top.