Nopalito Is About Bringing Traditional Mexican Cuisine To Your Kitchen Table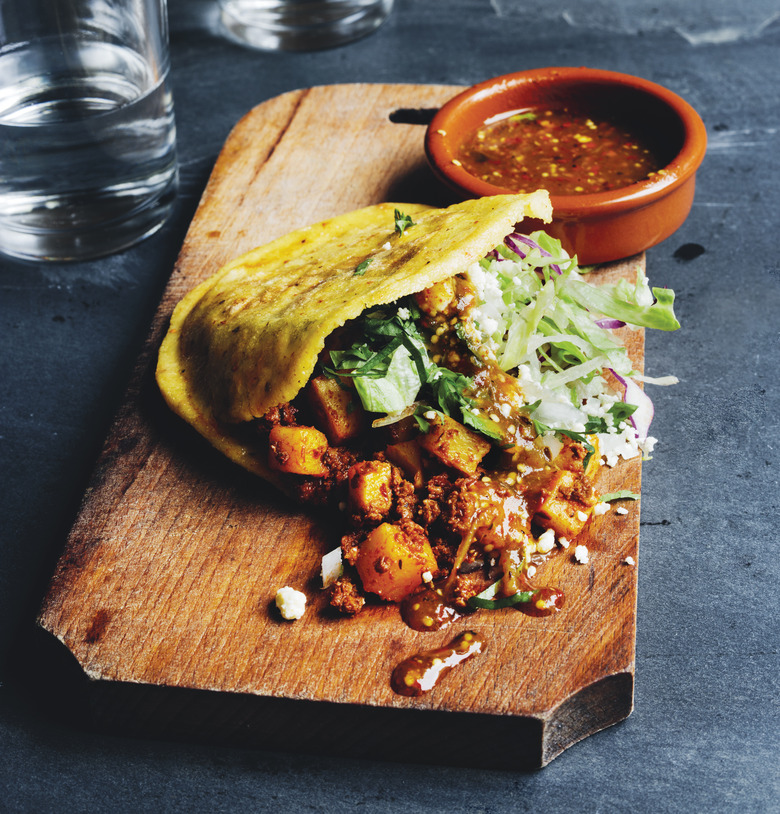 Potato gorditas with chorizo is just one of the delectable recipes in Nopalito. (Photos: Eva Kolenko.
We may receive a commission on purchases made from links.
No frills and so much masa. That's what readers can expect from recently released Nopalito, the cookbook celebrating the restaurant by the same name in San Francisco. As a city brimming to the edges with taquerias and burrito wars, chef, and now cookbook author, Gonzalo Guzmán was not sold on San Francisco's interpretation of Mexican food.
Guzmán arrived in San Francisco as a teenager and quickly worked his way up the restaurant chain as a dishwasher at Kokkari, an upscale Greek restaurant where chef and restaurateur Laurence Jossel was manager at the time. Jossel took a liking to Guzmán and brought him along when Jossel opened Nopa — and partnered with him to open Nopalito in 2009.
The restaurant is dedicated to what Guzmán grew up eating in a small village in Veracruz, Mexico. Co-written by Saveur's test kitchen director, Stacy Adimando, the book is filled with the same recipes that make the restaurants such treasured neighborhood gems: red quesadillas with pork belly and chicharrónes, chorizo and potato tortas, chicken soup with fried noodles, salsas, homemade masa and more. Guzmán let us in on more about the book.
What was the impetus for Nopalito?
It was something that was always in my mind, the food that I was raised with. When I first moved to [San Francisco], I went to some places, like the taquerias or restaurants that call themselves "Mexican," I found some Mexican ingredients and dishes but nothing that reminded me of my town where I was born and raised.
So that was always in the back of my mind. Then I had to learn and understand how to cook, I couldn't go to culinary school, so I decided to work in different restaurants, learn different techniques and how to use those in Mexican cuisine without affecting the traditional tastes of the food I was raised with. It's Mexican, but there are so many states in Mexico, and they all have different food. Nopalito's dishes are what I grew up with, as well as from friends, places in Mexico that I visited. I tried to represent all of that and work with what I have available to me here.
How else did your background in European restaurants influence your cooking at Nopalito?
The type I do at Nopalito is more like home-style cooking. I decided to do something that women usually cook in the house or you go on the streets and you see people are selling it. That's where I think the European techniques work very well. For example, instead of making a soup and boiling all the ingredients all together and overcooking some of the ingredients, I would cook them separately and put them back together so all the ingredients retain their texture and you'd be able to taste every ingredient. Here, we try to get the best of the flavor by brightening them or cooking at different temperatures and all types of techniques to represent them in a better way or the best way that I can.
"The masa is the heart of the work and the book and the restaurant and myself."
In the book, you write that you "accidentally" learned to cook. Could you tell me more about that?
The first job I had in the restaurant was a job that I needed, kind of the only thing that I could find. I was a dishwasher for about three months, then eventually the chef at the time saw I had potential, so they moved me up to prep cook and I learned from all these different stations, then to line cook. Then I moved to Kokkari, where I met chef Laurence Jossel from Nopa. I was hired as a dishwasher there, too, but [Laurence] put me on baking bread. He saw I was very fast and always on time so he decided to give me more stuff to cook and to test. After a year of that, I decided that's what I want to do. I like it a lot because you can do so many things with all these ingredients. One ingredient can come out with 10 different dishes and ideas. It got my attention so I got more into cooking and learned more about it.
Was regionality ever a focus?
No, when the first Nopalito opened nine years ago, it was myself and my co-chef at the time, Jose Ramos. He's from northern Mexico and I'm from the south, so we kind of combined ideas and dishes from south and north. He focused on the north, and I would focus on the south, the moles and the anchos. That's how we worked. After he left, I just played with all kind of ideas, not focusing on one state, something that would work for the restaurant and would represent anywhere from Mexico.
Is there an ingredient that you haven't been able to find in California that you miss working with or that you saw a lot of in Mexico?
Oh, there are a lot of ingredients that we cannot find here. The one I can think of right now is a chili that we cannot get from Mexico. Because of that, we can't do some dishes that I'd like to do, like moles.
Is there an ingredient that you found in California that you've never worked with before that you love working with now?
There are a lot of vegetables here that I didn't grow up with. For example, they don't have asparagus where I'm from. But they're great — they can be in quesadillas, salads or something else. Strawberries, that's another one. Right now, we're doing a strawberry horchata, Oaxacan style. We subbed prickly pear for strawberries, which is the traditional way to have horchata in Oaxaca, with a prickly pear purée. I'm replacing it with strawberries because it's an ingredient I didn't have access to and I like working with now.
What was working on the book like? Did someone approach you with the idea or was it something you wanted to do?
People always pushed the idea of it. Starting six or seven years ago, they always asked if we're going to do a book. It just didn't feel right to do it yet; even now that I did it, it still doesn't feel right. It's too much pressure from people. [laughs] Chef Laurence was actually like, "You should write a book." I said "You should write a book." He said "I don't see a Nopa book, I think Nopalito is the book." So we started to research some people and that's how it started. We found the writer, Stacy Adimando, a great person to work with. We tested a lot of recipes. I knew all of them but I had to scale them down. That was the hardiest part for me. I never did it before. [laughs]
Has any of your family come up to visit you in San Francisco?
My sister, about a year ago. She said it was great and said she was very impressed. She didn't really believe me when I said we were doing tortillas in-house because now they just buy tortillas. She was very impressed with all that. I don't know if she said all that because she's my sister but... [laughs]
Right, because you don't see too many restaurants making their own tortillas in-house.
They probably make their own tortillas, but they're not making their own masa, which was the whole idea, when we opened Nopalito, to make everything from scratch because that's what I grew up with. I grew up in a really small village and we didn't have electricity. We grew our own corn and dried it for the year, then would come back for more. We'll cook the corn and in the morning before we go to school, we pick up the corn, grind it and my mom would finish it and make tortillas for the day. I was raised that way until I came here and now they just buy tortillas. [laughs]
The masa is the heart of the work and the book and the restaurant and myself because that's how I was raised. That's my favorite ingredient and base of everything I cook.