10 Vegetarian Tacos To Make Tonight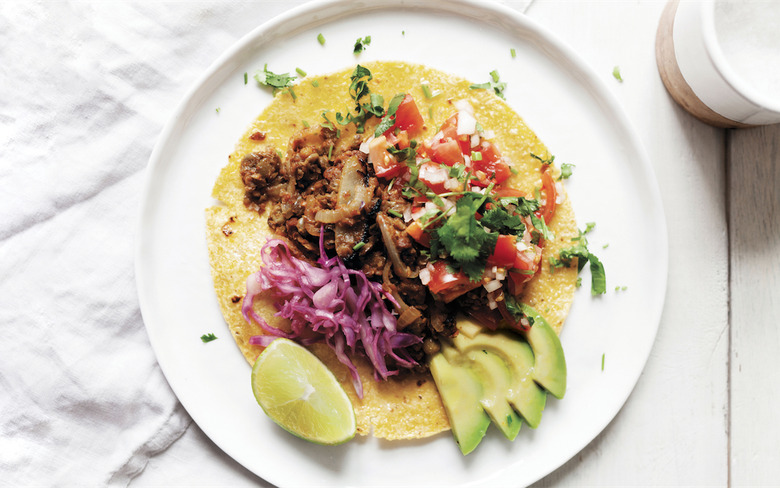 Tonight, enjoy the hearty delights of homemade vegetarian tacos without the meat. Vegetarian and even vegan tacos are healthy, filling and easy to make at home. Employ the meatiness of mushrooms, satisfying crunch of cauliflower or versatility of eggs, or use any of these vegetarian taco recipes as a template for your own creation. Pick up some produce and a stack of tortillas, and get ready to fire up your fiesta!
Recipe: Hearty Smoked Lentil Tacos With Pico de Gallo
I haven't eaten any kind of meat in a very long time, but taking my first bite of these insanely tasty tacos made me feel as if I were. You see, meat contains ample amounts of glutamate, an amino acid that is responsible for umami, the taste of yummy savory-ness that helps us feel satisfied. In an attempt to make tacos that lacked for nothing, I knew I had to infuse a ton of mouthwatering flavors into the lentils, so I used my secret weapons: sun-dried tomatoes, tamari, and caramelized onions. The smokiness that we often associate with meat comes from the addition of smoked paprika, a genius spice to have in your meat-free arsenal.
Recipe: Grilled Portobello Mushroom Tacos
Anyone who's ever loved a taco should hit LA's Pink Taco with an empty belly and a fierce craving. In honor of Food Republic Grilling Month, we borrowed a meatless recipe from chef Sam Anguiano. "Mushroom tacos are perfect for the food lover who wants a good taco, but doesn't eat meat. Grilling them over live mesquite will give you optimum flavor. The portobello should be grilled through but still have some bite to create different layers of texture. Carnivore or not, you will love this taco." Agreed.
Recipe: Spicy Roasted Cauliflower Tacos
Make the chipotle sauce with sun "cheese" and skip the honey to make this vegan.
Recipe: Arrogant Bastard Ale Avocado Tacos
Vegetarian tacos are a great alternative to meat-laden variations, and all the fresh ingredients in this recipe really bring a pop of flavor. If frying is not your thing, the avocados can be served fresh. Accompany the tacos with black beans, Spanish-style rice, and an American strong ale like Arrogant Bastard Ale, which has a smack of hop bitterness.
Recipe: Egg And Cactus-Paddle Tacos
Cactus paddles: You've seen them at the grocery store and thought, "Hey, cactus paddles." And that's about it, right? Well, this incredibly delicious and decidedly unspiky ingredient, known as nopales in Mexico, where it's eaten in a variety of preparations, is about to revolutionize the way you see breakfast tacos. Crisp, flavorful and succulent, cactus just needs a close shave and a parboil before it's ready to join this Mexican-veggie scramble. Next time you see them at the market, you'll know exactly what to do.
Recipe: Plantain Tacos With Pepitas
These wholesome yet rich-tasting soft vegan tacos filled with chunky, savory refried beans and caramelized ripe plantains will please everybody at your table, including the most fanatic meat-taco aficionados. My mom and I came up with the recipe the last time she visited us. We paired the refrieds with the plantains and topped them with a crunchy mix of toasted walnuts and pumpkin and sunflower seeds tossed with seared scallions. Don't hesitate to drizzle a liberal amount of quick salsa verde over the tacos.
Recipe: Cauliflower "Al Pastor" Tacos
Crema is a kind of Mexican sour cream/crème fraîche hybrid. It's not difficult to make and the taste is far superior to anything you'll get from normal sour cream or crème fraîche.
Recipe: Fried Egg Taco With Avocado And Chipotle Black Beans
We're currently obsessed with the Austin Breakfast Tacos cookbook, having enjoyed more than one on a Food Republic field trip down South. All the famous egg tacos are in there, but this recipe via Adam at food blog Tasty Touring has those famous beans. We're all about famous beans.
Recipe: Fried Okra Tacos
A sprinkling of sugar in the cornmeal coating caramelizes as the okra cooks, creating a crisp, golden crust.
Recipe: Easy Potato Tacos
Chef Norman Van Aken travels great distances to find the perfect tortilla (read about his quests in his Word On Food column for Food Republic). What does he put inside? In this case, it's potatoes. Yes, this easy potato tacos recipe is unexpected, and unexpectedly delicious. On the Atkins Diet? This is not for you. But if you love a good vegetarian taco, you've come to the right place.