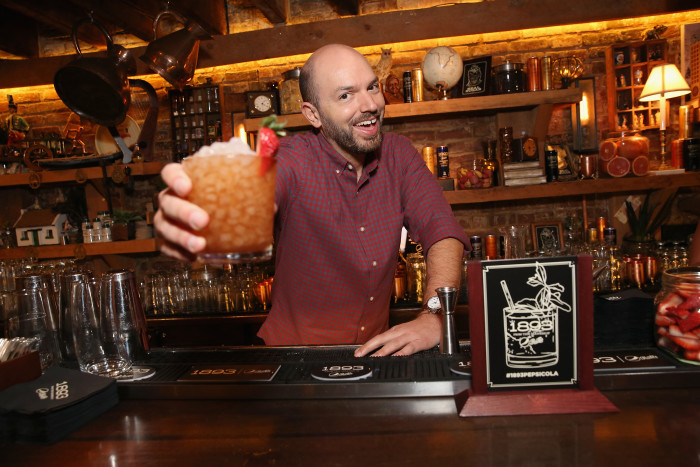 The Dead Rabbit's second floor lounge is buzzing as comedian Paul Scheer (The League, Fresh Off the Boat, "How Did This Get Made?" podcast) admits that he hasn't been mixing his cocktails right. Award-winning bartender Pam Wiznitzer sits next to Scheer and assures him he's doing fine. The two have paired to pour and shake some new cocktails featuring Pepsi's latest line of flavored sodas: 1893.
The kola nut-focused sodas come in four flavors: original, ginger, black currant and citrus. Scheer says the emphasis on kola (the caffeinated nut that gives Pepsi and Coca-Cola that distinct flavor) gives each drink senses of familiarity and uniqueness at the same time.
"I think the idea that it all comes from the kola nut gives each of the flavors this distinct flavor that your'e familiar with — even the ginger beer has a kola flavor — it's a distinct and unique flavor," he says. "A Moscow mule that you'll have with the 1893 is not going to taste like a traditional Moscow mule. I think in a way it tastes a little bit better because it's taking something that you know and it's adding another layer of flavor complexity to it."
Wiznitzer, who was one of the Dead Rabbit's original bartenders, says that the crafted soft drink lends itself to better cocktails.
"The idea is how do you take an on-shelf product and use it in a more elevated manner," she says. "It's been really great cultivating and creating new cocktails [using 1893]."
Scheer tells us that his home bartending menu consists of two drinks: the Moscow mule and a martini.
"I try to make [cocktails] at home," he says. "The operative word: try. Because whenever you get home it's like you need four more things and how do I muddle?"
Since the mule is one of his specialties, I ask Scheer to shake one up for me. He makes it with 1893's ginger cola, and I must admit it's pretty tasty.
On the subject of bar scenes, the native New Yorker and recent L.A. transplant says that the New York's is "unmatched." The bold statement feels heavier and perhaps truer since we're at the Dead Rabbit, an establishment that's garnered 12 best bar and bartender awards from World's 50 Best and Tales of a Cocktail.
"Hands down, it's the best bar scene ever," he says. "But I live in L.A. now, so I have to take what I can get."
1893 Moscow Mule
Serves 1
Ingredients
1 1/2 ounces vodka
1/2 ounce lime juice
1893 Ginger Cola
Lime wedge
Directions
Pour vodka and lime juice into a copper mug.
Add ice cubes and top with 1893 Ginger Cola. Stir to combine.
Drop a lime wedge into the mug for garnish.