8 New Ways To Make Scrambled Eggs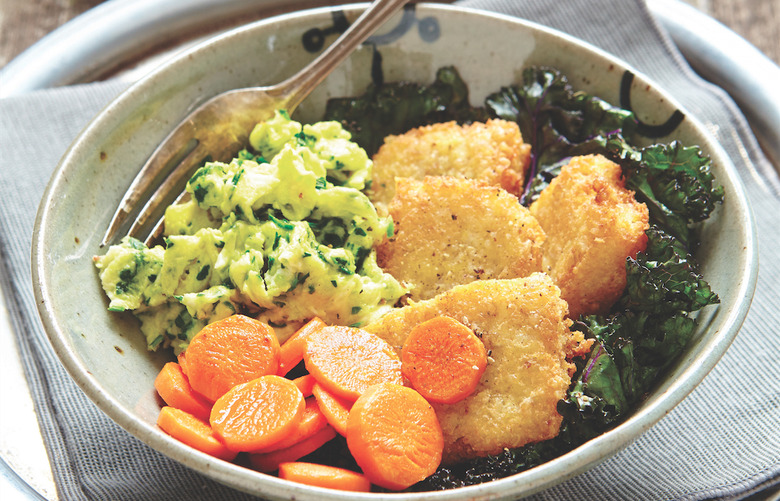 Chances are, this humble, delicious dish was one of the first things you ever learned how to cook (and perhaps when to add cheese to that dish was second). Nearly every food culture has a special place in its collective menu for scrambled eggs, and we've gathered up some of our favorites from the very simple to the completely and utterly decked out. Hey, nobody said a humble dish couldn't dress up and go to the ball. Pick up a dozen free-range beauties and check out eight new ways to make scrambled eggs.
Recipe: Multigrain Polenta With Pesto Eggs
Make the polenta on Sunday, and you can enjoy it all week long. A quick scramble of pesto-laced eggs and some seared vegetables will get your day off to a seriously well-fed start. The polenta can be a great swap for grains in other bowls, too, and these toppings work just as well with amaranth or teff.
Recipe: Scrambled Eggs With Truffles
To make the most of the delicious flavor of the truffles, you need to be a bit organized and put the eggs and truffles in the fridge together overnight, to allow the flavors to permeate the eggs. Serve the eggs in the eggshells, but if you have trouble keeping the shells intact, simply use eggcups or ramekins instead.
Recipe: Akoori (Indian Scrambled Eggs)
Indian-style scrambled eggs, known as akoori, are a weekend brunch staple at the Kapadia house, served hot out of the pan over slices of buttered, toasted baguette. I've had scrambled eggs with chives, caviar, cubes of ham, smoked salmon, shredded cheddar and, my favorite, lobster. (Not all at once, of course.) I've had them barely-set (France) and nearly-rubber (weird morning after). I've made a foolproof version in the Food Republic test kitchen. But akoori tops them all. Why? They're spicy from the chilies, herbal from the cilantro and earthy from the cumin. And as far as what to serve over toast on the weekend goes, it simply can't be beat.
Recipe: Nobu's Scrambled Egg Donburi
Master chef Nobu Matsuhisa's signature is keeping it simple: if you've ever had the pleasure of that miso-glazed black cod, you know what we're talking about. His Scrambled Egg Donburi, a a protein-rich combination of scrambled eggs and salmon over rice, might just be the perfect breakfast.
Recipe: Greens And Grains Scramble
This is the breakfast Sam and I probably eat most often regardless of the season. In truth, it's usually a dish we whip up as a late breakfast on weekdays when we're both working from home and most emails have been returned. It's wonderfully versatile and allows you to use up any leftover grains you have from previous meals, folding in leafy greens for a bit of color. In that sense, think of it more as a template rather than a hard-and-fast approach. Any leafy greens and most grains will work, although I veer away from small, delicate grains like amaranth because they can get lost in the dish.
Recipe: Crispy Breakfast Tortilla Stacks
Those leftover flour tortillas languishing in the back of your fridge? Put them to work as the foundation of an easy, crisp-based breakfast dish. All you need is a cookie cutter and some frying oil to turn those 'tillas into flaky rounds that reveal wavy, puffy layers when fried or baked. I add a homemade roasted salsa that comes together with the help of a sheet pan and food processor (or knife). I top with soft-scrambled eggs and avocado slices for an easy, totally inauthentic riff on the puffy tacos so many Texans are obsessed with.
Recipe: Perfect Scrambled Eggs
The only correct answer to "How do you like your eggs in the morning?" is "Scrambled, perfectly." That having been definitively established, let's move on to pulling it off, perfectly, every single time. Here is how to make perfect scrambled eggs.  Begin by heating a medium cast-iron or other heavy skillet over low heat.
Recipe: Lobster Scrambled Eggs
This lobster scrambled eggs recipe comes from Chef David Burke, whose whimsical and dramatic take on modern American cuisine drew us to SoHo's David Burke Kitchen, his newest venture. The key to this dish is using the best eggs you can find, free-range and fresh from the coop if possible (scope out the egg scene at your local farmers market). Very ripe summer tomatoes will also work wonders. Do that lobster justice.
Recipe: Roasted Asparagus And Scrambled Eggs
There's still a few weekends left in asparagus season, so this is the perfect time to try this easy and cheesy roasted asparagus and scrambled eggs recipe. Roasting asparagus gives it a deeper flavor and intensifies its natural affinity with eggs.
Recipe: Bacon And Scrambled Egg Onigiri
This onigiri is a little fatty from the eggs scrambled in butter and the bacon. If you like, you can hold it all together by wrapping it like an envelope.
Recipe: Egg And Cactus-Paddle Tacos
Cactus paddles: You've seen them at the grocery store and thought, "Hey, cactus paddles." And that's about it, right? Well, this incredibly delicious and decidedly unspiky ingredient, known as nopales in Mexico, where it's eaten in a variety of preparations, is about to revolutionize the way you see breakfast tacos. Crisp, flavorful and succulent, cactus just needs a close shave and a parboil before it's ready to join this Mexican-veggie scramble. Next time you see them at the market, you'll know exactly what to do.
Recipe: Bridgehampton Town Fry
Need a night out of town? Hit the road or train and head to The Topping Rose House in Bridgehampton, NY for an evening of salt water pools, a farm-to-table restaurant (try their pig roasts!) and a big, comfortable room stocked full of awesome local snacks. Itchin for a fishing excursion or baking lesson? They'll hook you up. In the morning, head down for one of the best breakfasts in town, and don't miss the Bridgehampton Town Fry, their play on the classic fried oyster scramble.