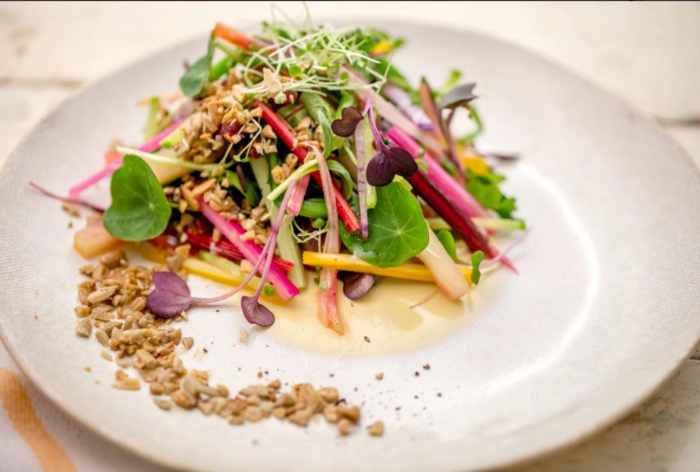 Spring has sprung here in New York City! Or has it? With the weather prone to playing games with us over the past few weeks, we've alternated between drinking outdoors at beer gardens and ordering delivery food with the heat on at home. That being said, it's only a matter of time before warmer temperatures kick in for the next few months and we can shed the outerwear and pants for tees and shorts while popping rosé. Okay, so perhaps we got a little carried away on that last one, but here are eight ideas — restaurants, dishes, drinks and more — to explore in the Big Apple to welcome in the new season.
1. Go for the art, stay for the food
Long gone are the days when a spring afternoon spent browsing New York City's finest museums meant subsequently searching for an adequate restaurant in the area. After making your way through rotating exhibits, check out the seasonal menus at Danny Meyer's Untitled and The Modern, located at the Whitney Museum and MoMA, respectively. The dining room at Robert pays homage to its location on the top floor of Museum of Arts & Design in Columbus Circle, while a jaunt uptown to the Met Breuer should end (or begin) with a meal at Flora Bar. Headed to the Gagosian Gallery? Stop by Kappo Masa for a power lunch (or dinner, for that matter). Taking on the Brooklyn Museum? Be sure to nosh at The Norm. And we didn't even mention upcoming art fairs, such as Frieze, which are known to bring out premier culinary talent.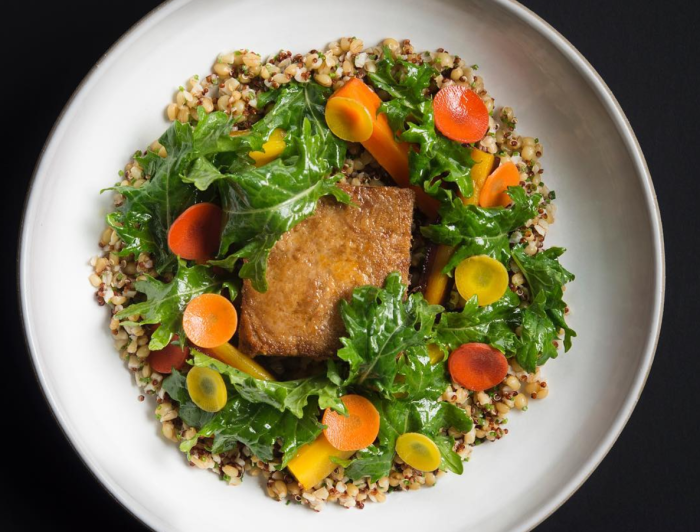 2. Pop into a big-name chef spot…without breaking the bank
Eleven Madison Park was recently voted the world's best restaurant. Cosme checked in on the same list at number 40. What do the chefs of these extravagant restaurants — Daniel Humm and Enrique Olvera — have in common, apart from extraordinary culinary prowess and limitless creativity? They're each behind new fast-casual concepts in the city with check averages under $20. Humm's Made Nice and Olvera's Atla are decidedly different from their original masterpieces, all while pandering to today's trends of inexpensive, high-quality food served in an efficient manner.
3. Eat your veggies; work on that summer body
It's never been a better time for vegetable-focused cooking in the city. Jean-Georges Vongerichten's abcV is currently the hottest table in town, while John Fraser's Nix picked up a Michelin star in its first year of eligibility and Rouge Tomate re-opened in new digs at the end of last year to high praise. Brooks Headley is still slinging veggie delights at a James Beard-nominated hole-in-the-wall, Superiority Burger, in the East Village and almost every new restaurant menu features multiple vegetarian entrées. It's good to be green these days.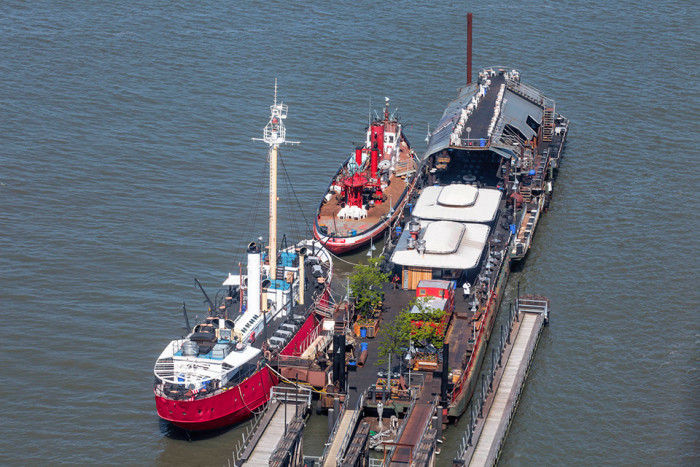 4. Go drink at a beer garden! Or on top of a roof! Or on a boat!
Beer gardens: Where to begin? It's difficult to think of a less more productive way to waste spend a gorgeous spring day than nursing cold brews outdoors among friends? Don't look to us to be the first to let you know about any secretive, sparkling new establishments where you won't spend half the day waiting in line — we're just not that cool (and wouldn't want to blow up a spot this early in the game!) Instead, start your day — and drinking — extra early, and beat the crowds to perennial favorites The Frying Pan, Mr. Purple, 230 Fifth, Birreria and Radegast Hall & Biergarten. You're sure to find different crowds and vibes at all of them.
6. Bleecker Street pizza run
It's possible to get a taste of some of the city's best slices and pies without walking more than just a few blocks (a pizza connoisseur's dream, after all). Bleecker Street Pizza, John's of Bleecker Street and Joe's Pizza are located within a stone's throw of one another. Why not seize a beautiful spring day away and try out all three of them? Just beware before declaring one superior to another: The only thing testier than an NYC pizza snob is an NYC pizza snob with undying loyalty to a single joint.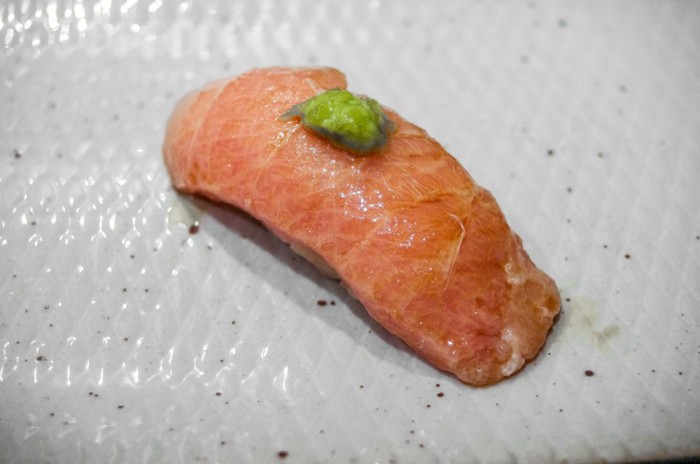 6. Treat yourself to some affordable omakase
We've covered the omakase craze sweeping the Big Apple over the past few months — people are more willing than ever to spend hundreds of dollars on chef-chosen raw-fish meals at minimalistic venues that might have you out of the door in less than an hour. But recent openings have offered hope for those seeking a similar experience at a lower price-point. Brooklyn darling Sushi Katsuei opened its first Manhattan Branch, in the West Village, while Los Angeles original (and favorite of all millennials, everywhere) Sugarfish now boasts Manhattan locations of both the original restaurant and hand-roll spinoff KazuNori. The open-aired Sushi on Jones inside Bowery Market slings out a reasonably priced omakase and its brainchild, chef David Bouhadana (of Sushi Dojo and glove-gate fame) is planning to open his own spot in the near future. Who ever said omakase translated to "bank-busting"?
7. Get your Keith McNally on
Few individuals have done more for the food scene in New York City over the past decades than Keith McNally. His flagship Balthazar continues to pack tables day-in and night-out, having just celebrated its 20-year anniversary (that's equivalent, some might say, to 100 human years). Good luck finding a primetime table at his storied Minetta Tavern, which still dishes out one of the city's most formidable burgers. Just a few years after opening the successful Cherche Midi, McNally is back at it again with Augustine — a bistro that causes New York Times critic Pete Wells to wax poetic about how it, "evokes Vintage Paris."
8. Slurp up some bone broth
Sure, we included this one back on our list of food-based adventures to tackle in February, but it's still relevant, as the weather really does refuse to warm up for good this spring. There's no better way to beat the unseasonably cool weather than by slurping up essential nutrients. Hearth's Marco Canora is rightfully credited with making the liquid elixir a "thing" by opening takeout-window Brodo, which has since expanded to a second location. Apart from the originals, check out Springbone Kitchen and Barneys Bone Broth.