The Brewer's Table Will Try To Blur The Lines Between Food And Beer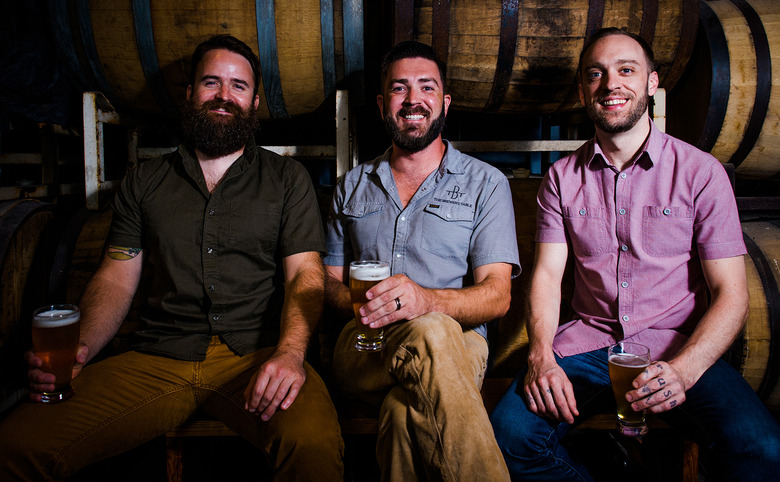 When it opens this summer, Austin's The Brewer's Table will employ creative ways to use beer and food together. (L-R): Head brewer Drew Durish, founder Jake Maddux and executive chef Zach Hunter. (Photo: Jason Youngblo
Late this summer in East Austin, Texas, The Brewer's Table will open with a mission that could be disruptive to the restaurant industry on several fronts. For one, the focus will be on beer rather than wine as the primary pairing beverage for its ambitious food menu. For another, it aims to be the first wood-fermented brewery in Texas. And the head brewer and executive chef will work together to close the loop on food and beer waste, reusing ingredients and experimenting with flavors. In short, this is not your father's gastropub.
The three protagonists are Jake Maddux, the founder of the project and a veteran of both the United States Marine Corps and Austin's respected craft brewing scene; executive chef Zach Hunter, whose kitchen experience includes stints at innovative restaurants Mugaritz in Spain and Atera in New York City; and head brewer Drew Durish, formerly of Live Oak Brewing Company. They recently met with me following a pop-up dinner at MOFAD with Brooklyn Brewery, the latest in a series that's also included one-offs with Franklin BBQ and Olamaie in Austin, and New Belgium Brewery in Colorado. When the three told me about their plans for The Brewer's Table, I was so impressed that I slotted them in for Zero-Waste Week and sent them a few questions about their goals. Here's what Hunter and Durish had to say.
You guys have some forward-thinking ideas about how to cook and make beer while re-using ingredients as much as possible. Can you briefly explain the philosophy?
Durish: All of us have spent enough time in our respective industries to be cognizant of all the excess and unused byproducts that still have potential in both cooking and brewing. As such, we see flavor incentives, economic incentives and environmental incentives in what is otherwise regarded as waste. Spent grain is the most blatant and abundant brewing byproduct, but excess yeast, excess water, and spent hops really started to turn our gears. Is there a Lazarus moment for some of these ingredients? One byproduct of yeast autolysis is glutamic acid — the foundation of MSG, of tomatoes, of soy sauce, of umami — so it seems serendipitous and fitting that we can find a kitchen use for this particular brewing excess that otherwise sees the drains. We're fortunate enough to team up with farmers and ranchers to tackle the abundance of spent grain, but that's just one facet of waste. Likewise with kitchen scraps, is there a way to preserve and introduce these flavors back into our beer? We intend to keep the conversation between brewer and chef open in perpetuity.
Hunter: We recognized early on that byproducts of food and beer production were abundant and ever-present, and that through our collaborative efforts, we would have a unique opportunity to cross-utilize nearly all  of them, while simultaneously achieving our number one goal of making delicious food and beer. Without realizing it, eliminating food waste became a prime directive of ours. Coincidentally, it turned out that we were able to recognize one very important quality specific to our food and beer waste — they are noticeably rich in flavor and nutrient content. As chefs and brewers, we fight for flavor, seeking it out in its brightest and purest forms at every turn. So this [not so] new ingredient opened up all kinds of doors for us.  In the kitchen, we started out by drying spent beer grains, milling them into "flour," and using this flour for a multitude of things. We used the flour to feed our bread starters, as well as in place of flour in our bread doughs. Next, we began to use it in just about every batter, dough and dredge we could think of, with the biggest success coming from a beer grain falafel, which we served with farmer's cheese and a harissa made with hop leaves. Another breakthrough for us was treating spent beer grain as you would rice bran in a Japanese technique called "nukazuke," in which the beer grain is fermented with salt and an added culture, and then used to pickle whole vegetables by submerging them in the fermented grain. This breakthrough was so exciting for us. Not only could we pull flavor out of this byproduct by treating it as an ingredient, but we could achieve a whole new depth of flavor by using it as a medium, or means by which we could transfer flavor through fermentation.
"We intend to keep the conversation between brewer and chef open in perpetuity."
What inspired you to take these extra steps rather than just start a regular restaurant/brewery combination?
Durish: Without sounding too sanctimonious about it, I think we all realized that we have a duty to support the sustainability of our industries. That's a buzzword heavy statement, but in trying to understand our responsibility as brewers and chefs, we saw an opportunity for layers of flavor born out of the ashes. Ultimately, we don't want to take this approach just for the sake of the "novelty," but rather because we believe we can develop an immensely enjoyable food and drink experience while reducing the negative impacts that our industries are capable of producing on the environment and community.
Hunter: By taking a thoughtful approach to the way we treat our product, both in cooking and brewing, we have realized that the most effective way that we can do our part is to stay committed to eliminating waste in every way possible. Our community is a huge part of our foundation, so we feel it's our duty to sustain its growth and wellbeing. We have found that we have a surplus of waste products at our fingertips fueling our creativity and driving our cuisine.
What are some ways that you encourage friends to cut down on food waste at home or in the home-brewing process?
Hunter: The best advice I can give is to use every part of every product in the kitchen. Too often, home cooks are scared to use parts like stems and roots from herbs and vegetables, not realizing that sometimes this is where most of the flavor, and texture, lies. Vegetable scraps can be saved and used in sauces or stocks. I like to dehydrate vegetable scraps and peelings and tuck them away in my pantry for a rainy day when a dish needs a little extra flavor or seasoning. Also, don't be scared of the ugly fruits or vegetables, most likely the overripe fruit that sat a few days too long on the kitchen counter has only gotten better with each day. These days, every home kitchen should have a compost bin. Most cities offer services for compost pickup, so all it takes is a little discipline. Lastly, shop smart. Go to the market with a plan, and buy only what you need. A little bit goes a long way.
Durish: Fermentation as a preservation method is invaluable and way more approachable and easy than people believe. I'm really just echoing the words of Sandor Katz and his fermentationist ilk, but convincing people that you won't die from fruit or veggie scraps in salt water can be incredibly liberating and addicting, all while reducing the amount of organic waste that sees the bottom of a trash can. For homebrewing, I always recommend harvesting and reusing yeast (much like professional brewing) for several generations until mutations result in some "off" flavors. This suggestion is twofold, because, again, harvesting and reusing is much simpler than you think, and also because tasting the permutations of yeast evolution is fascinating. You realize that how you treat the yeast, and thus, select for certain traits, plays a huge role in the final product. I tried this with a saison strain for five batches in a row, but I didn't use any refrigeration. As such, each time I harvested the yeast from the bottom of the fermenter, I was selecting the most flocculent (which means ability to precipitate/fall out of solution) yeast, which meant as time went on the beers were less and less hazy, and eventually the yeast stopped cleaning up, leaving an excess of diacetyl (butter, butterscotch). Science! Another major waste saver is to buy a submersible pump to use for chilling the wort after the boil. I run a sub pump in an ice bath through the wort chiller which eventually heats up the water bath. Once the beer is finished and it's time to clean up, I use the warm water to circulate cleaner through my knockout setup. It saves time and tackles the elephant in the room of excess water consumption in brewing. I also soak all brewing parts in a no-foam, no-rinse sanitizer, then after the brew day, I'll circulate the sanitizer from that bucket through the setup, and eventually transfer that excess sani to another carboy and fill up my spray bottle.
Check caskandcoal.com for updates on The Brewer's Table programming and opening date.