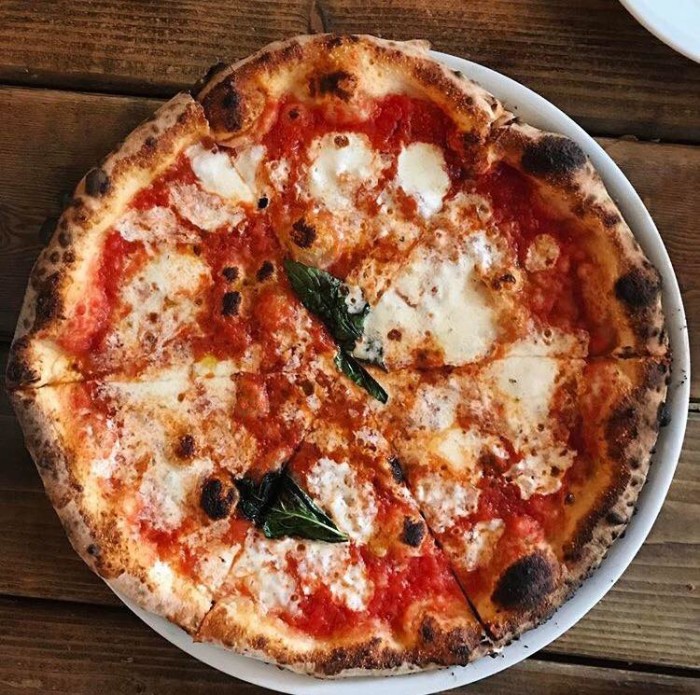 Wood-burning pizza ovens are often an item worth boasting about. A pizzeria in New Jersey boasts several of these wood-fire ovens as well as having a smaller carbon footprint than most pizza restaurants. Porta, with locations in Asbury Park and Jersey City, stopped burning firewood in their ovens nearly a year ago and have switched to Bio Blocks. According to Porta's culinary director, Nicholas Wilkins, a Bio Block is excess wood that's been ground into sawdust and formed into bricks.
"When we come in, these ovens are burning 12 to 13 hours a day, plus," he says. "We wanted to take a look at that and see if there was something else out there that we could use or entertain as a possibility to try to lower the carbon footprint a little bit. We also looked at it from a cost standpoint."
Unlike firewood, the Bio Blocks burn hotter, longer, leave less ash and are made without artificial binders, making it a dream come true for Wilkins. The Blocks also ensures consistency; firewood can sometimes come in damp or cut too small. One-and-a-half times less energy is used when burning the sawdust bricks, meaning Porta now burns a third less material and saves 75 percent on wood costs annually. Because there's less burning, this means less carbon dioxide is emitted back into the atmosphere.
"The Blocks themselves only release as much carbon dioxide back into the atmosphere [that] was originally absorbed by the tree it came from during photosynthesis," Wilkins says.
Most importantly, the pizza tastes great.
"You still have that flavor of something that's been roasted in a wood-fired oven," Wilkins says. "I would say we have more control of our pizzas now because we have more control over how they cook."