We Have A Ton Of Creative Asian Recipes!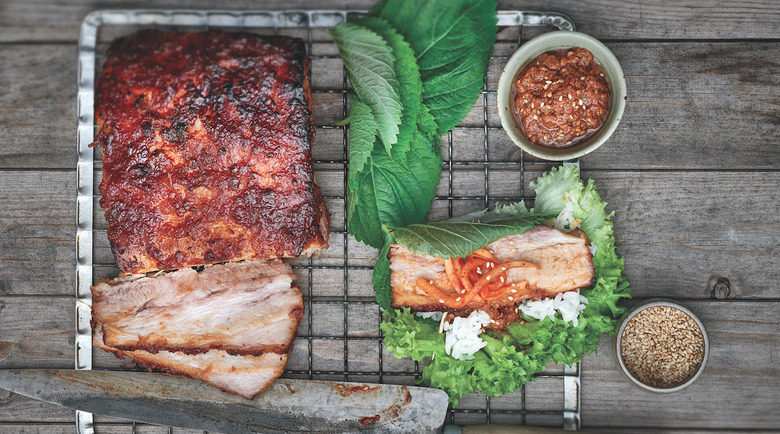 Did you know that we have hundreds and hundreds of classic and creative Asian recipes that need a new home in your kitchen? We're proud to host dishes from all over the continent. Whether you're craving Filipino chicken or Macanese pork chops, you're going to find a new favorite reason not to order take-out. And we've got even more for our stir-fry and sushi enthusiast friends: loaded noodle bowls, handy techniques and in-depth guides about our favorite rice and fish combinations. Take a deep dive into our colorful Asian section for dishes from award-winning chefs and cookbook writers, and freshen up your repertoire from the East. Here are a few of our recent favorites:
Recipe: Pork Belly Lettuce Wraps
Sharing is a common theme underlying all Korean food. Bo ssam embodies this convivial sentiment — everyone sharing from the same plate, yet creating a small bespoke parcel for their own consumption. The lettuce leaves and pickles cut the fat nicely and bring a welcome freshness to the dish. If your pork belly comes with the ribs on, cut them off and slather with some doenjang-honey-ginger-gochujang paste (make extra). Roast until cooked through and caramelized and you'll have the tastiest ribs ever.
Recipe: Lucky Rice's Sichuanese Chicken Wings
This take on an American finger-food favorite gets its spice from Sichuanese pepper and is stir-fried with aggressive amounts of chilies, which — despite their fiery red appearance — add more flavor than heat.
These wings are baked, not fried, but still have a wonderful crunch.
Recipe: Japanese Savory Egg Custard
This is a classic starter: part soup and part custard, a savory pudding with small bites of chicken, shiitake and other little surprises. My daughter Nami is the expert chawanmushi maker in our house. The additions are accents, thought of as treasures in the custardy base.
Recipe: Charles Phan's Vietnamese Meatballs
Like the Vietnamese sausage, these meatballs are multipurpose. You can serve them as is, with rice, or as a sandwich filling. I particularly like the meatballs alongside a plate of fresh vermicelli noodles drizzled with scallion oil and served with torn lettuce, cucumber, and flavored fish sauce for dipping. Pickled radish is also a nice addition.
Recipe: Taiwanese Three Cup Chicken
The eponymous "cups" of this recipe denote equal parts soy sauce, sesame oil, and rice vinegar. It's a potent, salty and savory braised chicken dish with these ingredients along, but the dish really gets its signature from the sheer volume of garlic cloves, thick pieces of ginger and fresh basil leaves for flavor. This recipe's name might underscore the fact that most recipes were passed orally in Taiwan, rather than written, until recent generations. After one taste of it prepared elsewhere, it is quite irresistible to try re-creating at home. This dish shares some similarities with Hakka-style preparations and red-braised styles of cooking, but its use of basil is refreshingly distinct. It has been enjoyed in Taiwan as a quintessential Taiwanese dish for quite some time.