Sarah Phillips Takes Beautiful Photos Of Ugly Produce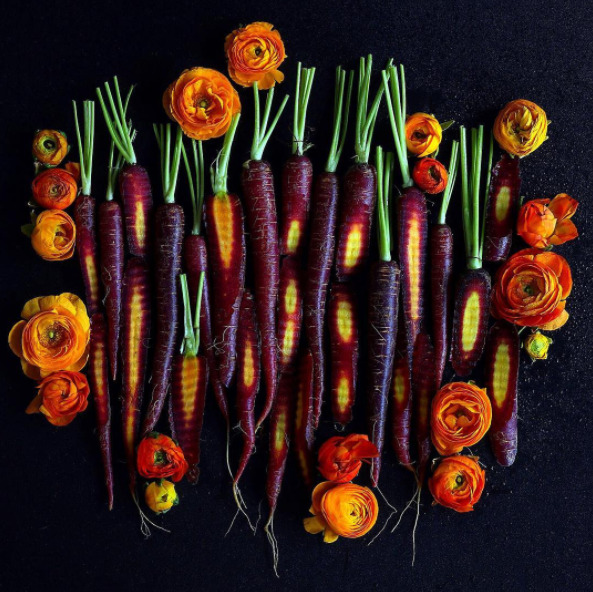 Purple carrots are already beautiful, but Sarah Phillips elevates their beauty to another level. (Photo: Sarah Phillips.
We all know the story of the heirloom tomato: the oddball, multicolored fruit that was once considered too ugly is now prized and sought out. Food expert and entrepreneur Sarah Phillips is the person behind the OG @food Instagram account, jumping early on the photo-sharing platform in 2011. Since then, Instagram has become a hotbed for glamour shots of perfectly styled food; oozy, drippy egg yolks; and rainbow-colored doughnuts. While managing @food and @baking, Phillips has taken it upon herself to prove that "ugly produce" deserves to be in front of the camera just as much as that tricked-out taco. Phillips takes the concept of highly stylized food and applies it to bruised and wonky-shaped fruits and vegetables, creating gorgeous stills that'll make you rethink your rejection of that bruised apple. Here, Phillips explains her mission.
What was the impetus of Ugly Produce is Beautiful?
[I created] The Ugly Produce is Beautiful℠ (UPIB) Educational Campaign in January 2016.
Much of ugly or imperfect produce is thrown away and is part of our growing food waste system: 40 percent of food in the United States today goes uneaten. This not only means that Americans are throwing out the equivalent of $165 billion each year — from farm to fork — but also that the uneaten food ends up rotting in landfills as the single largest component of U.S. municipal solid waste, where it accounts for a large portion of U.S. methane emissions.
Ugly squash potpourri! 📸Sarah Phillips @food #uglyproduceisbeautiful #uglyproduce #uglysquash #heresmyfood #eatasnatureintended #colorsoffood #watermeloncucumbers #squash #sarahphillipsfoodart #colorsoffall #fallseason #dscolor #dsfloral #naturallight
A post shared by Ugly Produce Is Beautiful℠ (@uglyproduceisbeautiful) on
This ​is a global movement of producers, retailers, restaurants and consumers ​to create awareness and revolution in the food industry​ by increasing the consumption of "ugly" fruits and vegetables, and to reduce the resulting food waste and pollution. It is also a consumer education campaign by helping you take action (rather than us just talking about it) through recipes, how-tos and tips in conjunction with my CraftyBaking.com site.
These action steps, I believe, will help all of us save forgotten good food from our kitchen counter and refrigerators that could otherwise go to waste. Consumers in America are a huge part of the food waste system. In medium– and high-income countries, food is wasted and lost mainly at later stages in the supply chain.
​We seek out partners and events, as well, to help us achieve our goals.
The Ugly Produce is Beautiful Instagram account has been up for a little over a year now. How has the response from the public been?
We now have over 42,000 followers as of the end of March, 2017, since we started in January, 2016 on Instagram. I make sure each post is educational and thought provoking as well as visually exciting. I wish to convey that ugly produce is beautiful.
What do you do with the food you shoot after it has been shot?
Food is precious and expensive. It's all shot on a food-safe surface and stored properly. We eat it all or give it away.
Eat Real Apples! 📸Sarah Phillips @food Heirloom apples come in different sizes, shapes, and colors. They also have seeds and are not perfect! And they do have lots of flavor, and turn brown inside when you cut them open! (They're just about to introduce sliced packaged non-browning genetically modified apples to Mid-Western USA stores on a limited test basis.) What's your favorite kind? #uglyproduceisbeautiful #uglyproduce #heirloomapples #realapples #sarahphillipsfoodart #apples #organicapples #eatasnatureintended #protectwhatisprecious #foodpatterns #stopcloningproduce #biodiversity #lookinside #red #green #foodstyling #foodphotography #naturallightphoto #gatheringslikethese #goldenrusset #goldenrussetapples #yahoofood #myopenkitchen #anappleaday #eatrealfood #itsnatural #therealdeal #letsgetreal #nooneaskedme #crimesagainstnature
A post shared by Ugly Produce Is Beautiful℠ (@uglyproduceisbeautiful) on
How do you think the Instagram campaign has influenced the mission of the project?
The Instagram campaign speaks to and conveys our mission, educates, and communicates our goals — that's what it is supposed to do.
I read that you were one of the first, if not the first, food-focused Instagrammers. How do you think the platform has changed since the beginning in terms of food photography?
More and more gorgeous food photography is posted daily on Instagram. It has allowed many to express themselves freely about their food and their world, which is really nice. I have learned so much about other's worlds and food practices. It has made for a more interested and visually exciting world. It has allowed me to pick up a camera and to start photographing and expressing what I love, which is food.
The downside to this is the product brands and restaurants have capitalized on using Instagram as a free media to have those take pictures in exchange for free products and meals. It causes the profession of photography to be downgraded, making it harder for those who are professional to make a living. Those who profit are the ones controlling the marketing messages. It's sad.
We should say no to free food meal photos and free product exchanges because it makes it harder to run a business for everyone. I say no because I run a business, and am concerned about ruining it for others in my profession. I always say to myself that free stuff doesn't pay the rent.
I strongly believe that we should be paid money for our photos if we are working to market someone else's brand; if you stop and think about it, you can figure out that someone in the chain of command who is asking you for a freebie is getting paid for their work.
If we all say no, then brands and restaurants will be forced to pay for us for each product photo and restaurant meal posted on our Instagram accounts. Then we all will win. It's that simple.