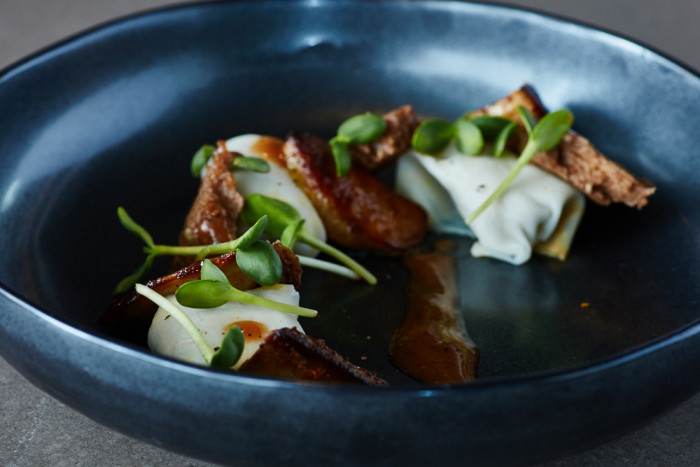 Kingsley is a 100 percent landfill-free restaurant, chef and owner Roxanne Spruance tells us. Absolutely nothing comes out of the East Village restaurant and goes to the New York City trash system. Instead, all produce and meat is used, re-used (if possible) or composted. With a decked out resumé including spots like WD~50 and Blue Hill at Stone Barns, to say the Chicago native is familiar with transforming top-notch ingredients into even better and interesting dishes is an understatement. Keeping Kingsley a nearly waste-free restaurant comes naturally with her training and no-waste cooking techniques. She tells us more about how dishes like celeriac agnolotti and Kingsley's bar program help achieve that landfill-free status.
Could you tell me a little about the celeriac agnolotti?
It's one of our signature dishes at the restaurant. We take a celery root and salt roast it, then we peel off the skin and shave it thinly. That's what becomes our pasta sheet. Then we stuff it with sunflower puree. It's served with a mesquite cake, seared foie gras and a black pepper gastrique.
When you initially came up with that dish, was waste-free cooking in the back of your mind?
I mean I think waste-free cooking is always in the back of my mind. I've worked for a lot of old-school French chefs, in traditional fine dining restaurants, waste is always a thing you're concerned about because your bottom line is so high. So that just kind of evolved into my interests, what I studied in college and all of those things.
I wouldn't say that the agnolotti is a good example of our no-waste cooking. There is no waste but it's a vegetable and a cake — that's not something that would produce waste. What would produce waste is the whole animals that we get in and how we utilize all of those.
And how are you cooking those?
We do whole pig, whole lamb, whole birds, all that stuff here. I just butchered half a pig yesterday. I need everything to be utilized. Once it's broken down, we have a chart of everything that we do with it. The skin gets boiled and dried and turned into chicharrónes, which are on our bar menu, the pork shoulder — we do a ton of different stuff with it: pâtés, sausages, we'll braise it, we have a really great braised pork shoulder, kind of like on a bánh mì on the bar menu as well. The leg gets broken down into individual cuts and roasted for our pork dish on our dinner menu. Belly will get braised or get turned into bacon. The leg can also get brined and smoked, we make our own ham in house. All bones get roasted for sauce, fat gets rendered, we cook in all rendered animal fats or clarified butter that we also do in house. Bones get roasted for stock, any meat trim gets used with that stock to make sauce. At the end of the day when all these things get done we are a zero-landfill restaurant. We compost and recycle everything. The one thing we were not able to recycle when we first opened was our used candle wax. About a year ago, I partnered with a local candle maker and she takes all of our old wax and repurposes it.
What are you doing with feet?
We'll do braised trotters or hocks or things like that. The feet that come in from the birds we'll put in our stocks. The hearts and livers get saved and we'll do a mousse or a terrine, something of that nature. We're very offal friendly here.
How many animals are you getting in weekly?
Depends on what we have on the menu, but a whole pig is 320-ish pounds. Depending on what we have going on, that'll last us about a week and a half. A lamb that's like 80 or 90 pounds will last us one weekend.
Was there any part of the animal, when you initially started cooking, that you were surprised you could use?
No. Coming up studying classical French cuisine, there's full utilization of all of the parts. It's recently that things that were always considered to be offal or off cuts are now kind of fancy. Ten, 12 years ago, hanger steak was free basically from your butcher and now it's super expensive because everyone's making it. It's delicious, which it is, but it's the thing to eat, so it just becomes trendy. All those parts are important to use and are delicious. It's really all-encompassing.
Are you approaching vegetables in the same way?
Absolutely. You know a lot of times, with herbs, a lot of the flavor is in the stems; the stems are more flavorful than the leaves. So whenever we make herb oils or anything like that, we'll add the stem, not just the leaf. We use all of our vegetable trimmings for stocks and sauces and things of that nature. One of the dishes we just put on, it's our spring soup, but it's more of a broth base rather than chicken with egg or bread, it's a garlic stock, it's native in Provence, France all the Italian border, so we make it out of shallots and whole garlic and leeks, like the top of leeks that you normally can't do anything with because they're tough. The leek greens we're using in full.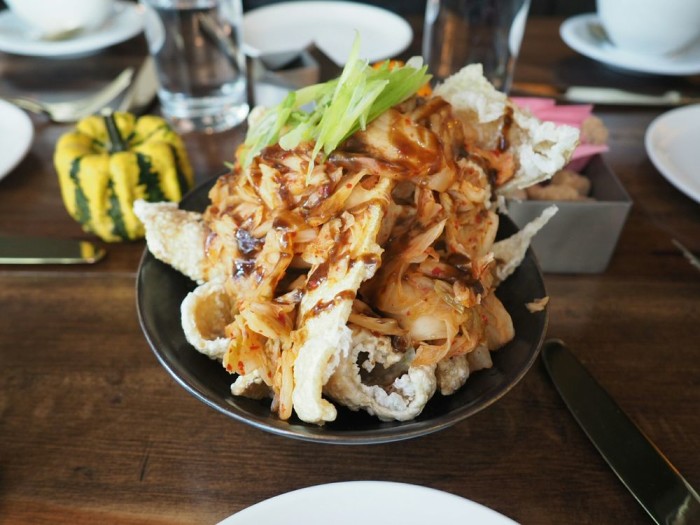 If we get broccoli or cauliflower, full utilization, we'll cut up the stems. Everything gets used one way or another whether it's for the menu or for family meal. Yesterday, one of my line cooks made potato skins for everybody. There really is a wide range of things you can do with it. And it helps your food costs, it helps your bottom line, it also helps to not be throwing all of this stuff out. It's one of the hard things to educate our guests on. People will come in and, you hear it at every restaurant, that portions are small. Well, that's because you're not at Olive Garden having like three pounds of pasta and unlimited breadsticks and salad. It's disgusting and that all gets thrown out. We give you eight ounces of wagyu beef. There's no way a human should eat more than that. You will literally die. [laughs]
We're conscious about food waste and how much you do consume and eat. The restaurant is set up to embrace that.
Is there an ingredient that you get especially excited to use the whole thing of?
I think you can really utilize everything. You just have to get creative. For example, my bar manager is now making dry curaçao in house with all the citrus rinds from our juices. She found this recipe and she started doing it and now we are composting fewer rinds, which is amazing. And now I'm not buying dry curaçao that has all this sugar in it. We can make it ourselves, which is amazing.
I think it comes from not just the wanting to better the environment and not just wanting to do what's right but really wanting to have the best product. What do you do to attain that? How do you get to that point? We were really sick of this dry curaçao we were getting and she did some research online and found this recipe. We started playing around with it and there you go. It's like, "Oh man, it's asparagus season, we have all these asparagus scraps leftover." No, we have a beautiful asparagus soup on [the menu] because you can make a great soup from the bottoms and the peels. There's so much that can be done with the pickling and the preserving. We were doing a Meyer lemon cocktail for a little bit so all the Meyer lemon rinds we turned into a beautiful preserve. So, it's thinking outside of the box and adjusting, because there really is so much that you can do, you just have to want to see it.
Are there any other bar applications where you're reusing rinds and ends?
Yeah, in the winter, our tiki cocktail was a take on the painkiller, but it had sweet potato in it instead of orange. It was sweet potato, sweet potato vodka and rum and it was delicious. We were doing a sweet potato cheesecake and we needed to strain the sweet potato puree after they were roasted because there was too much water for the cheesecake to bake properly. So we were straining it in cheesecloth and had this juice leftover and we tasted it and I was like, "We should add rum to this." [laughs] So, we did and made this delicious cocktail. It's just like, what do you do with this flavorful liquid? It seems like a waste to throw out something delicious. It's the same concept as the tomato water we do in the summer. We always have beautiful heirloom tomatoes that we get in and we'll cut them or do whatever to them for our heirloom tomato salad and we're left over with bottoms, tops, scraps, bruises, whatever. So we'll blend it, hang it in a cheesecloth or a filter and we have this amazing tomato water that we use in our bloody Mary mix, which is delicious.
What are you doing when you get some bruised "ugly produce"?
Some of the things that we can do when things are starting to go or lose there firmness, we make preserves, jams, jellies, pâté de fruit, which are those beautiful French gummies that we use as petit fours at the end of the night that are presented with the check. My sous chef was making macarons, right now we have vanilla and kumquat macarons because we had all of these kumquat scraps so we just blitzed it and candied it and now have these vanilla and kumquat macarons, which are delicious and I totally had some this morning with my coffee.
There's ways to manipulate anything into what you need it to be because a bruise on fruit at the end of the day is just sugar, the same way a bruise on our body is blood coagulating, it's sugar coagulating. It's not a bad thing.
Part of the problem with public perception is that everything needs to be waxed and perfect and it needs to be this perfectly green apple that was picked like three years ago and is still preserved. [laughs] I think that's a weird angle for that. We're not really serving whole things that are like that. If we get blackberries at the market and some of them are smushed by the time I get back from hauling them from Union Square, we'll make a sauce or a jam or a jelly or some other component for the dish. Last summer we were taking all of our mixed berries and instead of making a jam I was actually making this sangria syrup that we served with on of our dishes, which was a blackberry ice cream sandwich with a crème fraîche sherbet and shortbread cookie and these blackberries and sangria syrup on top that was like blueberries, blackberries, raspberries, strawberries — all the scrap from the berries we had we just threw in with red wine and sugar and cooked it down.
No-waste cooking isn't — I don't think about it that way, but it's just ingrained in my system to think about how we can best use all of these amazing parts that we have here. I paid more for them, we should use them. They're delicious, so we should use them. It seems like a very logical thing to do, but in our day and age of getting the perfect, boneless, skinless chicken breast that's the same exact size as the next 5,000, it's funny that it's gone so far from what it was only 70 years ago.