We'd be fools to not offer up our very favorite recipes for April 12th, National Grilled Cheese Day. We do respect both sandwiches and our readers, so in honor of one of the greatest treats to ever come off a griddle, here are 10 of our favorite recipes for National Grilled Cheese Day. From the vegetarian (and even vegan) to the meat-studded, veggie loaded and breakfast-ready, there's a spectacularly melty sammie in the mix for you.
When I go to California, there are two things that I must consume: tacos and In-N-Out. It's easy to make great tacos at home, but not so much the In-N-Out. But I want In-N-Out more often than I visit the Golden State, so I figured out how to approximate it at home.
https://www.youtube.com/watch?v=OIcHAciCXZ8
Would you think less of me if you knew my favorite after-school snack as a kid was a hunk of cheddar cheese, heated in the toaster oven until it spread and bubbled, the edges and underside hardened into a lacy sheet I'd eat like a chewy-crispy cracker? I hope not, because it's still perched at the top of my personal munchie pyramid, unlikely to have its position usurped anytime soon.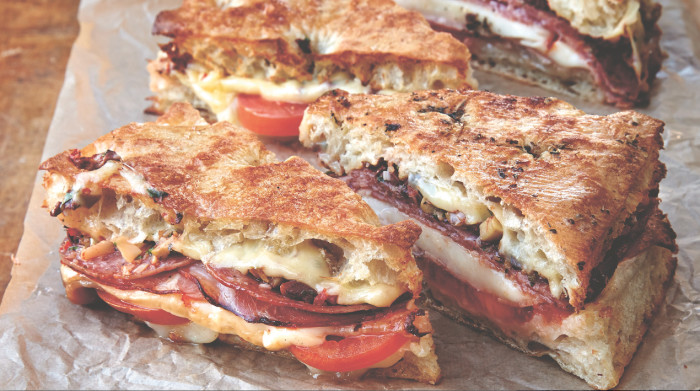 The muffaletta (also spelled muffuletta and probably 20 other ways, but generally pronounced "moo-fuh-LET-uh") originated in the French Quarter of New Orleans. Traditionally made on a light flat roll that is also called a muffaletta, it's a staple at lunch counters throughout Louisiana. While muffalettas are usually assembled and allowed to sit, wrapped, for several hours in a refrigerator before eating to allow the flavors to meld, we cook ours right away so that the bread can crisp up as a grilled cheese should.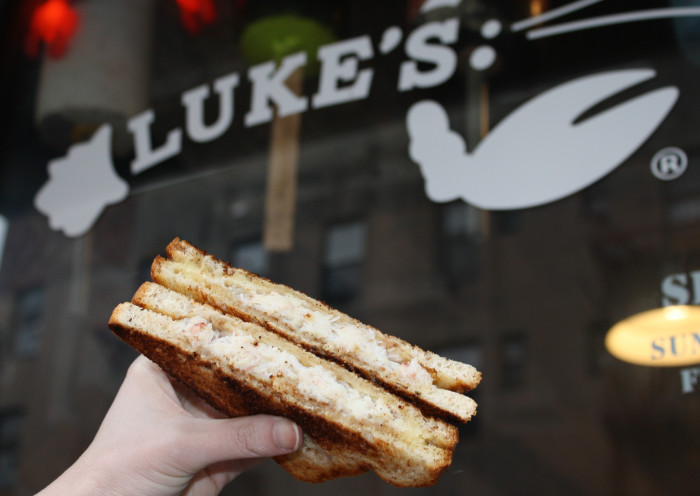 The magnificent Luke's Lobster grilled cheese, teeming with seasonal Jonah crab, is a treat to be savored. It's high time for Jonah crab, a tasty crustacean that inhabits the ice-cold winter waters of the East Coast. Too often, it's consider "leftovers" from lobster fishing, but it's really a delicacy all its own. And leave it to none other than NYC's famed house of shellfish Luke's Lobster to take full advantage of its newfound popularity as a sustainable shellfish option.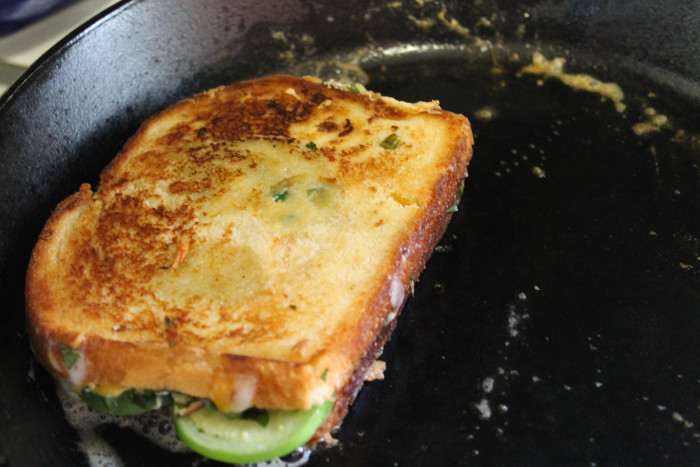 Designing a grown-up grilled cheese is serious business. The first step lies in figuring out a cheese blend that gives you the perfect mix of gooey texture and complicated, layered flavors. However, cheese alone can only get you halfway: flavor-wise, it delivers a little bit of salt and a lot of umami, but it doesn't have much to offer in terms of sweet or sour. Without these flavors, even the best cheese mix can get a little bland and heavy. This time around, we're going to look at other options for enhancing the texture and flavor depth of your sandwich – and, in the process, taking your grilled cheese to a whole different level.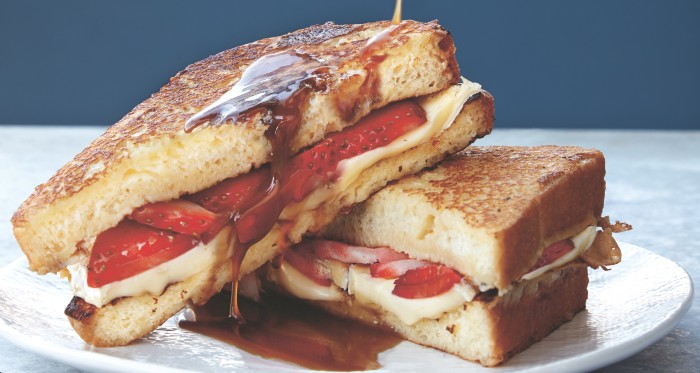 Inspired by the magnificent Monte Cristo — a ham-and-cheese sandwich that is battered and fried and then dusted with powdered sugar and served with maple syrup or jam — I experimented with different breads, flavorings, fruits, cheeses, and garnishes to make a French toast–style sandwich that is uniquely ours. For the essential bread itself, I found that marrying slightly dry slices of brioche loaf with a thick batter enriched with butter, vanilla, and flour yields both a nice, crisp and dry finish on the outside of the cooked sandwich and a perfect custardy consistency on the inside.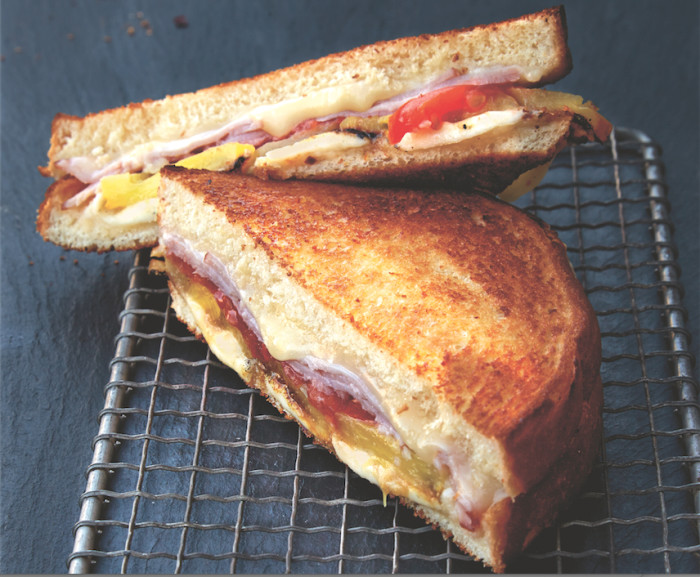 Hawaiian pizza is one of our guilty pleasures — gooey mozzarella, sweet-tart pineapple, savory ham, and spicy tomato sauce…aloha, mmmm! We turned this classic pizza combination into one heck of a grilled cheese sandwich by using fresh, high-quality ingredients and adding a splash of love.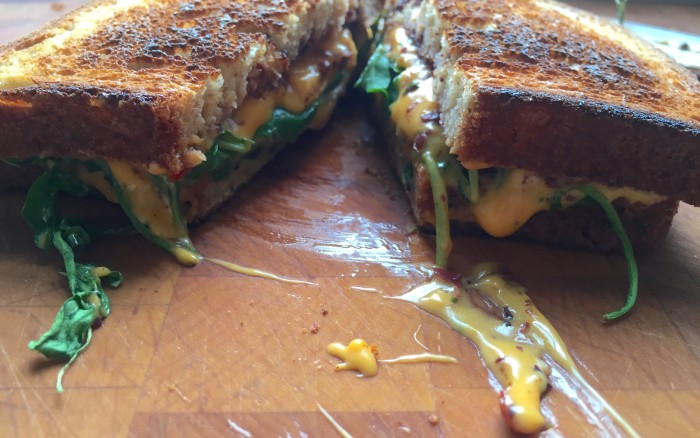 We all know the Fancy Grilled Cheese that evolved from humble white bread and Kraft singles to headline-grabbing versions stuffed with lobster and gilded in edible gold. But as someone with a functioning cerebral cortex, I refuse to spend more than $10 on a cheese sandwich. This is a more difficult — and often blander — task when compounded by lactose intolerance. But these challenges don't preclude me from enjoying highbrow, dairy-free iterations.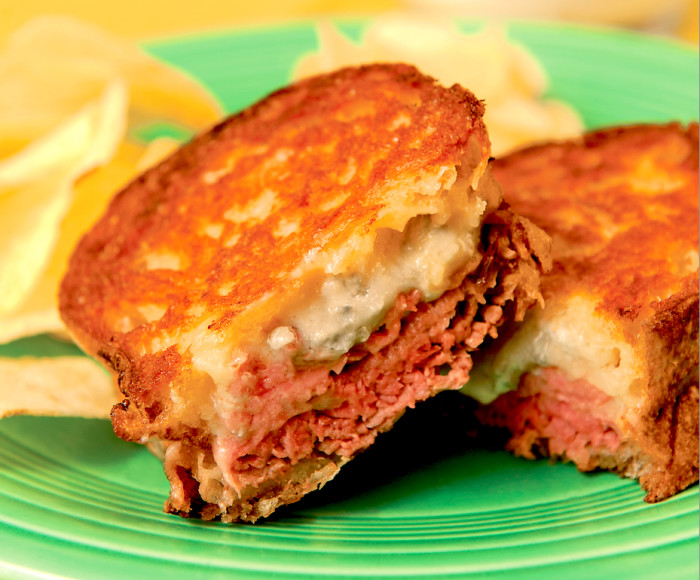 With its unique texture from the pear, coupled with the blue cheese, this sandwich offers a hint of autumn and is a nice nibble while watching the game.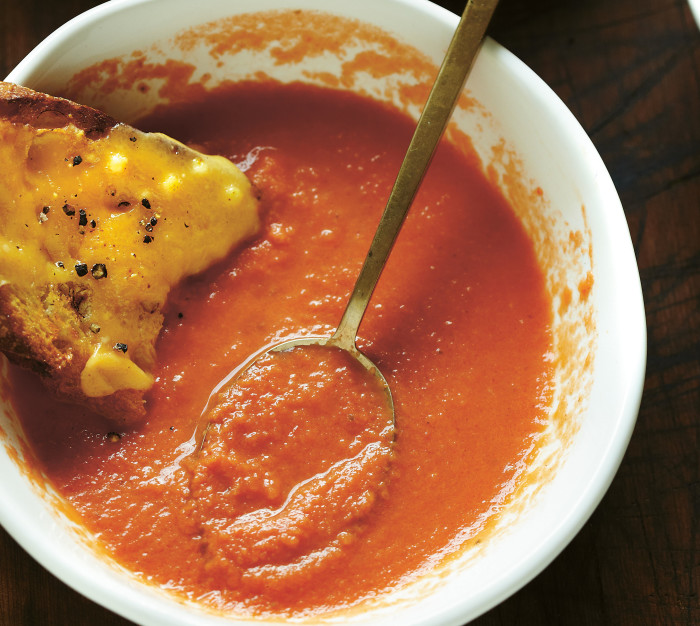 Don't be frightened by the addition of orange juice; it breathes new life into this classic comfort food. Topped with cheese toasts — as if your grilled cheese jumped into your soup — it's the perfect bridge between old and new. A perfect start to a more formal dinner or great as a light meal with a simple green salad.