Here's How To Make Homemade Nigiri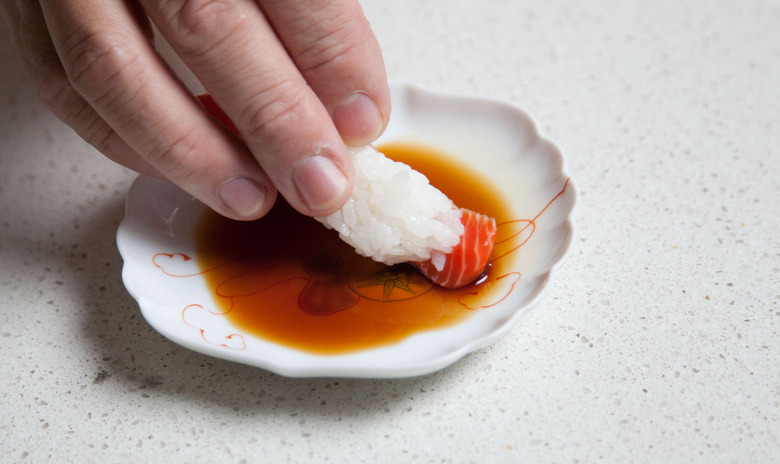 Homemade nigiri doesn't need to be complica
When it comes to homemade nigiri, technique is everything. People train for decades to be senior chefs at the world's best raw-fish joints — and with good reason. Nigiri is all about delicate balance: Without the right pressure from your hand, sushi can fall apart on its way to your mouth; without attention to detail, delicate flavor pairings, and a little restraint, the fresh, line-caught fish you spent an arm and a leg on goes to waste. Proper technique and understanding will make or break traditional nigiri. So our friends at ChefSteps asked Seattle sushi guru Taichi Kitamura of Sushi Kappo Tamura in Seattle to show us the ropes.
Taichi proves that sushi doesn't have to be scary. Homemade nigiri will definitely make you look like a pro, but it can actually be easier to make than you (or your guests) might think. Yes, it takes time to perfect the technique, but practice makes perfect, which means a lot of quality fish in your family's future. And we don't think anyone will complain about that.
Here's where you can put last week's tutorial on how to make perfect sushi rice to good use!
Ingredients
Sushi rice, as needed (see link above)
Wasabi, as needed
Pickled ginger, as needed
Water, lukewarm, as needed
Fish, or other topping, as needed
FAQ'sWhat exactly is nigiri?
Nigiri — or "hand-pressed sushi" — is a lovely mound of sushi rice that is pressed — you guessed it! — by hand, then topped with a bit of wasabi and fish.
What kind of fish should I use for my nigiri?
You can get as creative as you'd like! Perfectly seasoned sushi rice is there to showcase that perfect protein. While nigiri is typically made with raw fish, it can also be made with cooked products.
What utensils should I use to eat nigiri?
You were given two hands for a reason — to eat delicious raw fish atop vinegary rice. Seriously, it is not bad manners to eat nigiri with your hands.
Directions:
1.Make sushi rice.
2. Set up your workstation: To make nigiri at home, you'll want a cutting board, a chef's knife, a damp towel, lukewarm water, pickled ginger, wasabi, and sushi rice.
3. Wet your hands: This keeps the rice from sticking to your palm or fingers as you shape it.
4. Shape your rice: Take about 25 grams of rice, and shape it into an oval. Place the oval at the base of your fingers, where they meet your palm. Press down gently on the rice with your thumb to keep the rice steady as you shape it. Then use the thumb and middle finger of your other hand to shape the sides. Next, cradle the rice in your palm and push down on it with your pointer finger. Finally, rotate the rice.
5. Repeat these steps — shape, cradle, rotate — three more times. This can be confusing, so feel free to refer to the video to see how it's done. It's easy to mess these forming steps up—that's why people literally train for generations to become sushi masters. The best way to learn is to practice. A lot. And, hey, if you mess up, give yourself a break—you're just getting started! When the rice is perfectly formed, it will be firm and flaky. If the rice is too loose, it will fall apart. If it's too tightly packed, it will be dense and chewy. Don't worry. You'll get the hang of it.
6. Thinly slice the fish of your choice and add it to your workstation. Albacore tuna belly, anyone? Perhaps some locally caught salmon? Make sure that knife is razor sharp: fresh fish is super delicate, and you want to keep it looking silky smooth, with nice, clean edges. Want to learn more about how to properly slice fresh fish for sushi? There are tons of great videos on YouTube — here's a good place to start.
7. Place the thinly sliced fish in your hand — again, at the base of your fingers — and add a small dab of wasabi to the center of the fish. This adds a touch of heat but also helps the fish stick to the rice. Next, place the rice on top of the fish and press down gently with your pointer finger. Flip the piece of sushi over so that the fish faces up, and repeat the same steps as before: shape, cradle, rotate. Do this three times total.
8. Make a big, beautiful plate for you and your loved ones. Serve this impressive feast with pickled ginger, soy sauce, and whatever else you like with your raw fish dishes.
ChefSteps comprises a team of award-winning chefs, filmmakers, scientists, designers and engineers focused on revolutionizing the way people cook by inspiring creativity and encouraging expertise in the kitchen. You can also get access to all of ChefSteps' Premium content — including paid classes and dozens of recipes available only to Premium members for a onetime fee — for the special price of $24 (regularly $39). Classes include Sous Vide: Beyond the Basics, Fluid Gels, French Macarons and more!